"We wanted to bring people the natural beauty of the National Parks through the filter of our favourite artists. With that came much more: the embedded message of conservation, and a sense of importance of place and how fortunate we are to have these incredible, protected spaces."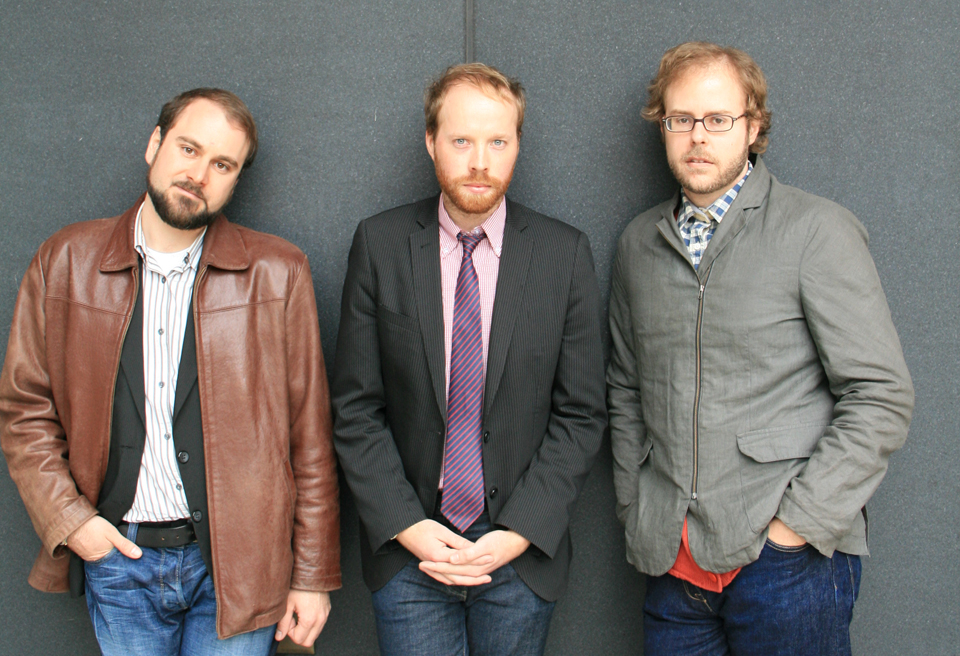 NATIONAL PARKS PROJECT: CREATING ART AS AWARENESS
BACKGROUND NOTES
Joel McConvey, Geoff Morrison and Ryan J. Noth are the three minds, bodies and spirits responsible for a remarkable new initiative called the National Parks Project (NPP). Through NPP, 13 quartets of one filmmaker and three musicians travelled to a National Park in each of Canada's provinces and territories, and recorded images of the breathtaking wilderness and the music it inspired. The goal was to capture the natural wonders of our parks, and inspire in Canadians the desire to protect and celebrate these places.
Recordings were completed from May to October 2010. The results are set to be distributed in four ways: as a making-of television documentary airing on Discovery World HD, a set of five- to 15-minute short films shown at film festivals, a soundtrack collection of the best music, and an online interactive portal to each of the 13 parks visited.
NPP is a collaboration between FilmCAN and Primitive Entertainment, in conjunction with Parks Canada and Discovery World HD. The project was launched in 2011 as part of the centennial of Parks Canada, the world's first national parks service. More than 50 Canadian artists participated, including members of Broken Social Scene and The Smashing Pumpkins, musicians Sarah Harmer, Sam Roberts and Kickass Canadian Kathleen Edwards, and filmmakers Sturla Gunnarsson (Beowulf & Grendel) and Zacharias Kunuk (Atanarjuat: The Fast Runner). Each quartet was selected with the aim of amalgamating people who'd never worked together before, in the spirit of exploring unfamiliar ground.
Prior to launching KickassCanadians.ca, I hadn't chatted with Ryan in awhile, with Geoff in ages, and ever in person with Joel. All three studied film at my alma matter, Queen's University, in the Department of Film and Media. I'd missed Joel by a year, but had classes with Geoff and Ryan.
After catching up with them all for this interview, I was reminded (and, in Joel's case, introduced to the idea) of how bright, creative and sometimes off-the-wall these guys are. It's so stimulating to hear such wonderful ideas coming from people who really have walked the walk; they've all put aside lucrative jobs to pursue their passions, and continue to tackle the future with that same courage and integrity. Each has seen projects go off the rails and sometimes even fail to see the light of day. But they never let that stop them from moving forward.
FADE IN:
EXT. TORONTO ISLAND, 2006 – DAY (FLASHBACK)
We open with three men in their late 20s. Born and bred in Ontario, they each have an artsy, soulful, earthy look. All three dabbled in music, playing bands in high school and university. But through various twists of fate, they've ended up in the same line of work: filmmaking.
JOEL has the calm assurance of having honed his film and music criticism skills for a variety of outlets, including Cinema Scope, Toronto International Film Festival Daily Report and CBC. He knows good art, he knows bad art, and he isn't afraid to let us know which is which. He's had success as a drummer for Toronto bands Fever Sheds and The Lost Cause, but he never forgets where he came from. He's the guy whose first band consisted of him and a friend "writing bad grunge songs on cheap guitar, with potato chip bags for percussion." In a matter of weeks, he leaves for South Korea, where he'll teach English "on the idyllic and colourful little island called Jeju-do." But for now, he's on Toronto Island, pondering an idea that will explode into the National Parks Project.
GEOFF has loved movies since he was a boy. He grew up pouring over VHS tapes with his father, watching and re-watching The Movie Network classics like Die Hard. While studying film at university, he also hosted a school radio show and played guitar in a band with his housemates. After graduating university in 2002, he moved to Toronto and found success working as a production assistant for CBC's Arts Bureau and as a producer at MuchMusic. But he couldn't shake the feeling that he was destined for something else. Right about now, he's "starting to feel the urgency" to spread his wings and get back to creating his own projects.
RYAN discovered his passion for movies later than Joel and Geoff. It wasn't until he enrolled in a film course during his first year of an English and computers major that he realized his calling. Instantly hooked, he switched his major to Film Studies. Like his pals, Ryan shares a love of music; he played bass guitar in high school, and hosted a nearly-all-Canadian late night radio show while at university. After graduating in 2001, he landed in Toronto and funded his first feature film, "a 16mm drama called VOiLA that went nowhere." He then spent a few years as a production assistant on music videos and at a handful of commercial houses in the city. Eventually, he made the move to post-production, and now works with Caroline Christie, who edits much of documentary filmmaker Peter Lynch's projects. He's been editing feature doc and fiction films on the side for the past couple years.
Ryan has just returned from the Banff World Television Festival, where he was pitching Spokes, "an urban sitcom" he'd developed with Joel. While in Banff, Ryan met up with some Parks Canada reps, and is eager to fill in his buds on the outcome.
Joel and Geoff lounge in the sun. Ryan takes shelter under the shade of a birch tree; he burns easily.
RYAN: Parks Canada is looking to develop new media projects that promote our parklands. Ideas?
JOEL: We need something that combines all our interests—something that incorporates film and music in a way that reflects the diversity of our artists and the landscape.
GEOFF: And that explores how nature and culture are linked in the Canadian imagination.
RYAN: One filmmaker, three musicians, all Canadian. We form groups and assign them each a national park in one of the country's provinces or territories. Give them total creative control. Thirteen quartets, filming and playing in nature according to whatever they're inspired to do.
JOEL: The common theme will be Canadian landscape. No artificial impositions, just the natural energy that surrounds the artists.
INT. TORONTO BASEMENT APARTMENT, 2007 – NIGHT (FLASHBACK)
Geoff, Ryan and their friend CLAYTON HANMER are hard at work launching FilmCAN, "an online outlet to intellectually discuss Canadian cinema from a contemporary perspective." The two have continued to pursue the Parks Canada project, with overseas help from Joel, who's still in South Korea. In the meantime, they're also moving forward on other endeavors.
Geoff recently gave up his lucrative job at MuchMusic to live the dream of creating his own films. He shot a short curling documentary called Summerspiel, and is in pre-pre-production with Ryan and their friend Sarah Lazarovic on a no-budget feature called No Heart Feelings. (Geoff's roommate Luke Bryant will soon come on board to produce the film.)
Ryan is still working as an editor, and recently took Jandek: Duality of Self, "a ridiculous two-hour performance film," which he edited and directed, to the South by Southwest (SXSW) festival in Austin, Texas. But he's about to leave all the behind to focus on No Heart Feelings and FilmCAN.
We see a montage of Ryan and Geoff working at their computers, making phone calls and interviewing filmmakers for FilmCAN. We also see Clayton designing the website, and Joel writing content from South Korea.
INT. THE PRESS CLUB, 2007 – NIGHT (FLASHBACK)
Ryan and Geoff are hosting a fundraiser so they can hire, and pay, FilmCAN writers. Many of the bands playing, including Miracle Fortress, Woodhands and Apostle of Hustle, will go on to contribute to NPP.
INT. TORONTO BASEMENT APARTMENT, 2007 – NIGHT (FLASHBACK)
We see a close-up of a letter from the Canada Council for the Arts congratulating the filmmakers on receiving a magazine grant for FilmCAN. Ryan and Geoff exchange dorky high-fives. Joel gives the thumbs-up via Skype.
INT. TELEVISION INTERVIEW FOOTAGE, 2008 (FLASHBACK)
GEOFF: After putting out a number of issues of FilmCAN, we decided to expand into digital distribution by selling rare and interesting Canadian films via digital download.
RYAN: FilmCAN has become the first digital distribution platform for feature films in Canada. We offer works by Guy Maddin, Ron Mann, Bruce McDonald, Scott Smith and many others, all available for download. We've also had the opportunity to cultivate a bit of the indie film scene; Blaine Thurier's feature Low Self-Esteem Girl is our biggest download to date.
MONTAGE, 2008 (FLASHBACK)
We see Ryan and Geoff chatting with director PETER METTLER; Clayton posting an article about Peter on FilmCAN; Ryan presenting Peter with documents about Parks Canada; and Geoff, Ryan and Peter assembling gear, boarding a plane and landing in Newfoundland, and setting up equipment in Gros Morne National Park.
INT. TELEVISION INTERVIEW FOOTAGE, 2008 (FLASHBACK)
RYAN: We interviewed Peter Mettler for FilmCAN, and he was interested in working with us because we'd shown a bit of gusto in our writing on cinema. So we travelled to Gros Morne, and Peter shot a test shoot for what we hope will become a countrywide National Parks Project.
GEOFF: When NPP started gathering steam, it seemed like a natural extension of what FilmCAN wanted to achieve, so we incorporated as a production company to make what would become the 45-minute creative nature doc, National Parks Project: Gros Morne. It's been a kind of pilot for the larger project.
INT. GROUND FLOOR TORONTO APARTMENT, 2011 – AFTERNOON (PRESENT DAY)
After a whirlwind few years, Joel, Geoff and Ryan kick back to talk film, Canadiana and beer. (Actually, the beer they just drink.) Joel has moved back from South Korea, and the three friends are once again reunited in Toronto.
The Gros Morne pilot doc went on to premiere at the International Film Festival Rotterdam (IFFR), and subsequently screened at the Calgary International Film Festival (CIFF), the Festival du Nouveau Cinema in Montreal and Hot Docs in Toronto. Some of the screenings featured live musical performances, which helped the filmmakers explore their concept of incorporating music into the films themselves.
Based on the success of the pilot doc, NPP got off the ground and then some. With the talented trio acting jointly as creators and producers, the 13 films came together beautifully. After filming was completed in 2010, there was music to spare. The ever-enterprising, ever-generous team decided to create a compilation CD and double vinyl release featuring music created on the NPP trips, and to donate all profits to the Nature Conservancy of Canada. The CD and a complementary series of digital EPs will be available as of May 2011, and can be purchased online through iTunes.
Geoff and Ryan also found time to move forward with their feature film No Heart Feelings in 2009, which was distributed in Canada by KinoSmith, and met with critical acclaim:
"Nothing much happens, but No Heart Feelings is a quiet triumph."—Rick Groen, The Globe and Mail
Now, the guys sprawl over the couch and recliners, knocking back beers as they take some time to ponder their deepest thoughts.
JOEL: It's nice to have facilitated something that created work for Canadian artists, and that helped build on the experience I had in the film and music industries. The moving image now dominates our culture and society, and film has a major influence on the ways we now think, feel and perceive the world. If done well, it has the potential to provide an antidote or balance to the other less considered forms of visual media that have become prominent in recent years.
RYAN: Film—and I define the term 'film' as the feature film experience, whether it be on film or online—is important because it's the language of modern life.
GEOFF: It's so challenging, but you can do such incredible things with film, and you can truly move people. It's a special thing.
JOEL: I hope NPP will raise awareness about parks and conservation, but do so without having to resort to an explicit 'polar-bears-are-drowning' style of messaging. I hope that when people see how beautiful these places are, and what kinds of other beauty they inspire, their value will be evident.
RYAN: Personally, I hope this challenges Canadians to re-think the essence of their life in this land and of the landscape as culture. It's no secret that English-Canadian cinema is pretty much non-existent as far as the public is concerned, so if this collection can actually play in some small towns—not just major cities—and make people here and around the world feel the same visceral sense of wonder at the images and sounds that I and all the people on these trips experienced, I'd be thrilled. We need to continue to protect these unique spaces we highlighted, and others too, whether they be parks or not.
GEOFF: There's so much the country has to offer, and it's so diverse that people often get lost trying to nail down what it means to be Canadian, or what that identity is. To me, it's just about having a sense of identity and connection to this place.
EXT. GROS MORNE NATIONAL PARK, 2014 – DAY (FLASH FORWARD)
Joel, Geoff and Ryan sit atop a rocky perch overlooking the magnificent landscape of Gros Morne National Park, where the NPP journey began six years prior.
Since NPP's release, Joel has written and published "a collection of poetry that explores the themes of nature and masculinity." He's also working on the final draft of his first novel. Geoff is in post-production on a film he shot in Hong Kong, and a feature drama that's in the same cinema vérité style as No Heart Feelings. He has a number of new media projects going on the side. Ryan wrote and directed a feature film set in 1898 on Vancouver Island, and is about to go into production on an interactive featuring documentary called Staggering Capacities, about "humanity's tendency toward square and rectangular storage, from tombs to hard drives to condos."
As the filmmakers take in the warm sun and stunning natural surroundings, they reflect on what more they plan to do as three of our country's most influential artists.
JOEL: I can't wait to take NPP global. Lots of countries have amazing national parks systems and thriving domestic music and film scenes, so it would be an easy format to export, if the funding was there.
RYAN: I want to help expose the public to Canadian film. The distribution network has been choking independent cinema theatrically, because anyone living outside the major urban centres sees almost exclusively American movies. But the Internet could be the salvation of independent filmmakers in Canada. We demonstrated that with NPP, by leveraging our website and online distribution. The net allows a direct voice to the audience, and should allow for more personal and niche filmmaking to compete with the overwrought films that are funded in the current system. I'm very excited to see if some English-Canadian cinema auteurs can develop in the same way that people like French-Canadian filmmakers DenisCôtéor Denis Villeneuve have developed in Quebec.
GEOFF: My general hope for film, as with all art, is to share something and to incite some kind of reaction. It worked with NPP. We wanted to bring people the natural beauty of the National Parks through the filter of our favourite artists. With that came much more: the embedded message of conservation, and a sense of importance of place and how fortunate we are to have these incredible, protected spaces.
FADE OUT.
*            *            *
You can reach this amazing trio at [email protected]. For details on NPP screenings and broadcasts, as well as the latest updates, visit nationalparksproject.com.