Jon Bartlett, Jim Bryson, Rolf Klausener & Andrew Vincent, Kelp Records mainstays
"There's a lot of great music happening in Ottawa right now... We're aiming to help these amazing bands and help bring people to Ottawa to see them."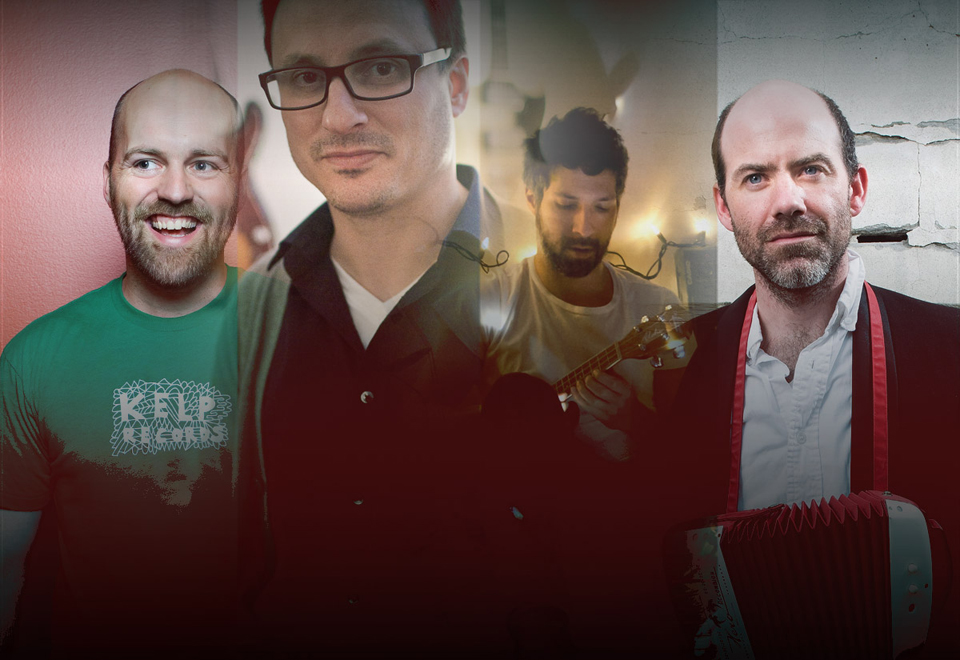 Kelp Records is an Ottawa, Ontario-based independent record label that has produced and nurtured Canadian musical talent since 1994. It was founded by Jon Bartlett, when, as a teenager in Fredericton, New Brunswick, he could no longer suppress his love of making and recording music. (Not that he ever really tried to suppress it.) In the past, Jon's been the frontman for bands Rhume and Greenfield Main. Now, through Kelp, he manages musicians full-time, with the likes of soprano Measha Brueggergosman headlining his roster.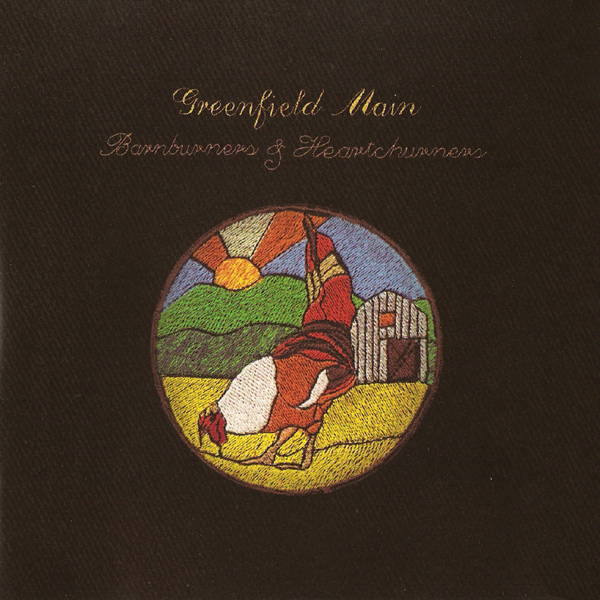 Jon has been on my list of prospective Kickass Canadians since the website's first year, along with several key Kelp musicians: Jim Bryson, a treasured singer-songwriter (voted Ottawa's Best Folk Band/Artist in 2006); Rolf Klausener, frontman for indie folk band The Acorn (nominated for Kickass Canadian Steve Jordan's Polaris Music Prize in 2008) and electronic/dance punk band Silkken Laumann, and visionary co-founder of the ARBORETUM Music and Arts Festival; and Andrew Vincent, a gifted indie folk-rock musician (not to mention writer and runner). I can't say exactly why it's taken so long to put them all up here. But with Kelp's 20th anniversary rolling around, it seemed about time.
Of the many talented musicians represented by Kelp over the past 20 years, I chose Jim, Rolf and Andrew because I know them each to varying degrees: I know about their talents outside of music, and I know them to be good guys who care about others. I've worked with Jon and Rolf through our assorted communications stints, and met Jim when we "starred" as extras in a curling scene for Being Canadian, the forthcoming documentary from Kickass Canadians Rob Cohen, Colin Keith Gray and Megan Raney Aarons. (Jim's and my curling cameo may or may not make the final cut.)
So I know these guys a bit. But I also chose them because they've played an integral role in Kelp's history. As per Jon:
"Andrew was opening a show (Greenfield Main and I) did in Toronto with King Street Bread Machine. He played this five-string nylon string guitar and just totally blew me away with these songs; he'd written these kind of Sebadoh confessional indie folk songs with this really hilarious sense of humour, and I was sold from the get-go. So I said, 'We gotta do something together and I can help you.' I ended up (visiting Andrew at his place in Waterloo) and recording him in his attic on the weekend and we made that first record, To Thine, which became the second CD Kelp ever made. We hit it off; we were very much kindred spirits in that kind of do-it-yourself homemade style."
– Kelp discography: To Thine (1998), After School Special (2000), A Short Trip with the Pirates (2001), I Love the Modern Way (2003), Rotten Pear (2009), Keep It That Way EP (2011)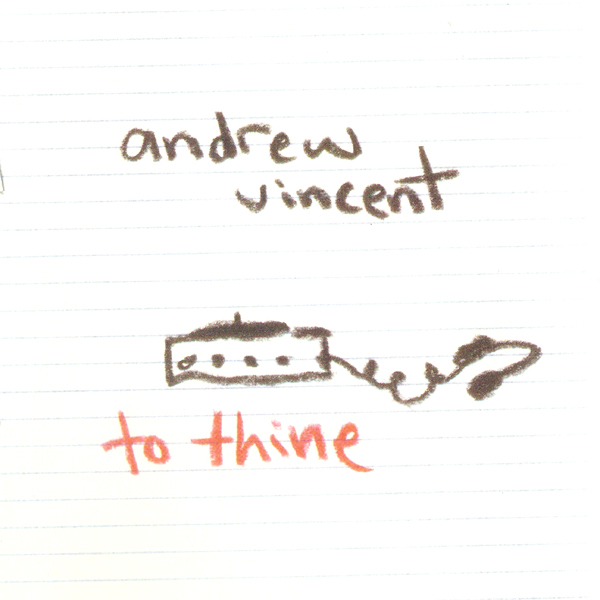 "Rolf is part of Kelp's DNA. He was very much involved form the beginning, from when I first moved to Ottawa in 1999. He joined our band Greenfield Main and was part of our first CD in 2000. When (my now-wife) Sue and I went away on exchange to Thailand for our MBAs in International Management, we were gone for six months and Rolf was Kelp at that time, handling the mail orders and everything else. He was in Recoilers and The Acorn, and as that grew, it became his mainstay project. But a lot of Kelp's success is due to him putting his name and energies into it. He's been one of Ottawa's biggest music champions of the past 10 years."
– Kelp discography: The Pink Ghosts (2002), Blankets (2005), Acorn & Ohbijou (2008)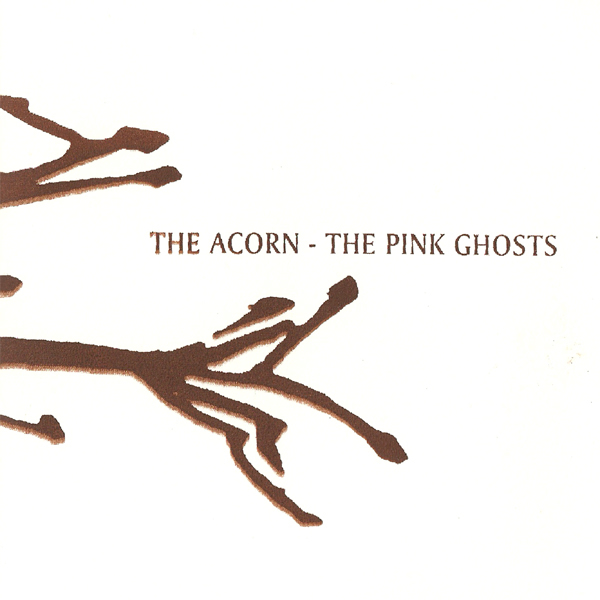 "Jim came to me. I was a huge fan. I loved his record, The Occasionals, and was really shocked to be able to get involved with him on his third record. He'd gone and done the whole experience with Toronto infrastructure through another label, and he was pulling back and saying, 'I want to do this as an Ottawa thing, and I like what you're doing and let's work together on this.' And that was Where the Bungalows Roam. He's an incredible singer-songwriter, one of Canada's best, and just a really fun guy to bounce ideas around with."
– Kelp discography: Where the Bungalows Roam (2007), Live at First Baptist Church (2009), The Falcon Lake Incident (2010)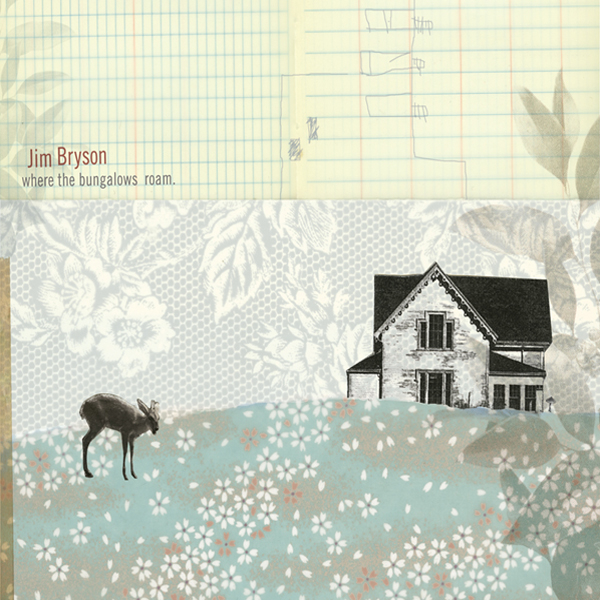 Kelp Records: The first track (feat. Jon Bartlett)
As for how Jon himself got involved in Kelp, it goes a ways back.
"Music has always been there," he says. The Fredericton-born lad and his two younger sisters grew up in "a very musical family," one that urged them into piano lessons from a young age. Jon went on to discover drums in junior high school, then played in marching bands, sang in church choirs and in high school musicals, and eventually picked up the guitar. ("I know the campfire chords.")
But Jon didn't just want to play. From the start, he loved the music other artists made. "I grew up listening to records and looking at album covers, and learning to read and write by looking at album credits," he says. "Music's just always consumed a lot of my time—listening to instruments, figuring out how recordings are made. And then that grew into having a 4-track by the end of high school, and spending most of my time writing lyrics in the margins of notes in class, and just thinking about recording and experimenting with sounds and making music. I think I wrote 150 songs by the time I finished university; I didn't really do a lot of studying in school."
A self-professed music super-fan, he landed a college radio show through the University of New Brunswick (UNB), where he was studying psychology and film. (Music, he says, never interested him as an academic pursuit.) Immersed in the "great Canadian bands" put out by labels like Merge Records and Thrill Jockey Records, and inspired by drummer Dave Clark's advice on starting a label ("All you need is a name and an address, and there you go"), Jon decided to start his own. And with that, Kelp Records floated up from the depths of his mind.
When he graduated university in 1997, he headed to Toronto, Ontario in search of broader horizons—and the guys at Exclaim! magazine who had given his band, Steaming Toolie, a great review.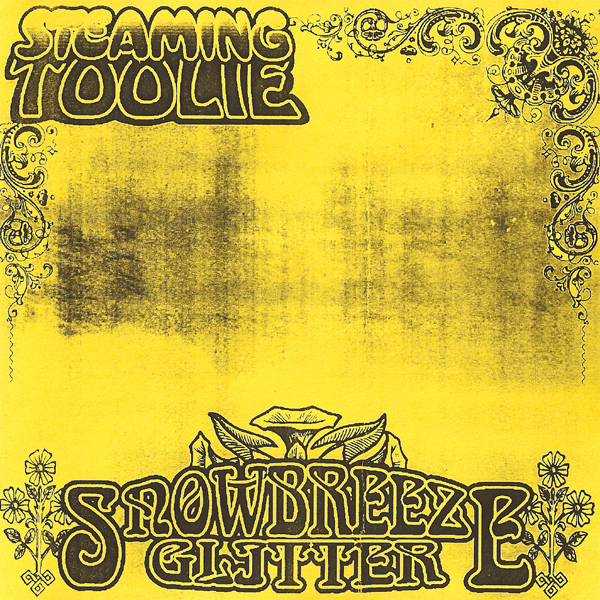 He showed up at the publication's door and got a job delivering in and around the city, including to Waterloo, where his good friend (and future wife) Susan Cole was studying at the University of Waterloo.
So was Andrew. It was during the last year of his English Literature degree that he and Jon recorded To Thine. Jon sees making that CD as the point when Kelp really took off. Not long after its 1998 release, Andrew and Sue graduated university and headed to Ottawa. By then, Jon and Sue's relationship had evolved past friendship, and that, coupled with the lure of his new musical partner being based in the same city, convinced him to pack up and move to the nation's capital.
As soon as Jon landed in Ottawa, Rolf became a major player in Kelp, helping the label grow by leaps and bounds. But although it was thriving creatively, the label wasn't something Jon could make a living off—yet. He took work in communications as a way of paying the bills, and only later realized that the project management skills he'd developed, plus the MBA in International Management he completed at the University of Ottawa in 2003, would pay off in other ways: by preparing him for a future career in music management.
In 2006, out of the blue, as Jon tells it, Old Navy acquired one of Andrew Vincent's songs for a holiday commercial. "That was instrumental in opening up that whole world of film and TV licensing," says Jon. "That morphed into going to [annual music, film and interactive festival] SXSW for the first time, expanding connections and growing more confident in the music Kelp represented." Ultimately, it led to Jon forming MEGAPHONO in 2010, a music placement company that licenses indie music for TV, film, ads, video games and new media.
Around that time, Jon and Kelp also shifted more formally into music management, starting with New Country Rehab in 2013. "Now we have four management clients and that really is the base of what we do," he says. "I find with management, it's making music fun for me again; when I started out and we were sitting in the basement with this sea of instruments and guitar pedals and farting around making sounds. With management, you make plans from the ground up and are very much involved in the creative process, and then you're also trying to do deals and build business for the artists and bring in revenue. It's taken a long time to get to this place but I finally feel like I'm doing what I love and doing what I'm good at all together, and also doing something that is growing quickly and sustainable."
Behind every great man…
Kelp is thriving, which is fabulous. But it's hard not to notice, when scanning their roster, how few female artists there are. To be specific, there is only one: Measha Brueggergosman.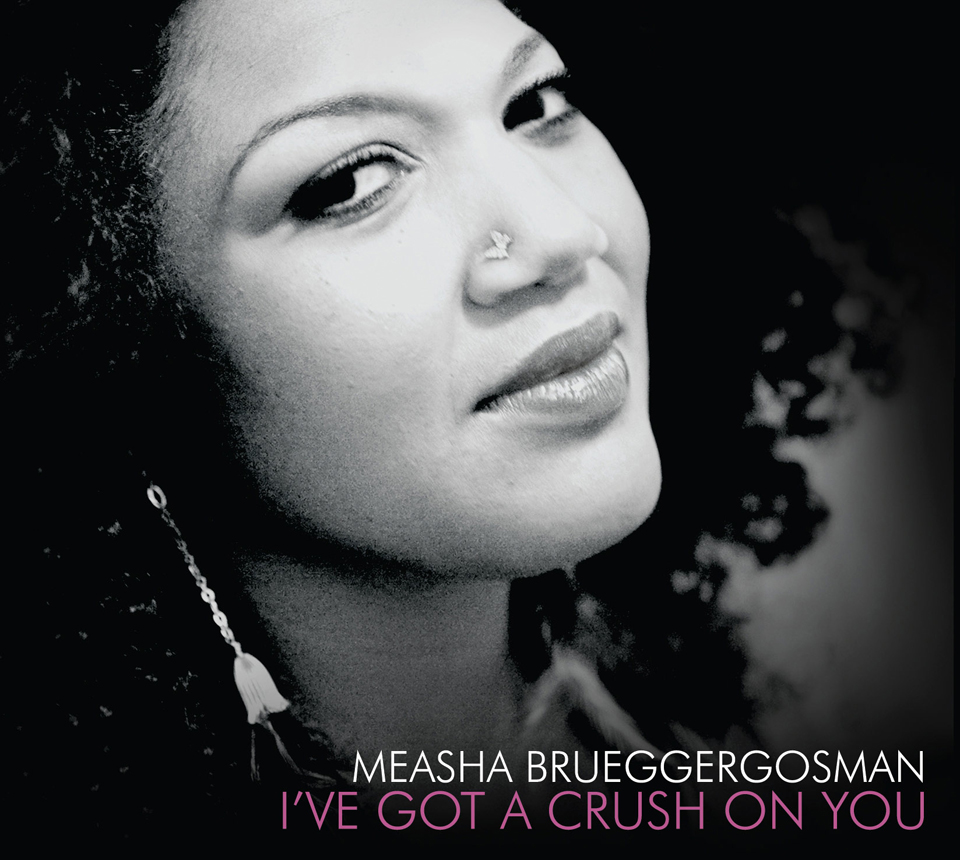 So what's the deal?
"Sometimes Kelp can be accused of being a bit of a dude fest, and it has been a dude fest," says Jon. "But there's no reason for it. My main gig now is managing a woman and it's been a blast."
He says the label has pursued other female acts; they just haven't panned out. And he's under no illusion that Kelp's success is totally man-made. His office staff currently consists of him and two women. Most importantly, Jon credits his wife Sue, with whom he has a three-year-old son, Emitt, as the true force behind Kelp.
"Nothing would have happened without her," says Jon. "Kelp wouldn't exist… There's been several times where I just thought of giving up and scrapping it and going and getting a normal job, but she's been the ballast, the angel investor, the only reason that Kelp exists. She has the patience of Job to deal with my mad life."
The multitrack (feat. Andrew Vincent)
What have we not already covered about Andrew? He was born in Winnipeg, Manitoba, but moved to Toronto with his family when he was two years old. His musical beginnings date back to recorder lessons in a church basement, followed by clarinet lessons in grade school and then high school band, but the most formative event was when his family attended church music camp and he learned to play the guitar. Like Jon, Andrew performed in his school's musical productions and started teaching himself to write songs in high school.
He followed up his BA in English Literature (1998) with an MA in Communication from Carleton University (2005). He then moved to Toronto for five years to pursue a PhD in Communication and Culture at York University, but eventually returned to Ottawa for love (he and his wife Meghan married in 2011).
Since then, Andrew has put his PhD on hold to pursue the communications writing business he currently operates. One of his main clients is the Ottawa Race Weekend. Through writing for them, he rediscovered running, which is one of his current pursuits.
"I ran one year of cross-country in high school and I don't think I showed any great promise," he says. That didn't stop him from strapping on sneakers for the Ottawa half-marathon in 2009. He surprised himself, both by running a good time and having a good time, and decided to up the ante with a full marathon. This April, he ran his third marathon—his first Boston Marathon—in an impressive 3:04:10. "I enjoy the simplicity of running and I enjoy the kind of goal-orientedness of it."
With all that writing and running, Andrew has a pretty full plate. But that doesn't mean music is off the menu. These days, he's returning to his roots. "I think I'm looking at it a little bit more like I was when I started playing music," he says. "I didn't ever think of it as something that I would do as a public musician; it was learning how to play guitar, learning how to play songs in the bedroom and then gradually starting to write songs, and then gradually playing them for some other people around. I think in a way I feel like I've kind of come around where I'm getting to rediscover that approach to it. I still want to play music, but now I'm just kind of having a good time and seeing what happens."
The Acorn and other musical germinations (feat. Rolf Klausener)
Coincidentally, Rolf describes a similar full-circle attitude to his music. He's working on his fourth album as The Acorn (his sixth overall), and it's afforded him the time to look back on his past creations.
"I spent all of my formative Acorn years [2002-2005] teaching myself how to record, experimenting and really just basking in my musical happy accidents," he says. "And then The Acorn turned into this wild, professional obligation that took over my life for seven years; it became a business, and a way of employing my friends and allowing us to travel around the world. That said, much of the focus shifted away from music. I decided to take a break in 2011, and that break has really allowed me to reset my creative chronometer. I haven't been this excited to record in years.
"Musically, I've come full circle in many ways. 10 years ago when I was recording The Pink Ghosts, I was experimenting a lot more, and really blending my love for both EDM and avant-garde folk. Lately, I've also been listening to a lot of soul. So this album is really heading away from mercurial narratives, and back to the realm of human emotion and connection."
For Rolf, as with Jon, music was a central part of his upbringing. An only child, he was born in Montreal, Quebec but spent the first two years of his life in Mali, Africa, where his father was posted as a social worker with the United Nations. Rolf's father was an avid music collector who was particularly enchanted by East African and South African music. So young Rolf was weaned on that, as well as on his mother's diverse collection of "everything from Abba and Led Zeppelin to cheesy 80s ballads and classical music." At the Klausener home, he says, music was "always, always, always playing."
Rolf showed an early talent for music and singing. When he was in Grade 2, he was recruited to sing in a school play at a German private school. He taught himself to play the piano, then the violin and the cello. After he and his family moved to Ottawa when he was 12, Rolf kept up with music, playing guitar, electric bass and drums in high school. While studying towards a German degree at Carleton University, he started teaching himself home recording and experimenting with electronic music.
After graduating university in 1999, he spent three years earning a photography diploma at Algonquin College. He spent a few years working as a commercial photographer, but soon realized it wasn't for him. Still, the skills he'd acquired parlayed perfectly into his current work in graphic design and communications for various arts organizations.
And of course there's the music. He dubbed himself The Acorn in 2002 and officially joined Kelp's label in 2004. "I think there's probably an entire other conversation where we'd have to kind of sum up how much Jon and Kelp have brought to my musical life and my personal life, my professional life even," says Rolf.
From their first meeting, at a Barrymore's Music Hall gig Andrew was opening for, Rolf and Jon hit it off. "We became really fast friends," says Rolf. "I'd never met anyone with as much energy, and who shared as sincere a passion for music and community, as me. This appealed to every sensibility that I have. I'm an only child who grew up wanting to be surrounded by other people, and Jon just appealed to all of those instincts. He was gregarious, ultra-positive and deeply musical. He was running his own label, and was the first person to show me that, when it comes to creative work, there are absolutely no rules. You can make it all up as you go along: you can write your own press releases, design your own album covers; there were no limits. He was hugely inspiring."
That inspiration has led to great things. In addition to the records Rolf put out with Kelp, he's released three albums through the labels Paper Bag Records and Bella Union, and is working on his sixth album, Vieux Loup. He also plays with Silkken Laumann, which started as a side project with The Acorn drummer Pat Johnson and has evolved into a 4-piece (The Acorn's Adam Saikaley joined them on keyboards, as well as Roberta Bondar's Gary Franks), with its first CD, Not Forever Enough, released January 1, 2014.
When it comes to music, says Rolf, "I'm not one of those prolific, mad genius, Mozart-types, constantly spewing music forth and shirking all other responsibilities in order to create; I often wish I were. I have little choice when the need to express musical ideas takes over. But when it does… all I know is that there are combinations of words and melody that need make their way into the world."
Making records, breaking moulds (feat. Jim Bryson)
Speaking of music that should make its way into the world…
Jim was introduced to music as a preschooler, when his aunt took to sending him and his older brother home with 45s after they visited. "It was pretty cool of her," says Jim. He and his brother took piano lessons, but theirs wasn't the kind of uber-musical home Jon and Rolf grew up in. Eventually, though, piano led to other keyboard instruments, as well as guitar, mandolin and banjo; basically "stringed instruments that aren't bowed." Jim also took up the saxophone in high school.
After graduating from A.Y. Jackson Secondary School, he enrolled as a piano student in Concordia University's music program. But it only took three terms before he knew it wasn't the place for him. "I wanted to play in a band and I felt like I was starting to fall behind," he says.
So he set about catching up. In 1994, he and some fellow musicians founded the pop punk band Punchbuggy, where he spent nearly three years getting a musical education that was much more his style. "We played every kind of place people would have us," he says. "I learned so much about what I wanted to do and even some about what I did not want to do with music."
In 1997, Jim left the band to branch out as a solo artist. And that, ultimately, led to him truly discovering his calling. He says he hadn't consciously decided to pursue music as a profession. He just knew he wanted to play.
"There was definitely part of me that always wanted to play music—that stood with a tennis racket in front of a mirror when I was a kid (pretending to strum a guitar)," he says. "But I guess it wasn't until I put out a record that it made me aware that I was interested in pursuing it in some way."
That first record, The Occasionals, was released in 2000 to great acclaim. (It won him a huge fan in fellow Kickass Canadian Rob Baker of The Tragically Hip.) He followed up his debut with The North Side Benches, which was released in 2003 by Universal Music's Orange Record Label.
Ultimately, he decided the label wasn't the right fit for him, so he approached Kelp. "Jon's been a big champion and he's always wanted to help me," says Jim. "(Working with Kelp) was the first time I felt like I was involved in something musical that was community." Together, they put out Where the Bungalows Roam in 2007, and the rest is history.
Jim has released five albums to date (four studio records and one live). His impressive musical life has paired him with The Weakerthans, Kickass Canadian Kathleen Edwards and The Tragically Hip. Lately, he's also taken on producing, including a forthcoming record for Oh Susanna. He's keen to continue recording, for himself and other artists, which he does from his home studio in Stittsville, Ontario (where he lives with his partner, Lisa Baird, and their daughters, five-year-old Beatrice and two-year-old Ursula).
"I'd like to be able to have a body of work that would represent what I wanted to present," he says. "I like records to evolve and change, and I'd like to look back and see it as a body of work that has change and developed. I don't think it's a bad thing that I look back at my early records and I don't feel super connected with the person who made those records, because I was 10 or 15 years younger when I made them. I think that's a good thing that I feel a little bit at odds with the person who made those records… My joke is that I want to make the best record I've ever made in my 60s. I'd like to be able to keep doing it and keep evolving in some way, and feel like there's some movement and there's a reason for me to be doing it."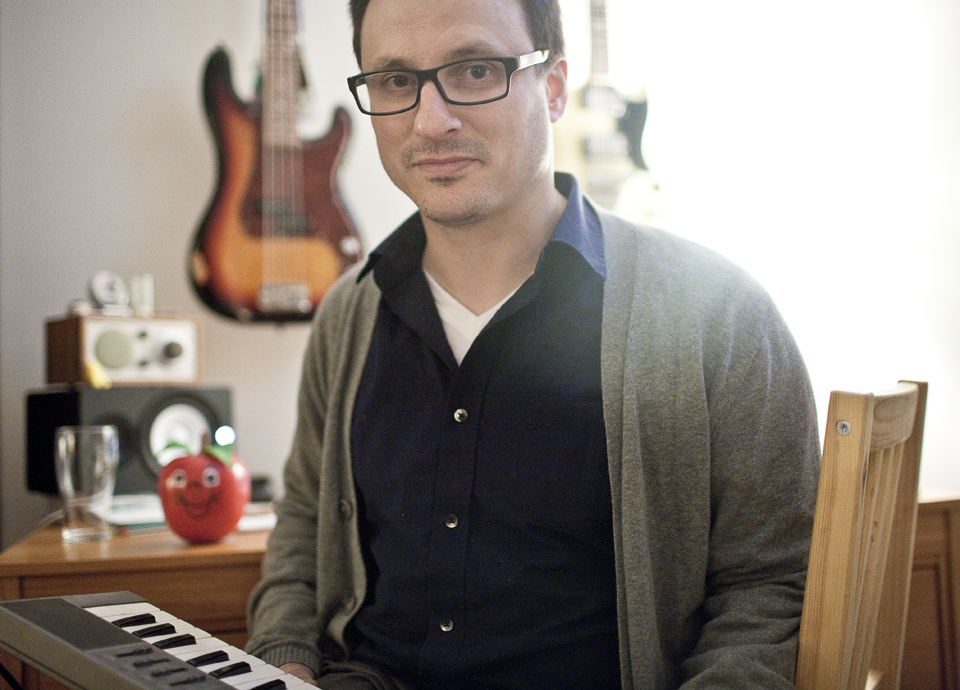 Ottawa and ARBORETUM Music & Arts Festival
One of the reasons for doing it is to help support the burgeoning Ottawa music and arts community all four of these Kickass Canadians speak so fondly of.
I would be remiss in writing an article on Rolf Klausener without elaborating on one of his greatest creations, the ARBORETUM Music & Arts Festival, which he modestly calls "a multi-disciplinary music and arts festival my friends and I started three years ago." In 2011, after Rolf experienced what he describes as a palpable shift in Ottawa's culture, he and his good friend Stefanie Power launched the inaugural ARBORETUM Festival, which took place in September 2012 at the HI-Ottawa Jail Hostel. It went swimmingly (check out Rolf's open letter, written a few days after the fest wrapped), and has since blossomed into a multi-day event that celebrates Ottawa's artists, musicians and restaurants, and welcomes in exceptional acts from across Canada, like The Constantines, who will play at this year's fest in August.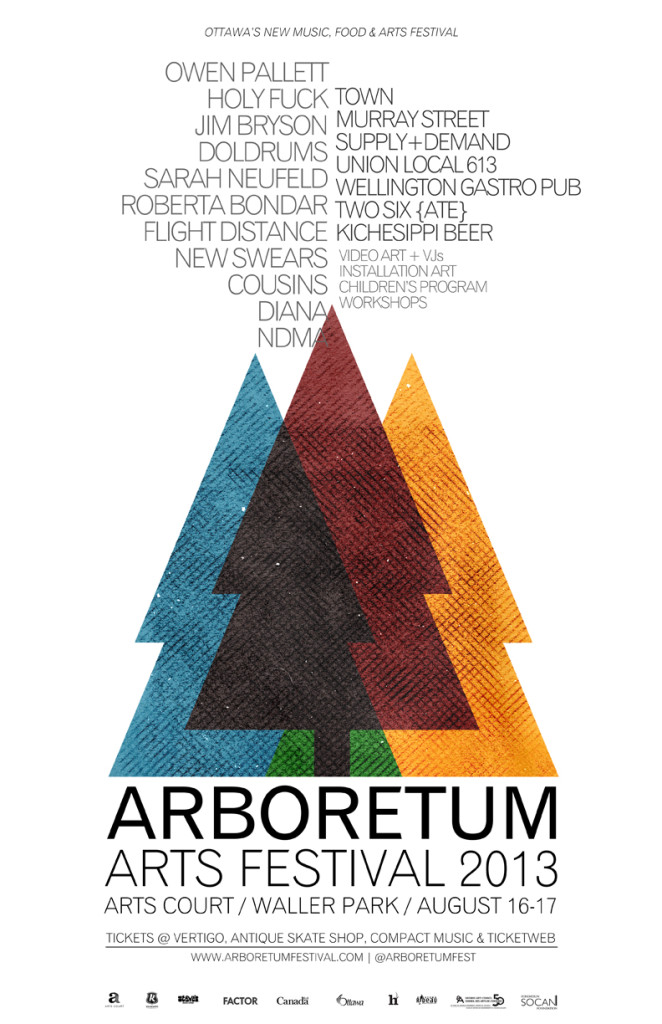 "I've honestly never seen Ottawa thrive this much culturally," says Rolf. "It's a vibrant, ground-level, self-made cultural scene. I really think summer 2011 was the summer that all of a sudden all the pieces started to come together for the city. (With ARBORETUM), we just wanted to celebrate that. We felt the need to celebrate the city as a whole, and include the people who were really making the scene hum—from all the chefs and restaurants, to all the video artists and underground musicians. So it was our attempt at making an amalgamated city-wide cultural showcase."
This year, ARBORETUM is trying something new. Rolf and his fellow organizers have reached out to programmers throughout the city, offering them a stake in programming the festival. He'd love to see it evolve as a curated, weeklong event across Ottawa, similar to "incredible showcases" like Sled Island festival in Calgary, Alberta. Rather than competing for audiences, Rolf sees this as opportunity for all the city's programmers to work collaboratively.
"It's the idea of emerging art and underground art being showcased around the city, with a sort of smaller boutique component at the end of the week," he says. "I'd like to see how far that idea could go in Ottawa. I'd like to see if the population in the city is interested and ready for something like that."
Jon also has big plans for Ottawa. He's currently transforming MEGAPHONO into a non-profit organization committed to promoting Ottawa music, locally and further afield. "We've been working with the City of Ottawa and a lot of different organizations and we're super excited about it," he says. "There's a lot of great music happening in Ottawa right now and a lot of those bands just don't quite get over the cusp or know what to do to get bigger or to get more attention. We're aiming to help these amazing bands and help bring people to Ottawa to see them."
And so, 20 years in, Jon, Kelp and the amazing artists who have helped make it what it is, continue to foster creativity and community wherever they live. Luckily for Ottawa, they've made their home in our capital.
Here's to Kelp and their next 20 years.
*            *            *
For the latest news, visit kelprecords.com, jimbryson.org, theacorn.ca and arboretumfestival.com. You can also check out Andrew's Myspace page.
To find the guys on Twitter, follow @kelprecords, @jimbryson, @theacorn and @vincentad.
They're also on CBC Music at Jim Bryson, The Acorn and Andrew Vincent.