Lee Demarbre, movie aficionado
"Nothing gives me a bigger thrill than watching a movie that makes me want to pick up a camera and make my own movie."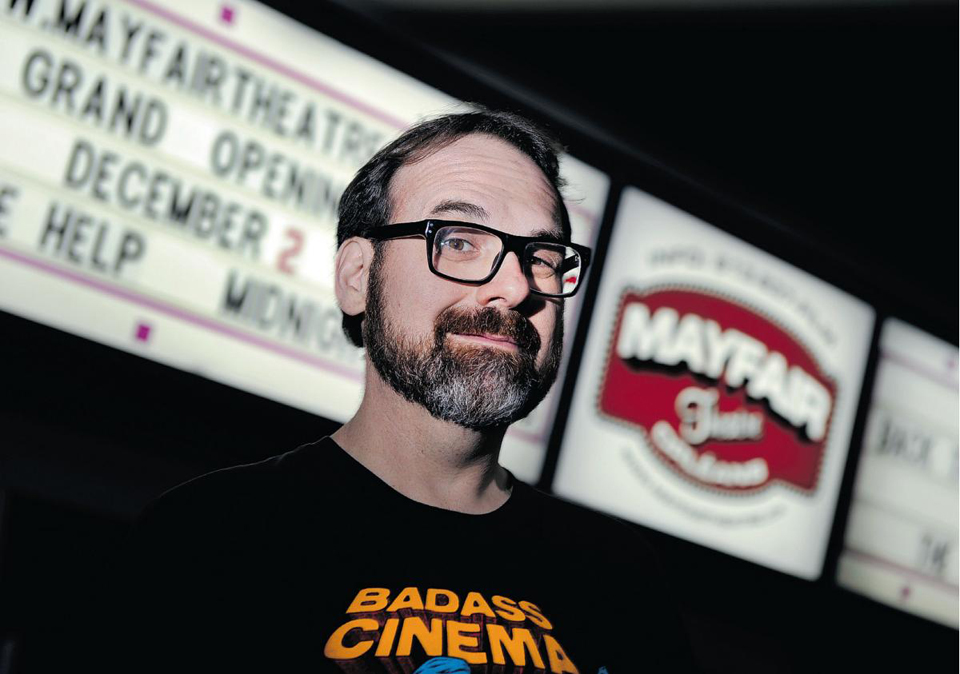 It's energizing to be around someone who really loves what they do. Lee Demarbre is one of those people. He loves movies—has since he was a kid.
Growing up the only child of a military policeman, he moved around Canada a lot, usually at the beginning of the summer after another school year ended. Without siblings to keep him company, he often spent June and July alone at the movies.
These days, he still spends a lot of time around movies. Most of it, actually. He operates and programs the two Mayfair Theatre venues in Ottawa, Ontario—one downtown, one in Orleans. He's also directed a slew of award-winning short and feature length movies, including the cult favourite Harry Knuckles series and the Herschell Gordon Lewis-inspired Smash Cut.
When it comes to putting movies on the screen, what Lee wants most is to inspire the artist within each of his viewers. "Nothing gives me a bigger thrill than watching a movie that makes me want to pick up a camera and make my own movie," he says.
He loves guerrilla-style flicks, like Blaxploitation, Hong Kong action and Mexican wrestling movies, which get others excited about filmmaking. "I can picture myself making those kinds of movies," he says. "Those Blaxploitation films are basically just really great low-budget action movies. And watching them makes me think, 'I can do that.'"
In other words, they're accessible. Just like Lee himself.
I met Lee in the early 2000s after reading an Ottawa Citizen article about his upcoming Harry Knuckles screening at The Dominion Tavern. Fresh from Queen's University film studies, I was keen to meet a local director. I headed over and introduced myself, and he graciously sat down to chat about his projects and love of movies.
Over the years, he always made himself available, showing me rough cuts of his work or bringing me on set as an extra. I quickly saw how friendly, generous and inclusive he is. I also discovered how very knowledgeable he is about cinema. He really knows his stuff.
Film 101
It was while studying film at Carleton University that Lee learned about Canadian and international cinema. Before that, though, there was Raiders of the Lost Ark and Star Wars.
Lee first came to Ottawa in the summer of 1977, the year Star Wars: A New Hope was released. He came by way of Chicoutimi, Quebec, Bagotville, Quebec and Sioux Lookout, Ontario. When he arrived in Ottawa, he grabbed his Obi Wan and Luke action figures and "went to see Star Wars over and over and over again." The movie more than piqued his interest. He started reading up on Steven Spielberg and George Lucas, and realized that filmmaking was a plausible occupation.
He left Ottawa a few years later, when his father was posted to Newfoundland—first St. John's, then Concession Bay. The family moved back to Ottawa in 1986, for what became the greatest summer of Lee's young life: "I spent two months seeing every movie I could." He walked to the nearby Vanier Cineplex, and bused to Rideau Centre and the old Britannia 6 (now the site of the Coliseum). "I saw so many great films—Howard the Duck, Haunted Honeymoon. Once I saw three movies in one day: Little Shop of Horrors, Heartbreak Ridge and King Kong Lives. None of them are very, very good. But I do have fond movies of seeing all of them."
Guerrilla-style
After the summer of his dreams, Lee enrolled at St. Matthew High School. He also took a job in the kitchen of a downtown Chinese restaurant, working to earn money for a video camera. In Newfoundland, Lee taught himself to edit by re-recording audio on the Monty Python albums. Now, having landed in The Big Smoke (a.k.a. Ottawa), he was ready to get behind the camera.
As soon as he had the funds, he picked up a video camera, quit the restaurant gig and devoted his spare time to making movies. Lee and his buddies embarked on what they called Basement Wardrobe. They'd head over to someone's house after school, raid their parents' closets and develop characters based on the outfits they put together. They shot 88 short films that way, "with real stories, edited and with music," says Lee, who kept every one and recently digitized them for posterity.
Lee applied that same hands-on approach to distribution. He worked at West Coast Video and a pal worked at another nearby video store. The pair added their short movies to the ends of popular Hollywood blockbusters and told friends which ones to rent if they wanted to see their projects.
Lee also set up a distribution network among a few area video stores. He managed a legitimate straight-to-video release in Orleans for his 40-minute movie The Hacker, a film that stood on its own, free of the feature-length opening act. "The Hacker is so bad, it's funny. I watch it with my friends and we just laugh our guts out."
Buffing up
Keeping it light seems to be an underlying theme for Lee. When I ask what he loves most about moviemaking, he says, "Having fun. I find on a small set, there's a lot of fun to be had with a movie camera in hand."
But that doesn't mean he hasn't maintained a deep appreciation for film history and a passion for exploring a range of genres. "Until I went to university, I didn't know anything about films except what came out of Hollywood. I meet a lot of young, inspired filmmakers now who know a lot about international cinema, but that's because of the Internet. Before the Internet, all you knew about movies was from looking in the newspaper and seeing what was playing in town. It was hard to venture beyond that."
At Carleton University, Lee had a real eye-opener. Many of the films he considered to be Top 20 turned out to be, in his words, irrelevant. "Going to film school showed me that my view of film was very shallow. There were all these other films out there."
So, after years of gorging on Hollywood fare and working at an Ottawa video store that put Canadian movies in the international section, Lee was hungry for a broader education. He discovered Canadian filmmakers such as Atom Egoyan, David Cronenberg and Don Shebib. He got caught up in the French New Wave and emerging American independent cinema, including Reservoir Dogs, Glengarry Glen Ross and The Player.
"It was almost like it was the right time to go to film school," says Lee. "There were a lot of really great films coming out of the U.S. The Internet was also sort of coming around, so lesser known films were getting out there more."
While boning up on film history and theory, he started voicing his opinions on cinema in a more formal way; Lee launched Drunken Master Review, the weekly CKCU radio show he continues to host to this day.
Feature presentations
After graduating Carleton in 1994, Lee dove headfirst into the film world. He started working at ByTowne Cinema, launched Odessa Filmworks and got to work making movies, including shorts Harry Knuckles (1998) and Harry Knuckles and the Treasure of the Aztec Mummy (1999), and features Jesus Christ Vampire Hunter (2001) and Harry Knuckles and the Pearl Necklace (2004).
Lee's movies were self-funded until producer Robert Menzies of Ottawa's Zed Filmworks caught sight of Pearl Necklace. He recognized Lee's talent and the two formed a lasting partnership that's still going strong. Through Zed, Lee directed five more features: The Dead Sleep Easy, the 2007 film starring wrestler Ian Hodgkinson (a.k.a. Vampiro); the 2008 documentary Vampiro: Angel, Devil, Hero; and 2009's Stripped Naked, Summer's Blood (starring Ashley Greene of the Twilight series) and Smash Cut (starring David Hess, Ray Sager and former porn star Sasha Grey).
The Mayfair Theatre
Since Lee's days at West Coast Video, he's kept up his penchant for guerrilla tactics. When he took Jesus Christ Vampire Hunter to the 2002 Cannes Film Festival, he set up a mock crucifixion on the beach, handily stealing press from a nearby Christina Ricci promotion.
He's still the same bold guy who plays by his own rules, revels in good old-fashioned gore and delights in telling tales about chatting up George Clooney and Michelle Yeoh.
He's also putting down roots. In January 2009, Lee and a few partners, including frequent writing partner Ian Driscoll and still photographer Petr Maur, took over the Mayfair Theatre on Bank Street—Ottawa's oldest active movie theatre and an official heritage building.
"I always wanted my dad to quit the military police so I could work in a movie theatre," says Lee. "I like being in movie theatres and I guess in the back of my head it was a dream to run one."
In December 2011, Lee opened the Mayfair Theatre Orleans, a three-screen cinema just blocks from his home. Both Mayfair venues show a mix of well-known current titles and "stuff you can't see anywhere else." He's committed to bringing in movies that showcase alternatives to mainstream Hollywood and give lesser-known filmmakers some much needed exposure.
Coming attractions
After spending his early years moving around the country, all signs point to Ottawa as Lee's permanent home. On top of his commitment to the Mayfair Theatre, he's been married for 12 years to his high school sweetheart, accountant Cheryl Demarbre.
The couple shares two young film buffs: six-year-old son Max, who's crazy about the Alien movies, and eight-year-old daughter Anna, who just launched a Twitter account to promote the short videos she's making with her best friend.
"I love that I'm getting to create movies now with my kids," says Lee. "I just got this new iPhone and I'm shooting the little short stories (Anna and Max) come up with."
In addition to furthering the Demarbre filmmaking legacy, Lee has a few other projects on the horizon. There's The Annihilators, a feature about five sickly older men who decide to spend their last months as vigilantes. Then there's a possible Italian co-production, which he describes as "a really exciting project about cannibals." He'd also love to make an Emmanuelle movie, adding his mark to the erotic French-Italian series. He has his eye on developing a story around Canadian stuntman Ken Carter. And a sequel to Jesus Christ Vampire Hunter is never far from his mind.
At the end of the day, Lee just wants to keep having fun making movies, and to inspire others to do the same. In his words, "I would like to hear someone say to me what I said to Herschell (Gordon Lewis): 'You made me want to pick up a camera and make a movie.'"
*            *            *
To connect with Lee, email [email protected] or follow @DrunkenMaster2 on Twitter. You can also catch Drunken Master Review on CKCU, Mondays from 9am to 10am EST.