Lorraine Elizabeth Campbell, mother-early childhood educator-community leader
"If children have the opportunity to foster their development and their creative skills, it's going to help them later in life."
Lorraine Elizabeth Campbell's story wouldn't be complete without introducing one of the main characters in her narrative: her son Theodore. She gave birth to him at age 15, when she was still in high school. But although she was a single mother, she makes it very clear that she didn't raise Theodore alone.
"My parents helped me, my four elder siblings helped me, my community helped me," she says. "Theodore was at the neighbour's house quite a bit when I was at school. Everybody helped raise Theodore."
That experience brought her a deep appreciation for the importance of community and collaboration, one that played a big part in bringing about the fabulous grassroots initiative she founded in Montreal, Quebec in 2010.
When We Play-Quand On Joue (WWP-QOJ) is "a non-profit organization that helps youth receive accessible art education." By bringing together volunteer teachers and youngsters in a host of venues throughout the city, participants receive art education, including visual arts, music, dance and drama, in either English or French.
"My goal is to help provide the opportunity for children to have access to equal art education within their communities," says Lorraine.
Even before she told me about WWP, I'd been impressed by Lorraine's spirit and life choices. We met in 2002 when we played on the Ottawa, Ontario co-ed competitive ultimate Frisbee team Fabulous Flying Flamingos (led by Kickass Canadian Gavin Thompson). She had an infectious enthusiasm and energy, and was always lighting up the field with her stellar smile (not to mention her blazing speed). She also showed impressive character strength and an iron will.
Lorraine never made a secret of Theodore's upbringing. She proudly brought him to many of our practises and tournaments, and was very open—with Theodore and the rest of the team—about her experience as a single teenage parent.
In fact, the only time she kept quiet about him was during her first two trimesters, because she didn't want anyone to try and talk her out of having Theodore. "I always knew I wanted to keep him," she says.
When we play, we thrive…
Growing up in Ottawa, Lorraine was a talented athlete who excelled in many sports. She loved dance, basketball, volleyball, and track and field. But it was soccer that really stole her heart. Before Theodore was born, she played on the Hillcrest High School team. After giving birth, she felt the need for a fresh start. So, she transferred to Ridgemont High School, where she promptly joined their soccer team as the star mid-fielder and played a pivotal role in winning the championship game against her former teammates at Hillcrest.
Staying involved in sports helped her focus on herself and her teammates, offering a welcome break from the stress of being a young mother and high school student while holding down two jobs. She also made a point of keeping up her passion for painting, clothing design and dance, which she continues to do today.
"Play meant a lot to me," says Lorraine. "I loved playing alone, I loved playing with other people. I liked making stuff, getting my hands dirty."
We learn…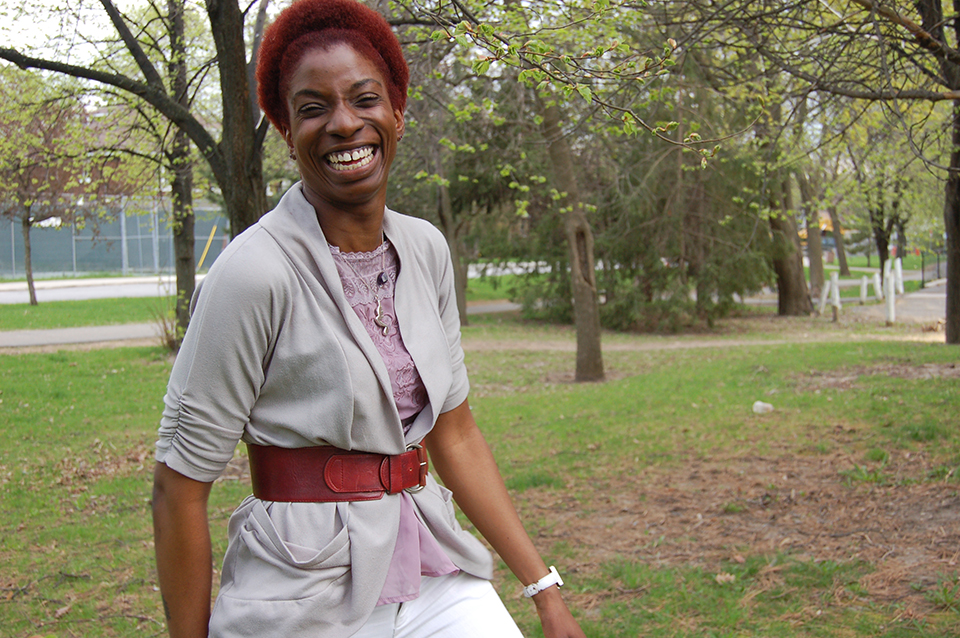 Still, Theodore was always Lorraine's priority. When she got a spot in the daycare program at Rideau High School, she transferred there for her last year of secondary school.
After graduating in 1995, she enrolled in a three-year Early Childhood Care and Education (ECCE) program at CEGEP Heritage College. "I wanted to learn how to be a better parent," she says. "I knew that I couldn't simply rely on what my parents had taught me, and that I'd have to look to others for help in teaching Theodore that he wasn't brought into this world to please me; he was brought here to find out what he loves and to share his passion with others."
For Lorraine, that meant encouraging her son to explore his interests and talents through a variety of artistic and athletic activities. "Children learn through play. It's a natural instinct. Through their curiosity, they learn what works, what doesn't work, what makes them feel good, what doesn't make them feel good. It's just like adults. Adults are just grown kids."
We dream…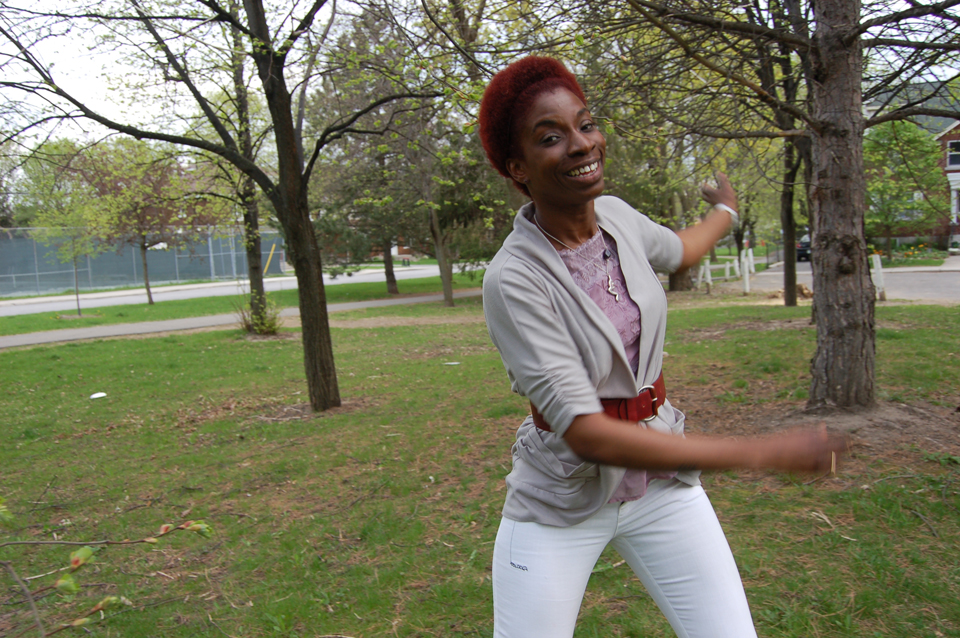 Lorraine graduated from CEGEP in 1998 and took a few years to save some money before enrolling in an undergraduate history program at the University of Ottawa. To make sure she got in the playtime she needed, she took up ultimate Frisbee while continuing to juggle school, work and parenthood.
The plan was to study law after finishing her history degree. But by the time she graduated in 2004, she realized she was more interested in working with children than becoming a lawyer. She and Theodore packed up and headed for Montreal, where Lorraine hoped to open her own daycare.
When that fell through, she enrolled in business classes through Youth Employment Services (YES) Montreal and learned to clearly map out her goals. She also took a job as an early childhood educator at a nearby community centre. Surrounded by youth, she realized she wanted to further her work with children and communities, but in a more creative way.
"I fell in love with the idea of creating community and shared experience through art," says Lorraine. "That's how I developed the philosophy behind When We Play: 'Building Stronger Minds and Bonding Communities with Art Education.'"
As the idea for WWP began taking root, fate dealt a lucky card. While attending a YES Montreal conference, she met Jane Needles, Executive Director at the Quebec Drama Federation. Lorraine shared her ideas with Jane, who quickly became a mentor, guiding her through the ins and outs of creating a non-profit organization.
We hope…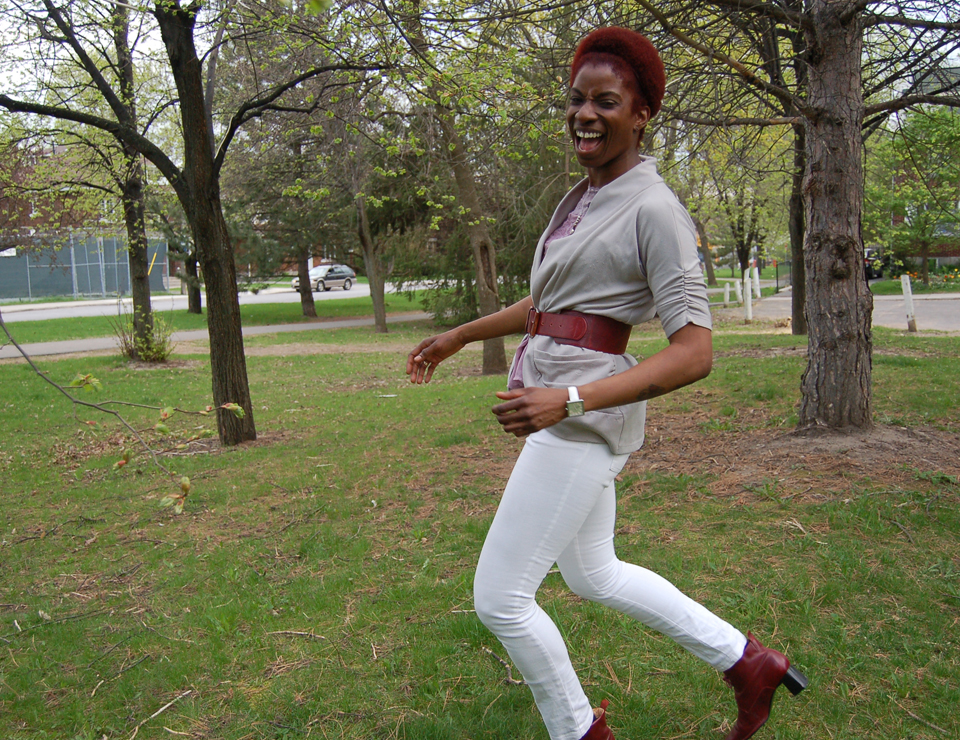 In raising Theodore, Lorraine saw firsthand the importance of art and play in a child's development. "My son is a musician. He plays alto sax, electric, acoustic and bass guitar, a bit of piano. Art has been a really great way for him to express and discover himself, and I think everybody needs something like that in their life. If we can have children practicing that when they're young, hopefully they can carry that through to their adult lives."
With that in mind, she launched WWP in 2010, putting together the board of directors and incorporating the organization. The first round of classes is slated to begin this spring, with dance workshops that include funky house jazz and hip-hop. WWP will soon add visual art and singing workshops to the program.
"Initially, I wanted to offer free art education, but we're just not in that position right now," says Lorraine. "Finding volunteer teachers and donated venues has been the biggest challenge." Still, WWP's rates are more than reasonable. Parents can register their children in 2012 spring and summer workshops for just $10, and all participants will receive a discount voucher for this fall's workshops.
In the short term, Lorraine aims to expand the number of spots available to Montreal youth. Thinking bigger picture, she hopes to eventually spread the program across Canada, "to help children in need have the opportunity to play in whatever discipline they choose, whether it be music or visual arts or science or sport."
We grow…
Today, Theodore is 20 years old. He graduated high school in 2009 and, at his mom's encouragement, took some time off to figure out what he wanted to do before enrolling full-time in post-secondary education; in short, to play.
As Lorraine sees it, taking time to explore and experiment is essential to becoming a fully developed person. "In a way, life is art. It's a process of discovery. If children have the opportunity to foster their development and their creative skills, it's going to help them later in life."
Her parenting choices have definitely gone over well. "I find my mom to be a great inspiration to me," says Theodore, who's currently studying economics at Dawson College. "I've seen her grow up and struggle through many situations—going to school and working at the same time as raising me. As I get older, to the same age she was when she was going through those troubles, I'm able to look back on her example and learn how to become a better person myself."
We live…
Just as Lorraine inspired her young son to reach his potential and be a good person, so has he inspired his mother: to be a better parent and to help build stronger communities in which children can flourish. The hardships she went through as a young single mother were made bearable because of the strong support system around her—a system that empowered her and her son to have the opportunity not only to get by, but also to live and laugh and play. That's something she hopes people of all ages get to do more of.
"I don't think we play enough," says Lorraine. "I think we all take life a little bit too seriously. We need to just relax a little bit and enjoy ourselves, enjoy our environment, enjoy our communities and the people in them.
"What I hope will come of When We Play is that we'll be able to join and connect people through art, and to help bring them back to the basics of what community means. We can't survive as people without communities. We don't all have to be best friends, but we do have to work, and play, together."
*            *            *
To contact Lorraine, check out her LinkedIn profile or email [email protected]. For the latest on WWP, visit whenweplay.org, 'Like' the Facebook page or follow @WWP_QOJ on Twitter. To sign up for workshops or get involved as a teacher or volunteer, please email [email protected].