"Canadians are the beneficiaries of a natural landscape that is generous beyond deserving, living in a time of opportunity that not one of their ancestors ever dreamed could exist."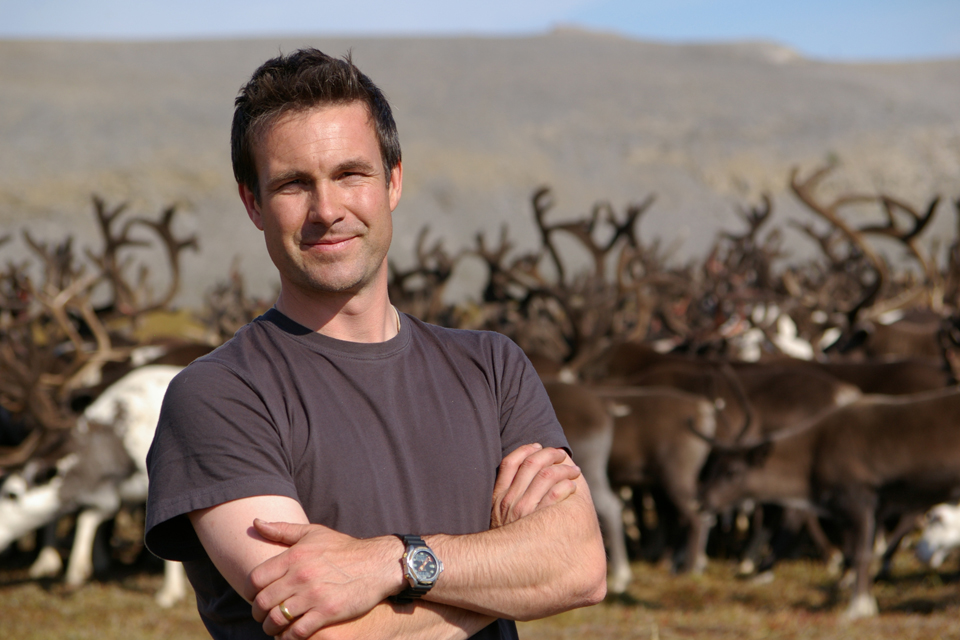 Dr. Niobe Thompson is very much a product of his environment. The Gemini Award-winning documentary filmmaker, whose work has taken him across the globe to explore issues such as the environment, human rights and anthropology, spent an unorthodox childhood in a remote Cree settlement in northern Alberta—immersed in nature, entranced by the people, and lured by his parents' copies of The New Yorker to one day uncover "the huge world out there on the other side of the forest."
Those early years in Wabasca, which Niobe refers to as "delightfully feral," instilled in him a strong desire to travel the globe. "For better or worse, I've never been able to stay in one place," he says. They also nurtured the seeds of empathy and compassion. In all the places Niobe has lived—Canada, India, Russia, Siberia, England, Denmark, Sierra Leone—he's formed deep roots with their people and made a steadfast commitment to helping improve their lives.
He has always been interested in humanity. Before becoming a filmmaker, he was an ardent academic, with a PhD in Social Anthropology from the University of Cambridge and a Postdoctoral Fellowship in Anthropology from the University of Alberta. But his first love was the natural environment.
"My family didn't go to church—it went to nature."
Niobe's mother was a landscape artist, his father a wood canvas canoe builder. (The Wabasca Canoe Company was the only traditional canoe company in western Canada, and exported wood canvas canoes all over the world.) They raised their son primarily in Wabasca, a place where, "in the endless summer light, bedtime didn't exist" and where school "seemed like a distraction from the serious stuff outside," says Niobe. "The lakes and the forests were my playground."
That bond with Canada's landscape has proven to be everlasting; he still takes his wife and two "sassy, smart" young daughters on an annual wilderness canoe trip to the Canadian Shield. He's also based in Edmonton, Alberta, so he can be close to family and the place he first called home. But he's never been able to quench his thirst for exploration.
Niobe's family relocated to Edmonton when he was 14. As soon as he graduated Strathcona High School in 1991, he bolted. "I bought a one-way ticket to Bombay without any thought of how, or when, I'd get home again," he says. He spent the next 15 or so years studying and working around the world, from Montreal to Siberia, from New Delhi to the Russian Arctic.
His adventures included six summers as a Rapattack forest firefighter in Alberta, a profession he decided he had to try when, as a child, he'd seen a helicopter hover over the Wabasca forest, "disgorging six men in yellow suits, who dropped to earth through the trees." Niobe's father clarified that the men were actually dropped into forest fires, and the young boy's mind was made up: one day, he would be among the men in yellow, dropped from the skies to fight the raging inferno below. Ten years later, after successfully completing the Rapattack tryouts in 1993, Niobe made his dreams a reality. "I got to fly to every corner of Alberta's forest wilderness, chasing smoke, living out my dream and paying for my education in the bargain."
Perhaps one of the traits that has gotten him so far—figuratively and literally—is his capacity and courage to dream big and dream often. He's already brought an astonishing number of his dreams into waking life.
From Montreal to Sierra Leone
Niobe's formal post-secondary education began in Montreal, Quebec at McGill University, from which he graduated in 1996 with a BA in Humanistic Studies and Russian. He followed that up with an MA in Russian Studies and Translation from the UCL (University College London) School of Slavonic East European Studies in 1998.
Around that time, he was approached by the Commonwealth Human Rights Initiative (CHRI) to produce "a major report on the proliferation of cheap, light and deadly weapons throughout the developing world," he says. "I began working with a strangely uncelebrated breed of human rights crusader—the researchers who track planeloads of AK-47s from Moldavia to Liberia, record Indian troop movements and rebel activity in Assam and Kashmir, and bribe South African defence ministry officials for information about weapons sales. These people take immense risks to document the dark underworld of weapons smuggling."
He conducted his own research in the field in 2000, going to Sierra Leone "just as one of the decade's most notoriously brutal civil wars was winding down," he says. "With a young local lawyer, I travelled from Freetown into the diamond mining hinterlands to meet with militia leaders and ordinary fighters from all sides of the conflict, trying to piece together a scenario for a post-conflict reconciliation process." Niobe and his colleague also did an inventory of the damage inflicted on the country's legal system. The report they wrote was used to form the basis for a multi-million-pound initiative to rebuild Sierra Leone's judiciary, which was funded by the United Kingdom's Department for International Development (DFID).
"When I look back at my accomplishments as a human rights researcher, this is where I feel I made some kind of difference," says Niobe. "It gives me such a feeling of pleasure to watch Sierra Leone rebuild and heal."
"I firmly believe that we all need more science in our lives."
After completing his human rights research in Sierra Leone, Niobe spent five years studying and living in the remote Arctic Russian region of Chukotka, working on a PhD in Social Anthropology. Once he received his doctorate from the University of Cambridge in 2005, he went on to complete a Killam Postdoctoral Fellowship in Anthropology from the University of Alberta in 2006. But as he was working on the fellowship, he started to realize that, other than a few rare exceptions, professional anthropologists had little impact on the world outside of academia.
Eager to find a way to effect positive, tangible change in the societies he studied, says Niobe, "I decided to devote myself to a more meaningful medium—namely, documentary film." In 2007, he joined celebrated Canadian filmmaker Tom Radford in co-founding Clearwater Documentary, an independent production company that specializes in long-form documentary and is dedicated to "bridging the gap between science and a mass audience."
He feels that scientific knowledge is the key to finding our way through some of the most pressing dilemmas we face today; for example, climate change, regulating industry and living healthfully. The challenge he and Tom face with Clearwater is to overcome people's "disinclination to take science seriously," and to present scientific research in interesting, understandable ways that appeal in an age when "the average attention span is measured by the length of a YouTube clip."
"It's hard to find ways to delve into questions of science and offer a nuanced picture to the public," says Niobe. "Thank god we still have The Nature of Things in Canada—a place where we can bring the best filmmakers and the most engaging scientists together to pick apart the environmental issues of our time."
Through Clearwater, he has produced several documentaries, all of which employ creative ways of presenting science in a compelling manner. In 2009, he location-produced the Chukotka sequences of the British Broadcasting Corporation's (BBC) new Frozen Planet megaseries. (He was already deeply familiar with the country, having spent five years living in Chukotka throughout his doctoral studies, and then further exploring his findings in his 2008 book Settlers on the Edge.)
Niobe and a small crew travelled to the Russian Bering Strait to film Yup'ik sea mammal hunters. "We followed them as they hunted walruses and seals in the drifting ice," he says. "We filmed them as they climbed down 800-foot cliffs towering over the sea to raid guillemot nests for their eggs. We followed a group of hunters through heaving sea ice as they paddled a walrus-skin umiak boat to visit reindeer herders on a distant shore… It was an unforgettable experience." (For a taste of that experience, check out this video.)
"The eyes of the world are on Alberta."
Niobe followed 2009 with an even bigger year for Clearwater. In 2010, he and Tom directed two films that picked up several Gemini Awards and nominations. Code Breakers, about new discoveries unlocking the mystery of the first human migrations into the New World, won Geminis for Best Science Documentary and Best Cinematography in a Documentary. Tipping Point: The Age of the Oil Sands was nominated for Best Social/Political Documentary and Best Director.
Tipping Point in particular has garnered a great deal of attention, nationally, internationally and quite specifically from famed Canadian filmmaker James Cameron, who's featured in the documentary. Niobe was able to arrange an on-camera meeting between James and Francois Paulette—a character in Tipping Point and "one of the most respected First Nations leaders in Canada."
"When James Cameron made Avatar, Aboriginal people all over the world identified their own fate in the story of the Nav'i on Planet Pandora, perhaps none more strongly than the Dene and Cree living downstream from the Alberta tar sands," says Niobe. "(When James and Francois met), Francois explained the situation that the Aboriginal communities downstream of the tar sands are facing as development expands. James is a quick study, and he was once a boy growing up in the forests of northern Canada himself; he committed to coming to Francois' territory in person to learn more."
True to his word, James arrived in Alberta five months later, where, says Niobe, "he thoroughly explored all sides of the issue and met with oil company executives, Aboriginal residents and the Premier of Alberta." After James addressed the media assembled in Edmonton and observed that "The eyes of the world are on Alberta," the policy landscape quickly began to change in the tar sands. Suddenly, peer-reviewed research pointing to dangerous pollution in the water gained the notice of the provincial and federal governments, who soon promised to establish a "world-class" water monitoring system in the tar sands.
It was an important development for Niobe, whose personal attachment to the area reaches back to his days as a Rapattack firefighter. "The expansion of the tar sands, forestry and natural gas extraction have fragmented the entire boreal region, with the exception of the Kazan Uplands—a small sliver of Canadian Shield north of Lake Athabasca," he says. "Because I know wilderness reined over huge expanses of Alberta as recently as the 1990s, it's heartbreaking to see how little is left untouched today."
"I'm a skirt-chaser of ideas."
Despite ample evidence of lasting concern and compassion for all the people and regions he studies, Niobe asserts that he's a "skirt-chaser of ideas" with "a short attention span and a spotty memory. Lego taught me to concentrate on the project in front of me—execute, present and move on without nostalgia."
That temperament, which he says serves him very well as a filmmaker, continues to take him around the world and in constant pursuit of the next project. He and his family are currently based in Copenhagen, his wife's childhood home, because the couple wanted to immerse their daughters in a Danish world "while their minds were still forming around the languages we raise them in," he says. They'll return to Canadian schooling next year, "but this will give them the foundation to be able to choose where to live and work later in their lives."
His professional life, meanwhile, has him moving farther and faster than ever. While his girls study Danish, Niobe's continued to fly around the world in pursuit of science and answers. He's been shooting The Perfect Runner, a documentary for The Nature of Things, which explores the phenomenon of barefoot running and will air on CBC on March 15, 2012. Niobe has done more than direct this project; he's been using his own body as a subject for the documentary. Already an ultrarunner, he committed to training properly for an ultramarathon by rebuilding his body and studying the science of running biomechanics.
"Since the beginning of the year, we've filmed running in minus 30-degree Edmonton, visited the birthplace of Homo sapiens in Africa's Great Rift Valley, trained with the world's most successful distance running school in highlands Ethiopia and joined nomadic reindeer herders in Arctic Siberia for their autumn roundup," he says. "Best of all, I got to attempt the Canadian Death Race, which is a 125km trail run over three mountains in Grande Cache, Alberta."
It was because of that race that Niobe is featured on this website; Canadian Death Racer Kimberly Sogge recommended him as a Kickass Canadian after meeting him at the event this July. He wasn't able to complete the course because of a badly sprained ankle, which forced him to pull out just shy of the 100km mark. But, he vows, "I'll be back next year to finish."
"Every film I make has its own message."
In addition to The Perfect Runner, Clearwater has a slew of other projects in the works. In early 2012, Niobe will return to Chukotka to screen Russian translations of the five documentaries he's filmed throughout the region. "It's difficult to convey to outsiders how isolated Chukotka is," he says. "The wonderful self-sustaining way of life you find in its Aboriginal communities is also a reflection of how little people there know of the world beyond. I hope that by seeing our documentaries, our friends (in Chukotka) will get a sense of why outsiders like me find their cultures fascinating, and thereby cherish their knowledge and traditions all the more."
Clearwater is also developing new documentaries about the disappearance of the middle class in the ongoing global economic crisis; the human journey out of Africa and what researchers are discovering about what happened to our species 50,000 to 70,000 years ago as it crossed the continents; and the natural splendour of Canada's Great Bear Rainforest.
"Every film I make has its own message," says Niobe. "But if I look back at them as a whole, I think they say that humans are a wonderfully adaptable, endlessly resourceful species. We are the great generalists, we thrive in adversity, we accomplish the most unlikely feats and we can read the signs in the world around us that point to trouble. But the world we live in is also unforgiving, and our ancestors have been decimated by catastrophe many times. My films tell stories about human survival, but also about the threats that have wiped us out in the past and that may do so in the future."
As he delves further into the world of filmmaking, he remains tapped into his academic roots. He's a research associate at the University of Alberta's Canadian Circumpolar Institute (CCI), and works closely with the university administration to bring the institution's research to the screen in his documentaries. But he's primarily dedicated to finding creative ways of educating the world about his findings, and in honouring his first love—Canada's wilderness.
"Canadians are the beneficiaries of a natural landscape that is generous beyond deserving, living in a time of opportunity that not one of their ancestors ever dreamed could exist," says Niobe. "Get out there and create something!"
*            *            *
For the latest on Niobe's projects, please check out his new production company, Handful of Films.