Stephan Moccio, composer-songwriter-producer-musician
"For the (Vancouver 2010) Olympics to hit in my mother country in the prime of my music career, at a time when I had the inspiration for 'I Believe,' everything had to line up. It was one in a hundred million odds that that would happen, and it did. I was lucky and I was blessed."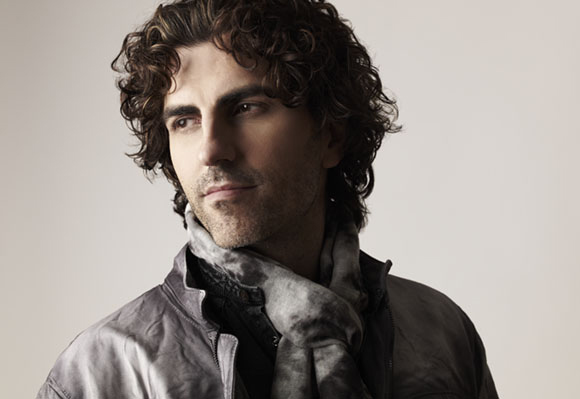 "I believe in energy," says Stephan Moccio. "There's a story of forces and energies converging."
So have the details of his world come together, and so has his life played out on a larger scale.
At age three in Toronto, striking piano keys like beats on a drum until the sounds that came out made sense in his mind, he discovered notes and then music and, quickly thereafter, that both flowed through him like a pulse.
"I feel music everywhere in my body. When I hear a beautiful piece of music, it rattles me to the core of my being. I sometimes can't move properly because the sounds are intoxicating."
Studied hard at the keys and the books, then left high school with a diploma and a sweetheart to become his wife. Also a personal vow, after hearing the song for the 1988 Calgary Olympics, to one day write the theme when the Games came back home.
Graduated University of Western Ontario in 1994, had composition and piano performance down. Passed up Berklee College of Music in favour of writing and producing with Sony/ATV Music Publishing.
Years and notes trickled by, and his talents as producer and songwriter infused with Fergie, Jessica Simpson, Randy Bachman, JC Chasez, Nick Lachey, Marc Jordan and more. Wrote the theme music for CTV Television's Camilla Scott Show, leading to many variations of themes: House & Home, etalk, The Marilyn Denis Show, and something promised long ago…
But first: fly down to Montreal; leave L.A. behind. Take a weekend with Aldo Nova and record a hit for Céline Dion. "I took a chance, got on the plane and we wrote it in an afternoon."
Music poured from Stephan, Aldo wrote the words, and together they created a masterpiece. A New Day Has Come. "That song changed my life."
"Music has always moved me; it always brought me to a different place, it made me cry… The right piece of music, the right sound, the right time—you can be haunted by it. It just has the ability to move."
From a love of Saint-Exupéry's Le Petit Prince (The Little Prince), the joy of song and a fondness for penguins, "Sing Little Penguin, my publishing company, was born. It always reminds me of the things that make me happy in life."
With two little penguins of his own—one five years, the other a few days—a new world of inspiration has come.
Holding his eldest not long after her birth, the opening notes of his pre-destined 2010 Olympic theme burst forth. "I sang it into my answering machine, and you could hear my newborn daughter cooing on the phone… I had the theme growing inside me before then, but that's when it really crystallized."
Being 2005, it was early days yet; Stephan held onto the theme as he did his daughter, and time played out a beautiful melody as they waited.
From Bijou Records, Stephan's label with manager James Porter, and Universal Music Group, two solo instrumental albums took shape: Exposure (2006), the highest-charting instrumental album in Canada in the last 25 years; Color (2010), the wrenchingly poignant follow-up. "Moments of musicality," companions on a quiet night. Music by which "to make dinner, make love, fall asleep." Even sometimes to give birth or leave this world by. "I've heard so many amazing stories from fans."
"Music is a language. I love moving people. I love when somebody says, 'You made me cry,' or 'You made me so happy.' It's a good feeling to know that you created something from a feeling or an experience that you've had, and that you were able to touch somebody else's life."
The world took note as his music came to life on the page and the airwaves. He played live in honour of Bill Clinton's 60th birthday, for Robert Redford's family at his Utah ranch. Hosted the G20 summit, and headlined the ONEXONE Gala with MC Matt Damon. Wrote songs for the Canadian Tenors, Sarah Brightman, Josh Groban, Edwin and Olivia Newton-John.
And then, amid all those stars, the ones overhead aligned perfectly.
The notes that appeared in fragments years before finally fell into place on the scale, fell into words through Alan Frew. Come 2010, Nikki Yanofsky put a voice to Stephan's music, and I Believe transfixed the world.
"It's incredible to be part of history. For decades and decades, people will remember the theme and the song because it was such an incredible experience for us as Canadians… It coloured the Olympics in a certain way. The amount of fan mail we all received for the song, for the theme, for the music, it was overwhelming. For the Olympics to hit in my mother country in the prime of my music career, at a time when I had the inspiration for I Believe, everything had to line up. It was one in a hundred million odds that that would happen, and it did. I was lucky and I was blessed."
"I see music in colour. I'll play a certain chord on the piano and it reminds me of a certain colour."
Hurtling forward prestissimo, juggling children, lots on the go and ideas to spare. Composing the theme for Canada's Walk of Fame. Writing hits for explosive new Canadian rapper Reema Major. Penning lyrics and music for The Voice in Nashville. Submitting to film for a documentary on his life (via filmmakers April Mullen and Tim Dorion). Signing a new publishing deal with Universal Music Group.
But don't forget: Canadian Bijou Records, and his little penguins, who will always be singing close by. Heart and soul are never far away.
"I believe in creating your destiny. Did I believe I was destined to write the Olympic theme? Yes, because I was so passionate about it. I knew I had that drive, I knew I was going to be able to overcome everything in between.
"I had to always believe."
*            *            *
For the latest on Stephan, visit stephanmoccio.com, email [email protected], 'Like' his Facebook page, or follow @StephanMoccio on Twitter. For a taste of his genius, click here.
Thank you to Kickass Canadian Ray Zahab for recommending Stephan.