"I like to run the way I live my life: relying on other people and having other people rely on me."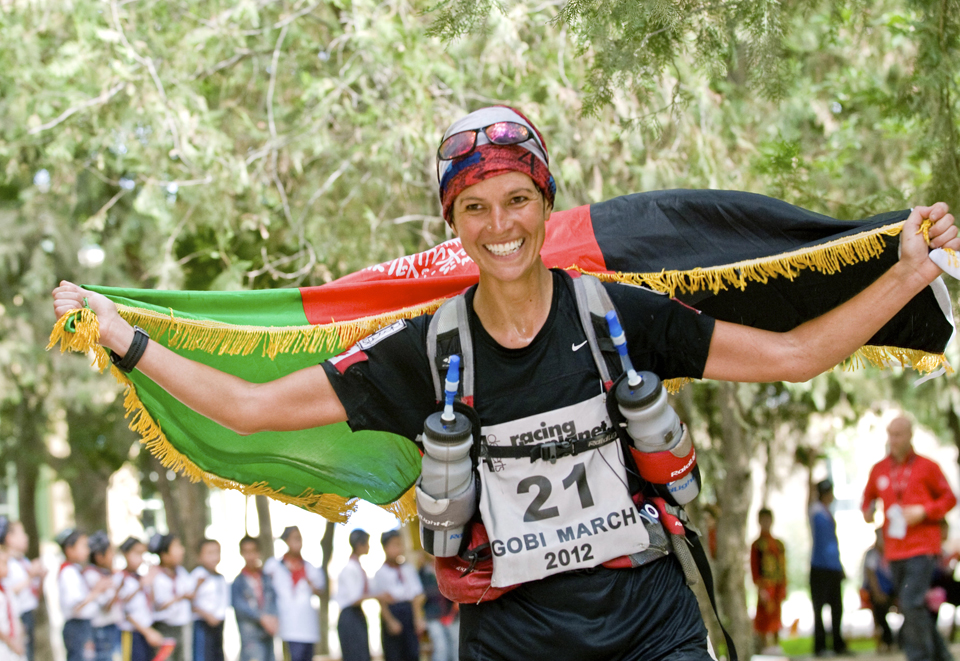 Of the many things Stephanie Case has proven (about herself and the human spirit), one is that it's possible to go from hating running so much that you count down the minutes of every workout, to being so dedicated to the sport that you'll literally run until your pelvis breaks just so you can try to finish a race.
Stephanie is one astonishing woman. I discovered her in a recent Queen's Alumni Review article about her legal and humanitarian work with the United Nations Assistance Mission in Afghanistan (UNAMA) and her ultrarunning fundraising initiatives for Women for Afghan Women (WAW). Since connecting with her, I've only become more impressed. She's vivacious, open, humble, and doesn't seem to know the meaning of the term "slow down."
When Stephanie emailed me agreeing to be featured on KickassCanadians.ca, she let me know that her schedule was a little busy:
"I'm flying to NYC today, Liberia on Monday, London on the 21st, back to Canada on the 22nd, Australia on the 28th, Hong Kong on May 2nd and finally Bishkek on May 6th."
But it was no trouble scheduling an interview, even though she was also co-editing the book UN Human Rights Council: Law, Practice and Politics in her "spare time" before starting her new position as human rights advisor for the Organization for Security and Co-operation in Europe (OSCE) in Kyrgyzstan.
It turns out Stephanie is coached by fellow Kickass Canadian, and impossible2Possible (i2P) co-founder, Ray Zahab, who took her on after she won her first ultramarathon, RacingThePlanet: Vietnam in 2008. Since then, she's racked up an impressive number of running accomplishments (and victories!). But, according to Ray, "Stephanie's work around the world as a humanitarian is even more impressive then her running."
That stands to reason. After all, while she started out "hating running," she has known all her life that the desire to help others was in her blood. "I've always been interested in social justice issues and human rights," says Stephanie. "I think it's my calling, in a way. It's my passion. I've always put that ahead of everything else."
Broader horizons
Raised largely in Oakville, Ontario, Stephanie graduated from Oakville Trafalgar High School in 2000 before returning to her hometown of Kingston, Ontario to study psychology and international development at Queen's University. While pursuing her undergraduate degree, she also dove deeper into volunteerism. Her efforts included helping at a medical clinic and a school in Ghana, teaching English to Buddhist monks in Thailand and conducting wildlife biodiversity research in the Amazon jungle.
After completing her BaH in 2004, she headed to the University of British Columbia (UBC) to study law. "I went to law school not necessarily to become a lawyer, but to get the skills to negotiate better and argue better; to fight for those who wouldn't be able to fight for themselves," says Stephanie. "To me, being a lawyer is so much broader than what most people think it is."
With the wheels set in motion for her humanitarian and international relations work, a new idea took root. Stephanie had always thought of herself as a "school nerd" rather than an athlete. (This in spite of having been a sailor and sailing instructor, and having competed with Queen's University's top varsity rowing team.) But she decided to mark the completion of her first year of law school by running her first marathon.
Stephanie took up with the Leukemia & Lymphoma Society of Canada's Team in Training (TNT) and ran the 2005 Mayor's Marathon in Anchorage, Alaska to raise money for cancer research. It was a cause near to her heart; her biological father died of cancer when she was two years old.
"Running the marathon was all about accomplishing something that I thought was impossible and raising money for a good cause," says Stephanie. "I hated running at that point and the only thing that got me through finishing the marathon was thinking that I never had to run a single step ever again!"
But she surprised herself. After crossing the finish line, she felt a bit of a letdown. "It wasn't the life-altering experience I thought it would be," says Stephanie. "I was sore for a couple days, and that was it. I felt like there must be something more out there."
Leaps and bounds
In the short term, though, there was law school and humanitarian work to focus on. Stephanie had no trouble keeping both in her sights. At UBC, she was a Blakes Scholar, Wesbrook Scholar and BLG Research Fellow. During her summer breaks, she took placements that enabled her to do pro bono work with Lawyers Without Borders (LWOB), travelling to Ethiopia, Rwanda and Liberia.
Then, while studying for law school finals in 2007, she got a little restless. For some of us, that might mean resorting to housework or errands as a way of procrastinating. But Stephanie doesn't do things the way most people do. Instead, she distracted herself by climbing Mount Kilimanjaro.
"I loved it," she says. "I just really enjoyed being outside and being with a small group of supportive people and trying something that I thought seemed impossible."
Still, after the climb, Stephanie was left with a familiar feeling. "I just kept thinking, 'There's gotta be something more,'" she says. "'There's gotta be a way I can push myself beyond running a marathon and climbing Kilimanjaro.'"
Racing the Planet
She found a way: the inaugural RacingThePlanet roving race, a 250km self-supported run through Vietnam scheduled for February 2008. "This, to me, seemed like the adventure of a lifetime, something I really wasn't sure I would be able to finish," says Stephanie.
After trying in vain to convince some friends to join her, she finally signed up solo at 3am after a night that involved "a few too many glasses of wine." When she woke the next morning, she had buyer's remorse. "But, you know, once you're committed, you're committed," she says.
As with her first marathon, Stephanie attached her RacingThePlanet run to a fundraising initiative—this time, the Canadian Cancer Society (CCS)—and off she went! Having passed the New York bar exam, she juggled working for Shearman & Sterling LLP in Manhattan with LWOB fieldwork in Israel and the West Bank, on top of "training and training and training."
Those were her pre-Ray Zahab days, and Stephanie says she had no idea what she was doing. The wrong shoes, improper technique and overtraining soon led to a bad case of patella femoral syndrome, forcing her to spend much of her training time—not to mention the money she was making as a law clerk—on physiotherapy.
To make matters more challenging, the race organizers had to re-jig the course shortly before the event because of mudslides, making the longest running day the first rather than the last. That meant 110km straight out of the block.
"Going into this race, I was terrified that I wouldn't be able to finish, that I'd make a fool of myself," says Stephanie. "I just decided to go and take it one step at a time and see how far my legs could take me."
As she ran through the very muddy terrain, she made it past the 40km mark. And then the 50km mark. By the time she hit 60km, and then 70km, Stephanie realized that her legs felt better than they had several kilometres back. But it wasn't until she was about 10km from the finish that she discovered just how well she was doing.
"The race director hopped out of the van and started running alongside me, and she said, 'Do you realize that you're in second place?'" says Stephanie, who recalls being thrilled to be the second female in such a challenging leg. When the director clarified that she was actually second overall, behind legendary runner Salvador Redondo Calvo, Stephanie says she "almost fell into the ditch. It was the first time I had run more than 50kms in my life, and I was reaching 110km with a pack on my back. I was completely shocked."
It was then that Stephanie realized she was not only capable of running ultramarathons, she was born to run them.
Impossible to possible
From that point on, Stephanie started pursuing ultrarunning with the same passion and fervour she has always put into her humanitarian work. Her plan: Sign up for a race, then find a way to use vacation time to train and compete. Simple as that!
In May 2008, Stephanie joined her newly minted coach, Ray, on the ONExONE run across Canada, covering 80km a day in every province and territory for 13 days straight (minus the four days Stephanie had to miss for work). "Through that process of running, basically shoulder to shoulder with Ray, he changed my running technique," says Stephanie. "Since then, he's coached me for all of my races. He's been an incredible support over the years, and I'm immensely grateful for his wisdom and guidance."
Even with Ray's expert advice, Stephanie still faced some residual growing pains from her self-training days. The 2008 RacingThePlanet run left her with a pelvis that was "way out of line," and she felt the full burden of that injury in early January 2009, when a 50km training race for RacingThePlanet: Namibia left her with a broken pelvis.
"I was almost crawling," says Stephanie. "I was in so much pain, but I just wanted to finish."
The injury forced her to take four months off training. But it didn't keep her from completing the main event in May 2009. "I went into RacingThePlanet: Namibia overweight and undertrained," says Stephanie. "It was the most painful race I've done, but it was my favourite race because I managed to run every day. I took every day as a bonus and I just focused on the sand and the people I was running with. It was incredible."
Racing awareness
Life has continued to be pretty non-stop for Stephanie. Since 2009, she has worked for the International Bar Association's Human Rights Institute in London, England, as a United Nations and Human Rights Officer for a diplomatic advisory group in New York City, and for the United Nations Assistance Mission in Afghanistan (UNAMA). She also managed to pick up a Master of Laws degree in International Human Rights and Humanitarian Law from the University of Essex in 2011, on full British Chevening scholarship.
Stephanie's running, which she continues to use "to raise awareness for causes that might not otherwise get awareness," hasn't slowed down a bit, either. She's competed in all but one RacingThePlanet roving event, finishing each time as first or second female (except for the 2009 Namibia race). For the most recent RacingThePlanet event, the Gobi March in 2012, Stephanie was able to incorporate her interest in women's rights into her work with UNAMA, using the race as a platform to raise $10,000 for Women for Afghan Women (WAW). The effort earned her a personal letter of commendation from the Special Representative of the UN Secretary-General.
Now, less than two months after returning home from Afghanistan, Stephanie is gearing up for her next role, as a human rights advisor with the Organization for Security and Co-operation in Europe (OSCE). She's heading to Kyrgyzstan to work on a police reform project that was started in the wake of inter-ethnic clashes in the south of the country in 2010.
On solid ground
It's amazing that it's taken this long, but Stephanie says she's starting to feel the effects of her demanding schedule. After all, she used the R&R earned in Afghanistan for what she calls R&R&R—rest, recuperation and running. That's why she has "only" one race on her current schedule: the Ultra-Trail du Mont-Blanc® (UTMB) in August 2013, a 100-mile non-stop race through France, Italy and Switzerland.
After her Kyrgyzstan posting ends later this year, Stephanie is looking forward to living a "normal" life for a bit. She wants to reconnect with family and friends, and she doesn't think that has to interfere with her ability to do the things she loves.
"I want to keep doing what I'm doing, and still be able to get married and have a family," says Stephanie. "People always used to ask me when I was going to settle down, and whether I was worried that I'd never meet someone because I was always going to unusual places. But I think that when you're being true to yourself and true to what you're doing, everything else falls into place."
Running for life
At the end of the day, Stephanie knows she can still answer her calling without travelling quite as much. What matters most to her is being able to serve others and make them happy. And, of course, being able to run. That's the best way she knows to get where she wants to go.
"The confidence I've gained from running that first 250km race in Vietnam has translated to everything else I do with my life—to my work and how I interact with people," says Stephanie. "It was this incredible challenge I took on, and then I did it, and that was a lesson that carried on to other things. It taught me that I shouldn't doubt myself so much at work and in personal relationships.
"Over the past five years, running has also taught me that it's okay to fail. I've definitely had bad races and horrible races, but ultrarunning for me is just a parallel for how you go through life. You can have these incredible successes and incredible failures, and you learn equally as much from both of them, as long as you just leave everything out on the course or out on the table. That's really all that matters."
Well, that, and one other guiding principle in Stephanie's remarkable approach to life:
"Making sure you don't squash other people along the way; making sure you help them instead. In ultrarunning, the friends you make become your friends for life, because you're not just trying to run—you're trying to survive. People go way out of their way to help you meet your goals and to survive. In shorter events, you get people elbowing each other and everyone's having their own individual race. That's not how I like to run. I like to run the way I live my life: relying on other people and having other people rely on me."
*            *            *
For the latest on Stephanie, visit ultrarunnergirl.com, follow @runningcase on Twitter, check out her LinkedIn and YouTube accounts, or email stephanie@freetorunorg.
You can also check out Stephanie's nonprofit NGO, Free to Run, which she launched in 2014, and which you can follow @FreeToRunNGO on Twitter.