"Music possesses your mind and your heart like nothing else."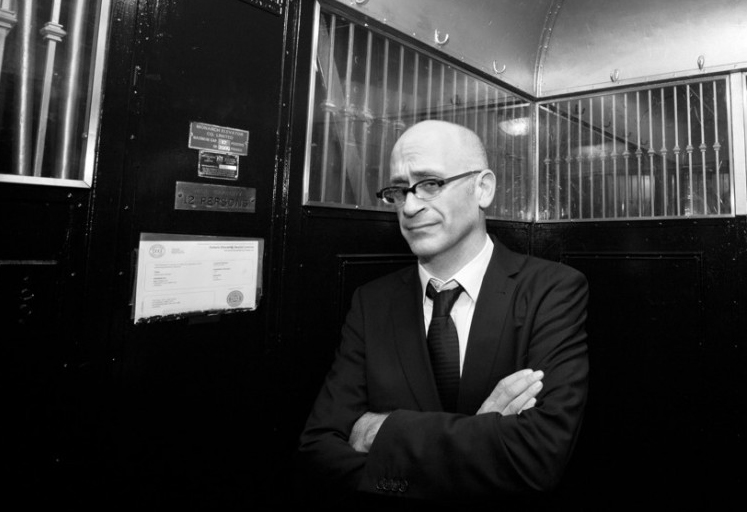 Some people mark the passing years by a calendar or major life events. Steve Jordan marks time by what songs were playing on the radio.
As founder and director of the Polaris Music Prize, it stands to reason that he'd be recommended for this website by music fanatic and Kickass Canadian Amanda Putz, the wonderful host of CBC Radio's Bandwidth. "Polaris has gone a long way toward raising the international profile of Canada's amazing new music, and we have Steve to thank for that," she says. "I've heard many times from musicians that their tours abroad were well attended, and that many media outlets came calling that wouldn't have otherwise, because of their recognition by Polaris."
The Polaris Music Prize, its website will tell you, "was conceived as an award for the best Canadian album judged solely on its own merits—not by label, genre or sales." The not-for-profit organization is devoted to honouring, celebrating and rewarding "creativity and diversity in Canadian recorded music."
Polaris got off the ground in 2006. But its fate was sealed decades before, in a town in southeastern Ontario, with dream, comfort, memory to spare… Where a young boy fell in love for the first time.
The music box
Steve was born in Kingston, Ontario in 1966—or the year The Beach Boys' Good Vibrations was stirring up the airwaves. He recalls falling in love with music at a very young age. "I think my earliest memory is being in the car with my folks and (being utterly entranced by) the magical impact that radio had," he says. "I can't emphasize enough how much hearing all this music on the radio seemed so completely magical. It just came through the air and onto this device that sat next to your bed (or in the car), so it added a mystical quality to it."
The songs themselves didn't matter; it was the experience of hearing them, and their bouncing, gliding, invigorating, soothing sounds, that left a lasting impression. "Whether they were critically lauded or just the worst commercial tracks, it all had an impact," he says.
As soon as Steve was old enough to get a part-time job, he set to work pestering the owner of Kingston's CKLC radio until he was finally rewarded with a few unpaid gigs around their mobile DJ unit. After that, he says, "I kind of worked my way up the system." By the time he was 15 years old, he'd wrangled a spot hosting the station's all-night radio show, staying up into the wee hours to play Top 40s songs, loving every minute of it.
A musical education
When Steve graduated from Bayridge Secondary School in 1984 (the year Van Halen's Jump came out), he decided to make radio his full-time job. Before long, he was promoted to music director at his local station. But after a few years of life in the broadcast world, he became disillusioned. "It was less about music, and more about advertising and making money," he says.  "That's perfectly fine, but it just wasn't a world I wanted to be part of anymore."
He took a hard look at what he'd learned about the music industry, and realized that what he wanted most was to work in artists and repertoire (A&R). From the moment he'd first heard music, he knew his passion didn't lie in creating the sounds himself; it was in wanting to make sense of how those notes were able to reach his ears. "I wanted to understand how these magical sounds… got from a musician's brain, out of their fingers or out of their vocal chords, into a recording device, and how that was then distributed to the whole system," he says. "I'm still trying to figure it out."
Making sound waves
In 1993 (when Ace of Base's The Sign exploded onto the charts), Steve moved to Toronto, Ontario and eventually found work with a small label called Kinetic Records. He cut his teeth doing "a little bit of everything," including publicity for the likes of Danny Michel and The Mahones.
With his obvious passion for music and musicians, it wasn't long before an A&R opportunity arose. He was all over the local club scene, and spending three or four days a week checking out new acts was a quick way to get familiar with the city's major A&R players. When a job came up at Warner Music Canada, it was a no-brainer for the company to bring Steve on board.
In 2001 (the year Nelly Furtado's I'm Like a Bird was released), he left Warner and started up his own management business. He describes his situation at the time as being "a little bit in the wilderness, professionally." But that sense of being lost led to him taking another hard look at the music industry and, ultimately, planting the seeds of the idea that would grow to become Polaris.
Before the prize firmly took root, he found another A&R job with True North Records, signing and nurturing artists such as the Rheostatics, Howie Beck and The Golden Dogs. And then, in 2006, he founded the Polaris Music Prize. (That was also the year, by the way, that Final Fantasy's song The Arctic Circle was released, from the album He Poos Clouds, which won the inaugural Polaris Music Prize.)
The Polaris overture
Steve says a large part of the impetus to found Polaris came about as a result of following the Barclaycard Mercury Prize, an annual music prize awarded for the best album from the United Kingdom and Ireland. "I had followed the Mercury Prize for a long time and I think it just clicked one day that we don't have this in Canada. But Canada has a good recent history of supporting literature with, for example, the Scotiabank Giller Prize for fiction, so (I figured) there must be at least some root of an understanding of what a prize like Polaris could do in a parallel way for music. That's really where the idea started."
In the short time since it launched, Polaris has exceeded everyone's expectations, including Steve's. At its outset, he and his collaborators hoped that it would eventually generate media attention and help boost artists' sales. They were thinking that would take a few years. Instead, they got an immediate and widespread response.
"There seemed to be a pent-up need for an award like this," he says. "The amount of attention we got, even from outside the industry, was pretty outstanding."
Pumping up the volume
One of the many artists to benefit from Polaris is Damian Abraham, lead singer of Fucked Up, the 2009 Polaris Music Prize recipient for their album The Chemistry of Common Life. Winning came as a great surprise to the group and offered a long-awaited welcome from their homeland. Unlike many other Polaris winners and nominees, who have gone on to reap great benefits internationally, Fucked Up already had a strong following overseas. What they'd had trouble generating was attention within Canada. "We never really felt like we were accepted at home," says Damian.
Since winning Polaris, all that has changed. The group has enjoyed a boost in national sales and recognition, and Damian was hired this January to host MuchMusic's The Wedge. "I can certainly credit Polaris with a large part of the love I found back home," he says.
Let the music set you free
As Polaris moves forward, Steve has no plans to put the initiative through any major overhauls. He knows they've struck a nerve with the public, the musicians and the industry. His aim now is to "just keep doing what we're doing" and make every effort to maintain the integrity of the prize.
In Steve's mind, the point isn't to identify one album as being better than the rest; that, he says, would be like comparing "apples to hippopotamuses." Rather, the intention is to continue to reward excellence in Canadian music. Because, in the end, it's really all about the music.
"(Music) kind of means everything," he says. "I could probably live without my favourite restaurant food or my favourite DVDs, my favourite books, all those things. It would be harder to live without my favourite recordings. Music possesses your mind and your heart like nothing else."
*            *            *
The Polaris Music Prize is a juried award determined by more than 200 journalists, broadcasters, bloggers and programmers from across Canada. For details, read up on the rules and FAQs.
For the latest news, you can follow @PolarisPrize on Twitter.