Alan Doyle, singer-actor-writer-volunteer-icon-risk taker-boy on bridge
"I have been given an amazing life. I feel compelled whenever I can to try to repay that debt."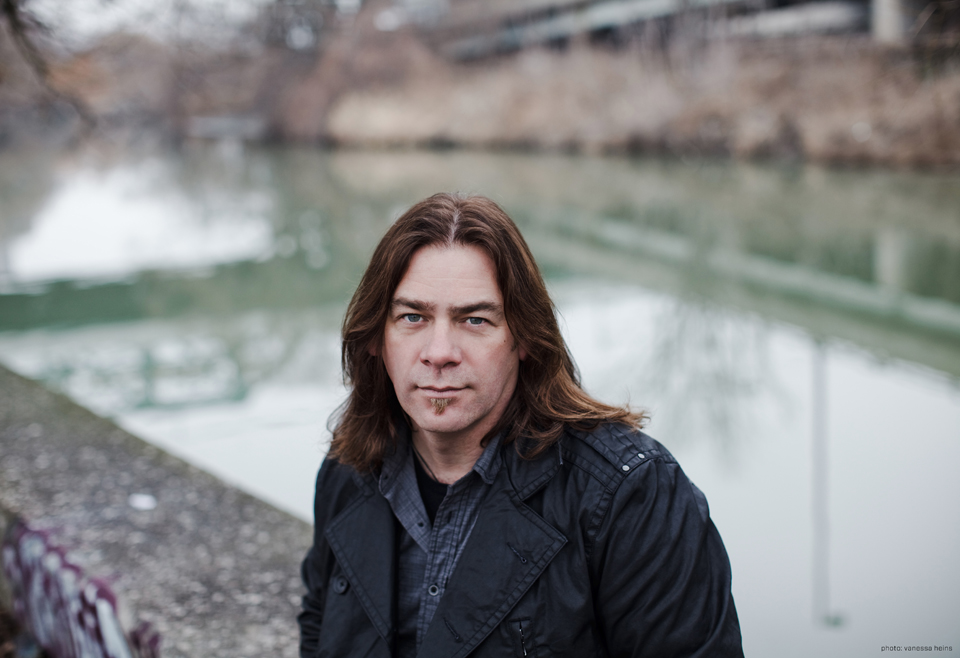 "I would like to introduce you to my friend Alan Doyle. Not only is he an amazing frontman, singer, father and actor, he is also an incredible humanitarian, constantly offering his time to countless volunteer efforts! I think, more than anyone else I know, he represents what it truly means to be a Canadian—and a kickass one at that."
That's high praise, coming from Alan's fellow Kickass Canadian Dr. Andrew Furey, a rock star in his own right. Andrew was keen to nominate the Great Big Sea singer for this website and help shine the spotlight on some of Alan's lesser-known accomplishments, including playing volunteer concerts to raise money for Andrew's amazing non-profit group, Team Broken Earth. I'll definitely direct your attention that way. But Alan's tremendous achievements in music, film and television are also worth noting. So all in due course.
Boy on bridge
You may have heard of Alan's debut solo CD, the chart-topping, energetic Boy on Bridge. Released in 2012, the album takes its name from a pivotal place in his hometown, Petty Harbour, Newfoundland. The small fishing town had a bridge over the river, which also served in days gone by to separate the Catholic and Protestant sides of town. "It sounds archaic, but it's true," says Alan. "Most of that was gone by my lifetime, and the bridge was where I waited for the school bus and where I hitchhiked either to downtown Petty Harbour or to the neighbouring town of Goulds, where there were girls my age who weren't my cousin."
For him, the bridge was more than just an escape from the everyday; it was a portal to another life. "Because of the sort of solitude of it, I suppose, being there by yourself waiting for a bus or hitchhiking, that's where I dreamed up the biggest fantasies of my life and that's where my wanderlust began," he says.
The bridge was also where he first opened himself up to chance. Sometimes he would stand on the bridge and try to hitch a ride in whichever car came by first; whatever direction it was going, that was the one he would take. "When I think of my young self, I think of a kid on a bridge trying to figure out which way to go, trying to figure out what was beyond the ocean in front of me or the three hills that surrounded me on the other sides."
Given all that, it was a happy coincidence when Alan learned a couple years ago that his childhood stint as an extra in the 1981 TV movie A Whale for the Killing had earned him a credit as Boy on Bridge. He hadn't realized he'd been credited at all, but it was a title that fit very well, and from his debut acting experience, the name of his first solo album was born.
Great big adventure
Alan can't pinpoint when music entered his life. Growing up, it was simply the norm, part of the fabric of everyday life. For him, piano and guitars were as much mainstays around the house as a couch or an oven. His mom was a piano player and teacher, and his dad was a semi-professional musician, playing local gigs and the occasional TV stint with an Irish band he started with his brothers.
He picked up the guitar when he was around nine years old, and by the time he hit his teens, he was a regular in his uncle Ronnie's band, The Sandelles. When he graduated from St. Kevin's High School in 1987, he moved to St. John's, Newfoundland, bringing him closer than ever to fulfilling his musical dreams.
After spending the summer working at the provincial museum and "talking to tourists about Newfoundland," he began his English and religion degree at Memorial University. Throughout his studies, he kept playing gigs with his uncle's band and started doing solo shows in "lonely" pubs, often across the street from packed venues where a local group called Rankin Street would play.
Rankin Street featured Bob Hallett, Séan McCann and Darrell Power, three of the four founding members of Great Big Sea. As Alan recalls, Rankin Street was a "mighty" band in those days, but they played primarily covers of Newfoundland and Irish folk songs and were looking to start a band that wrote original music. "Séan and the guys saw me playing one night and they decided that I was their guy," says Alan. So Great Big Sea was formed; they played their first gig on March 11, 1993, opening for The Irish Descendants at Memorial, and have been surfing a tidal wave of success ever since.
When the band got started, Alan had already completed his undergraduate degree and was close to earning an education degree, also at Memorial. He did the work for his final few courses in the back of the Great Big Sea tour van, although the constant travel kept him from completing his last semester of practicum (something he still dreams of going back to finish).
In fact, all four musicians' commitment to the band kept their focus almost exclusively on Great Big Sea for some time. But it's all been worth it. In their 20 years together, they've done plenty of great big things. The legendary Canadian band has released 12 CDs, many of which went platinum, and two DVDs; won countless East Coast Music Awards, including Entertainer of the Year five years straight, from 1996 to 2000 (a dynasty that may have gone on longer if they hadn't opted not to submit in 2001, giving other east coast bands a chance to benefit from the award's exposure); and been nominated for several JUNO Awards, including Group of the Year in 1998, 2005, 2009 and 2011.
In 2013, the band travelled across North America for the XX Tour, celebrating two decades of dedication—theirs and their fans'.
Great big heart
Alan never forgets to whom he owes the majority of his success. "I've been super duper lucky and most of that luck has come from support from the general public," he says. "They could have listened to any band, they could have bought anybody's record, but they came to my concert and bought mine. I have been given an amazing life. I feel compelled whenever I can to try to repay that debt."
The list of organizations he volunteers his time to is long, and includes: Team Broken Earth, Daffodil Place, Canadian Cancer Society, Ronald McDonald House, Kids Eat Smart Foundation, Stella's Circle, Dr. H. Bliss Murphy Cancer Care Foundation, Smiling Land Foundation, Shorefast Foundation, Boys and Girls Club of Canada, Dr. Jack Hand Legacy Foundation, The Gathering Place, Gold Medal Plates and DAREarts.
Sometimes, giving back means "simply" playing a charity concert, either solo or with Great Big Sea. Other times, he gets more involved. For Daffodil Place, he joined the Fundraising Board of Directors, helping to raise $7M for St. John's cancer patients in need of long-term care. For Team Broken Earth, he and Great Big Sea have played several fundraiser concerts over the years, and Alan is in the midst of personally organizing a fundraiser to send the group's Calgary contingent to Haiti, where they'll offer medical aid and training.
"It's just a wonderful thing to be in a position to be able to help," he says. "When you meet a guy like Dr. Andrew Furey or (his colleague) Dr. Jeremy Pridham and you see what they do—those guys give up their holidays to go literally fix broken people in one of the most inhospitable places. It just makes me feel like what I do is so little. It's all relative, I suppose, but we do what we can."
Alan says he and the rest of Great Big Sea get asked to volunteer a lot. But it's clear he also gets involved of his own volition. The weekend before our interview, he was on Fogo Island doing a charity stint for Shorefast Foundation. He first got involved with the organization when he played a gig for them last September, after reaching out to offer his help in raising funds. Over the February 1-2 weekend, he teamed up with his brother-in-law, Top Chef Canada competitor Todd Perrin, to offer a double dose of fundraising: Alan gave a concert and Todd whipped up an amazing meal. (The previous night, just for kicks, Alan and Todd switched roles, and Alan spent a full 24 hours in the kitchen refining his cooking skills for the big event.)
The weekend after our interview, Alan spent Saturday morning singing at the official opening of a public skating park in St. John's, and co-hosted and played another pro-bono concert Saturday evening for a local elementary school. Between the two events, he was on daddy duty with Henry, his seven-year-old son with wife Joanne Pardy. And all of it came before hitting the road on Sunday to record tracks for his second solo CD, but we'll get to that.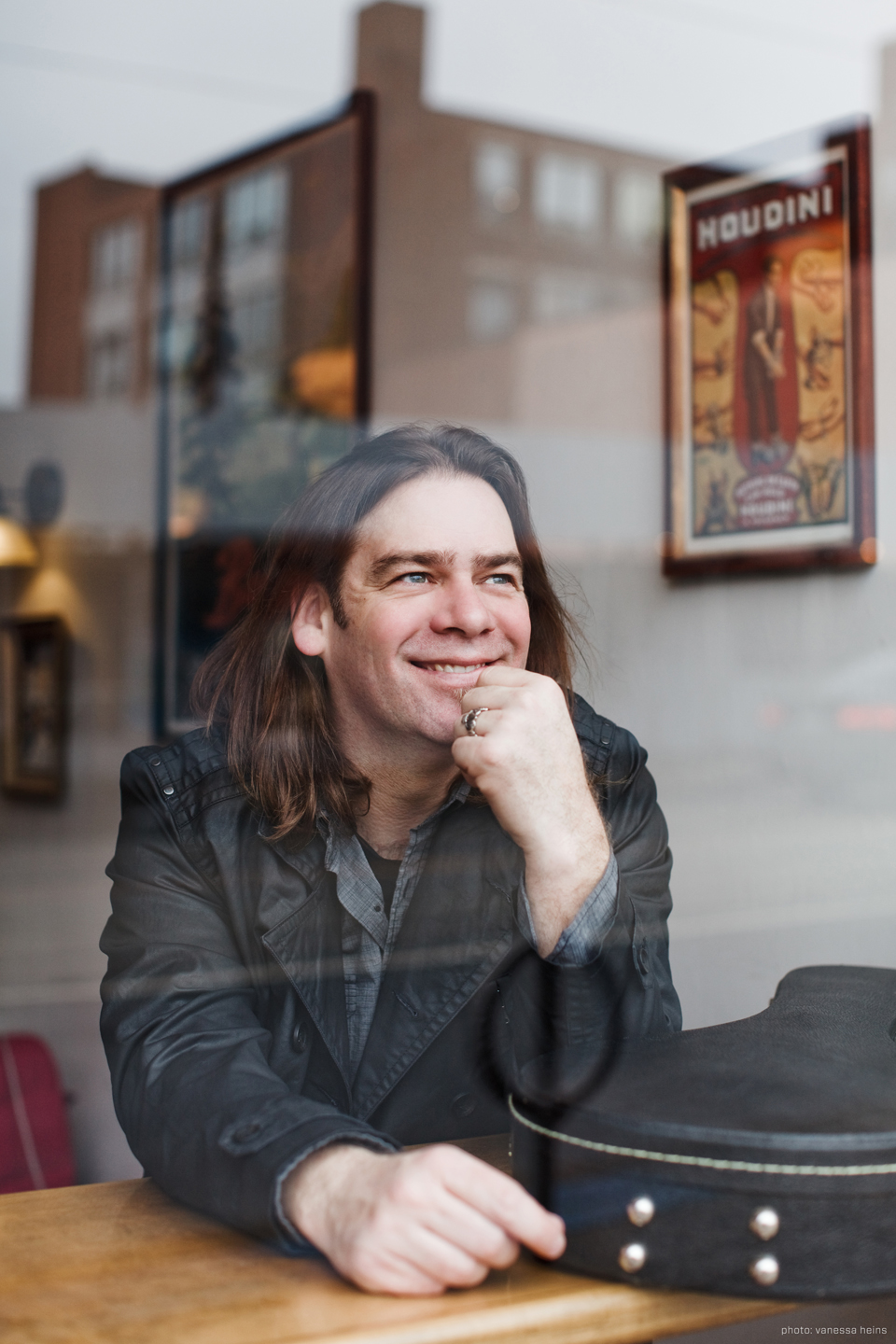 Great big future
At the moment, Great Big Sea is taking a hiatus so they can recharge from their XX Tour and deal "administratively and creatively" with the fact that Séan McCann recently left the band (totally amicably, for the record). "We're all kind of going back to our solo, personal projects, whether it's music or movies or management," says Alan. "Séan just released a record last week called Help Your Self that he made with Joel Plaskett's that's super awesome. Bob is managing a few great bands from St. John's, including The Once and Fortunate Ones, and he's running a pub and restaurant downtown. I've got a movie coming up next week, and a book and record coming out this year." (More on the movie, book and record soon…)
The remaining members have no plans to disband, but they are looking forward to a breather. "The first 15 years of Great Big Sea were pretty full on," says Alan, who spent most of his 20s living out of then-girlfriend Joanne's closet (they married in 2004). "It consumed our every breathing moment. We were on the road for a decade, basically. It was the only thing we did. Going forward, I would rather that Great Big Sea be one of the things I'm doing, and that's a huge difference.
"But it's the thing I'm the most proud of in my life so far, having reached two decades together, and having been and stayed a band during what I think history will show was the most tumultuous time in the professional music business."
He's referring, of course, to the digital revolution and how it transformed the industry. Like most successful bands at the time, Great Big Sea went abruptly from making a lot of money through record sales, to almost none. "Not many survived that, and I'm very proud that we did," he says. So what made Great Big Sea the exception? "I think (we survived) because our live concert was always consistently so good. The night out we gave people was always good and they wanted to come back and do it again. We had enough loyal support from people from our live effort that the rise and fall of record sales and illegal downloading and all that stuff, we just managed to survive it."
Class act
With an eye on relegating Great Big Sea to being "only" one of the things he does, Alan is nurturing some of his other passion projects. The movie he mentioned earlier is Winter's Tale, starring Colin Farrell, Russell Crowe and Jennifer Connelly. It also features Alan as an Irish ruffian named Dingy.
The plum gig came about through Russell himself, a good friend and frequent collaborator of Alan's. They met in the early 2000s, when the pair was in Toronto, Ontario presenting at the NHL Awards. Backstage, they got to talking and quickly bonded over their shared musical backgrounds. Several years later, says Alan, "Russell called me out of the blue and asked if I play the lute. I said, 'Yeah, I play the lute, bouzouki and stuff, why?'"
Russell invited him to read for the role of Allan A'Dayle, a musician and one of the Merry Men in 2010's Robin Hood, which Russell was set to star in. Alan landed the part and quickly found himself staring up the steep end of a mighty learning curve. "I hadn't acted in anything since I was an extra as a kid," he says. "On top of the acting stuff, I had to learn how to shoot arrows and ride horses and do fight training and all that stuff that was required for that big movie. It was amazing."
So was his performance; it promptly led to a recurring stint as Wolf Redmond on Republic of Doyle, a Newfoundland TV show that involved a number of Alan's longtime friends, including star and Kickass Canadian Allan Hawco, composer Greg Hawco and head writer Perry Chafe. (Great Big Sea's song Oh Yeah is also featured in the show's opening credits.)
Winter's Tale, which opens this Friday, February 14, came about through its director, Akiva Goldsman, whom Alan had met through Russell. Akiva was looking to cast a lieutenant in a gang led by Russell's character, Pearly Soames, and Alan was a perfect fit. "I got to work once again with the greatest moviemakers in the world, which was awesome," he says. "On top of that, I got to live in New York for five weeks. It was an incredible experience."
Alan never seems to lose his sense of wonder and appreciation for the opportunities he's had. And he's ever humble. When I ask him how he pulled off acting in major productions with almost no experience, he says, "I suppose I have a natural enough instinct as a performer to stand next to people and quickly learn how to do basic things. But I have a long way to go before I can call myself an actor by trade."
Come together
Acting isn't the only way Alan and Russell have joined forces over the years. The two musicians have written nearly 30 songs together, for Great Big Sea, for Alan's and Russell's solo endeavours, even for other singers and for film soundtracks. Alan has also produced a record for Russell's band, 30 Odd Foot of Grunts.
Collaboration is a recurring theme in Alan's life. His debut solo album, Boy on Bridge, features the work of several other major artists, including Russell, Colin James and Hawksley Workman. "I wanted to work with all these different people and learn how they made music in their backyards," says Alan. "It was my first opportunity to do a solo project but it ended up being kind of the most collaborative thing I've ever done."
Alan travelled to where each musician worked—Vancouver, B.C., Los Angeles and "up North"—capturing not only their musical stylings but also the entire recording process, which culminated in a documentary called Boy on Bridge that aired last November on Country Music Television (CMT) and is now available on Rogers on Demand. (Alan kindly sent me a copy of the documentary, and I highly recommend it; the feature offers unique insights into his process and the music industry at large.)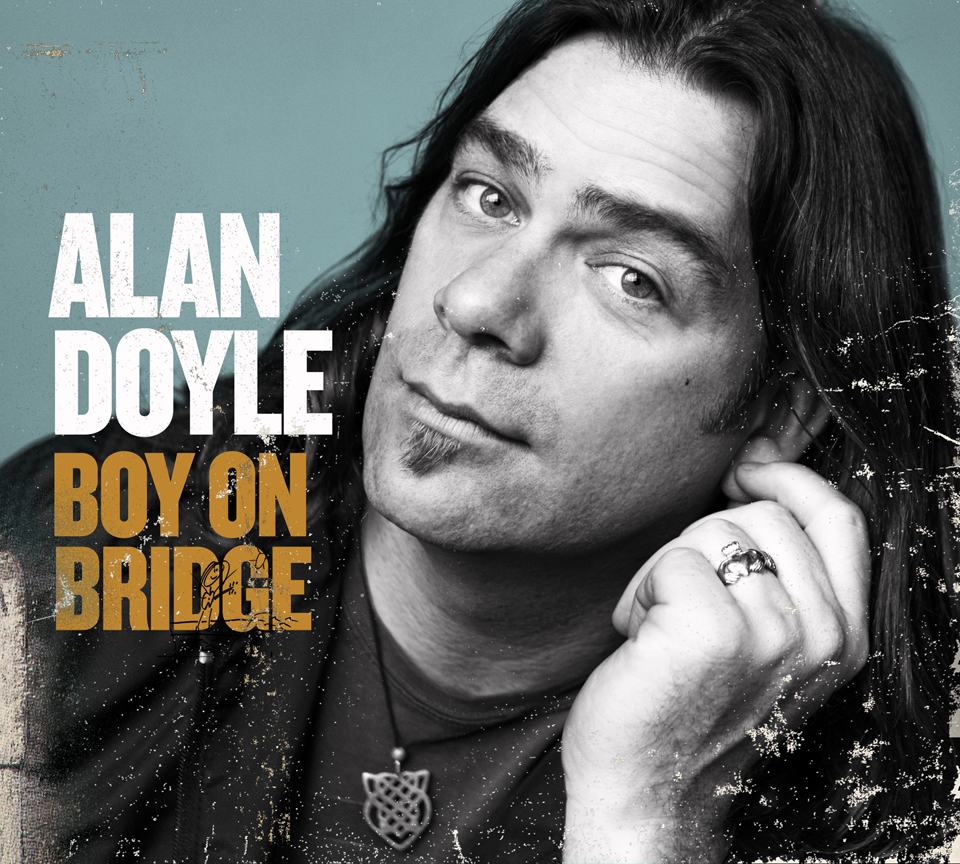 His second solo album is due out later this year. He's already got a number of tracks recorded, but hasn't decided which direction it will take. "I've got a bunch of songs written and a couple of things that are leaning one way or the other, but I'm keeping my mind way open," he says. "Next week I'm in Nashville for a few days and then I'll spend the rest of the week in L.A. working with three or four different people. I'm hoping that one of those two groups of people or one of the settings will appeal enough that it will lead me down one path or another."
He's still that boy on the bridge, open to fate and influence, waiting to see which car turns up first…
Back where he belongs
Alan may not have settled on the flavour of his next solo CD, but he does have a plan for its release: he wants it to come out in tandem with his first book, Where I Belong. The seed for the memoir, due to hit stands October 2014, was planted in late 2012, when Random House of Canada approached him about turning his thousands of Great Big Sea blog posts into a book. He didn't want to do that for his first book, but was happy to start working on what he calls "a memoir that starts when I'm a kid and takes us right to when Great Big Sea starts. It's mostly about growing up in this crazy, awesome, wacky, beautiful little fishing town that I love called Petty Harbour."
If Where I Belong covers his first act, and the next major act was the first 20 years of Great Big Sea, Alan is now looking at the beginning of another wonderful period in his life. He says he doesn't have specific goals for his next chapter, largely because he already met the ones he had when he was only 22: to be in a band that released a CD, and to live for at least one period of his life as a full-time professional musician. But, he concedes, "there's a whole pile of stuff I'd love to do. I'm looking forward to putting the book out. I'm very curious to see if people will think I'm any good at it or not. I'm excited about doing a solo record this year and having some time to promote it properly; it'll be fun to see what I can do when I'm not just playing hooky from my main job."
Alan is also adding to his acting résumé, with upcoming gigs that include a part in the Canadian musical film Strike!, which shoots this summer in Winnipeg, Manitoba. And he's spending as much quality time as he can with his family.
"I'm just excited about all that stuff," he says. "I'm very grateful for the days I've had and the days that lie ahead."
*            *            *
For the latest on Alan, follow @alanthomasdoyle on Twitter, and visit alandoyle.ca and greatbigsea.com.