Denis Villeneuve, filmmaker-artist
"I think of art as something you pursue by proposing ideas and asking questions, and as an artist, Denis is a leader in that pursuit."
Great artists are defined by their unique signature. They may experiment with different styles and voices, but there is a discernable mark to their work that makes it distinctly theirs, unmistakable for anyone else's.
To be a great film director, the artist must combine that particular signature with the ability to create a compassionate, collaborative working environment that brings out the best in others; to build a team of like-minded artists; to lead by example so that every member of the cast and crew can do their part in realizing the overall vision.
Denis Villeneuve has all those traits in abundance. His signature is scrolled across films that span a variety of genres, including the 2010 drama Incendies, the 2015 action flick Sicario and the 2016 sci-fi Arrival. The gripping mood, the camera angles that pivot from sweeping and spectacular to highly personal point-of-view shots, the poetic moments of stillness—all are trademark Villeneuve. So are the films' deep roots in humanity and realism, and their exploration of dark, difficult subjects without ever sinking to gratuitous or glorified violence.
Each of Denis' films is deeply personal to him, yet they also explore universal issues that speak to what's happening in the world around us. That's what makes them brilliant and accessible, skilful and full of heart.
As immense as his talent is, it seems to be matched by his gift for nurturing and supporting those around him. Ask anyone who knows him, listen to any of his interviews, and you'll quickly find evidence of his humility and generosity. He's always driven to earn the credit he receives and is quick to share it with others where it's due.
That attitude hasn't gone unrewarded. Many of the industry's best have returned to collaborate on multiple Denis Villeneuve films, from cinematographer Roger Deakins (Prisoners, Sicario, Blade Runner 2049) to actor Jake Gyllenhaal (Enemy, Prisoners, the upcoming The Son) to composer Jóhann Jóhannsson (Prisoners, Sicario, Arrival, Blade Runner 2049).
His team also frequently includes sound designer/editor Sylvain Bellemare (Incendies, Arrival), storyboard artist and Kickass Canadian Sam Hudecki (Enemy, Prisoners, Sicario, Arrival, Blade Runner 2049), and production designer and Kickass Canadian Patrice Vermette (Enemy, Prisoners, Sicario, Arrival), three invaluable crewmembers whose artistic magic has been integral to shaping several of his films. To hear them tell it, the pleasure has been all theirs—thanks largely to the fact that, on top of everything else, he is fundamentally a wonderful, kind and giving human being.
"Denis is a great poet," says Patrice. "He's über-creative, he's curious, like all of his team members. But one of the best things about him is that he's also a guy who listens."
Sylvain, who has known Denis for more than 20 years, says that even with all his success, Denis remains the same person he always was. "He's a simple man with so much going on in his mind. Simple yet complex. It's like he has a calm volcano inside him—the best balance, in a way. Today, he's among the top directors in Hollywood, with Blade Runner 2049 to his name, and all those great personal qualities are still there."
Says Sam, "I think of art as something you pursue by proposing ideas and asking questions, and as an artist, Denis is a leader in that pursuit. I find it easy to be inspired to push things further with him because he's already running up the mountain."
Film history in the making
Denis is one of the greatest, most in-demand directors working today. Fresh off a 2017 Academy Award Best Director nomination for Arrival, he's currently in post-production on Blade Runner 2049, the hotly awaited sequel to Ridley Scott's legendary 1982 film Blade Runner, with Ryan Gosling in the lead role. He is also attached to direct a new imagining of Dune, based on Frank Herbert's 1965 sci-fi novel (as well as an adaptation of Jo Nesbø's novel The Son, starring Jake Gyllenhaal).
He has his pick of projects, and he's using that privilege to veer toward science fiction. For Denis, the move has been a lifetime in the making.
Born in the community of Gentilly, Quebec, near Trois-Rivières, he's the eldest of four children. His love of film was a side effect of being, in his words, the worst hockey player in Canada. Stuck on the bench, he took to daydreaming and imagining while his teammates hit the ice.
When one of his aunts gave him two boxes of European sci-fi comic books and graphic novels, it brought direction to his wandering mind. He keenly devoured their words, and before long, reading science fiction led to watching it. 2001: A Space Odyssey, Close Encounters of the Third Kind and Blade Runner were among his favourites.
Totally hooked, 10-year-old Denis knew he wanted to make sci-fi films one day. (He's been haunted by images of Dune since reading it as a pre-teen, and says directing it will be the project of his life.) In fact, he so loved the genre that he briefly entertained the idea of becoming a scientist. But he was destined for entertainment of another kind.
Denis started making short movies in high school before studying cinema at the Université du Québec à Montréal. Says Sylvain, "he mainly learned his sensitive approach to film in Montreal, a place where stars do not act like stars."
After graduating university, Denis knew that the sci-fi films he envisioned were financially out of reach. So he entered Radio-Canada's La Course Europe-Asie and spent several months shooting five-minute videos every week in a different country. He won the 1991 competition, and then took a job with the National Film Board of Canada while continuing to write and direct his own projects.
His early works met with great acclaim. He earned dozens of awards for films like the 1994 documentary short REW-FFWD, the 1998 feature Un 32 août sur terre and the 2008 short Next Floor. His second feature, 2000's Maelström, won Denis the Genie Award (now the Canadian Screen Award) for Best Direction.
Despite the critical praise, he was dissatisfied with his first few films. So, after Maelström, he took a nine-year break from the industry, to study cinema and explore how to better realize his considerable vision—and to spend more time with his three now-grown children.
When he returned to film, with 2009's gripping Polytechnique, he made good on the personal vow he'd taken during his unofficial sabbatical: to only make films about stories that mattered deeply to him. But perhaps without his knowing, he'd been laying the groundwork for that exploration all along. His early films offer insights into his values and beliefs, as well as his profound interest in humanity, his artistic expression and his willingness to push creative boundaries.
Maelström is narrated by a talking fish on the chopping block. The film ends just as the fish is about to reveal the meaning of life. Since then, Denis has gone on to examine and even answer that question in various ways, all through the eye of the lens.
The female condition, the human condition
In co-writing and directing Polytechnique, Denis paid homage to the tragic 1989 Montreal massacre of 14 female engineering students at Polytechnique Montréal, who were shot by a gunman claiming to be "fighting feminism." The film won nine of the 11 Genie Awards it was nominated for (including Best Motion Picture and Best Direction), as well as the Toronto Film Critics Association award for Best Canadian Film.
Next came 2010's Incendies, which Denis adapted from Wajdi Mouawad's play of the same name, about the Lebanese Civil War and a female Middle Eastern immigrant to Canada with a traumatic past. Incendies won the Toronto Film Critics Association award and the Vancouver Film Critics Circle award for Best Canadian Film, was named one of the Top Five Foreign Films of 2010 by New York's National Board of Review, and was nominated for 10 Genies (winning Denis another Best Direction award) and an Academy Award for Best Foreign Language Film.
With that, Denis had delivered four feature films, all of which centred on women and delved deep into the female condition.
His initial reason for writing from a woman's perspective was quite pragmatic. When he sat down to draft his first feature, Un 32 août sur terre, he decided that having a female protagonist would give him the necessary distance from the character to discover a new perspective. So he wrote about a woman (played by Pascale Bussières) who decides to have a baby after enduring a near-fatal car crash.
But then Maelström followed suit, beginning with its central character (played by Marie-Josée Croze) having an abortion, then following her through a series of mishaps as she struggles to put her chaotic life back together.
Whether or not it was a conscious choice, after Polytechnique and Incendies, a pattern had emerged. As writer and director, Denis demonstrated a proclivity for presenting female characters that are uniquely fleshed out, smart and strong as well as vulnerable. And Hollywood came calling all the same.
It shouldn't be remarkable, but unfortunately, in an industry dominated by male directors and underdeveloped female characters, it is. What it's not, though, is surprising—at least not coming from Denis. He grew up in a family that embraced feminism, headed by two forceful grandmothers who were unafraid of voicing their opinions. That comfort with female authority, coupled with a seemingly innate sensitivity and capacity for empathy, led him to unabashedly explore the female condition and topics such as motherhood, rape and abortion with a deft yet delicate hand.
In Sam's words, "Denis approaches his films with great intellectual, emotional and creative depth."
With or without a female lead, Denis brings a balanced perspective to even the most complex themes. His 2013 films, Enemy (based on José Saramago's novel about an ill-fated man who meets his double) and Prisoners (about a man bent on finding and avenging his kidnapped child), offer compassion and understanding to all their characters.
His 2015 film Sicario, about a female FBI agent (played by Emily Blunt) struggling to navigate the male-dominated worlds of Mexican-U.S. drug wars, law enforcement and what lies between, eschews violence as spectacle, focusing instead on its impact on the victims and what we can learn from ongoing cycles of violence.
With so many of his films exploring the underbelly of human nature, it might seem that working with Denis could be a very dark experience indeed. Not so.
"I see Denis as a very grounded person and I think that gives confidence to those who work with him," says Sam. "It's very reassuring to explore the subject matter of strange landscapes or the dark corners of life, which have been part of his body of work, when you know that you venture there with a good human being."
Denis himself comes from a place of light. To hear those who know him tell it, he's often hilarious and gregarious, a joyful, jovial joker. It's from that happy place that he can observe the darkness and offer such important insights.
The science of fiction
Denis has been clear for a long time that he wanted to direct science fiction. And he has been equally clear that they wouldn't be just any sci-fi films. It was important for him to direct projects that further his quest to ponder reality and reflect on the human condition—certainly not films that fall back on fancy effects alone.
Placing a story in a sci-fi setting doesn't have to turn it into pure fantasy. It offers the opportunity to probe for a deeper level of truth, one that can only be achieved by bringing a new perspective on reality and our world, the chance to see things from another dimension.
That's exactly what Denis achieved with his first sci-fi film, 2016's Arrival. Based on Story of Your Life, Ted Chiang's brilliant Nebula Award-winning short story, Arrival explores language, love and time. But at its heart, it offers a beautiful study of the eternal bond between a mother (played by Amy Adams) and her child, and a reflection on the pressing need for peace and cooperation.
Arrival earned eight Academy Award nominations, including Best Picture, Best Director for Denis and Best Sound Editing for Sylvain, which he won. It was also nominated for Best Production Design, courtesy of Patrice's visionary work.
Like Denis, Patrice was drawn to film through science fiction. After seeing Star Wars with his father, then-seven-year-old Patrice took over the family basement and "made a whole Star Wars world" out of whatever he could find in the house.
With sci-fi, he says, "you've got total creative freedom to express yourself because you don't need to rely on human technology. Anything goes as long as you anchor it in a certain reality—as long as you make it believable."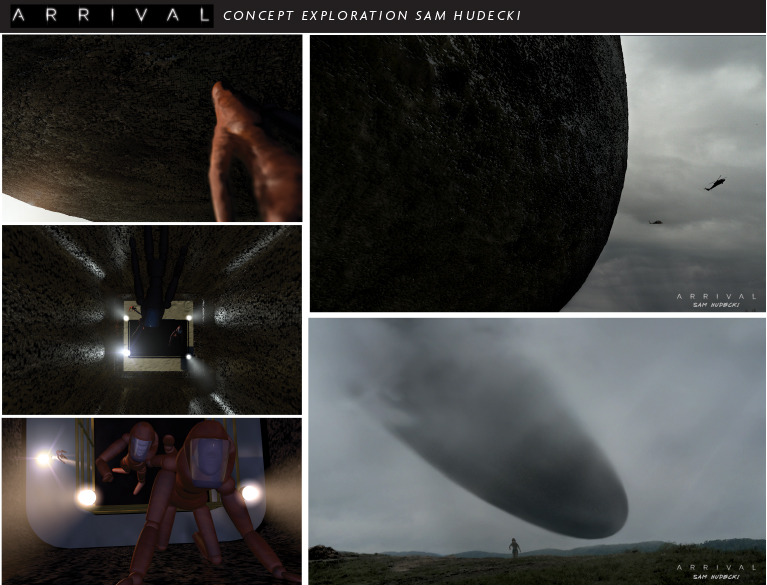 More than that, Patrice shares Denis' conviction that science fiction serves as an entry point to analyzing humanity.
"Good sci-fi makes us reflect on who we are as human beings," says Patrice. "It offers the freedom of creating a world on your own, a world that doesn't exist, but at the same time, you have the opportunity to create a metaphor for the human condition. In most good sci-fi movies, the aliens are just an excuse to talk about the human condition."
Risky business
With Arrival in the bank, Denis is focused on his next two sci-fi adventures. He spent half of 2016 shooting Blade Runner 2049 in Budapest, Hungary, and is currently working on post-production, targetting an October 2017 release.
And then of course there's his childhood dream of directing Dune, which will be realized in the coming months.
Both those projects carry a heavy amount of risk, drawing from beloved and extremely well known source materials. But that isn't a disincentive for Denis. If anything, it's part of the attraction. Since his earliest days as a filmmaker, creative risk is something he has actively sought out.
So far, the gamble has paid off big-time. He has achieved something that few directors ever do: he's successfully married auteur filmmaking with commercial Hollywood. Not only is he respected in a studio system famous for crushing directors, but he's been given carte blanche to deliver on his own unique vision.
"Some directors want so much to make a big impression in Hollywood that they will just follow what the studio dictates and forget what they intended to do," says Patrice. "Denis is not one of those directors. He will never forget what he wants the scene to be like… The studio doesn't bury him."
Going to Hollywood wasn't part of Denis' grand plan. He just wanted to make his own films the way he pictured them. As it turns out, that's exactly what Hollywood wants of him, too.
"He's gained the trust of the system," says Patrice. "He's proven that if they let him do what he does best, everybody will be super-happy. You'll have a critically acclaimed movie that will make money."
Équipe Villeneuve: The genius behind the genius
If Denis was a self-professed benchwarmer on his childhood hockey team, he is the captain of his film crew. The source of inspiration, the one who leads by great example.
Take it from a few of his key players:
"Denis really needs people he can trust, because he is open to every idea," says Sylvain. "He spreads his love around, puts you in his trust and encourages you all the time. Everyone on the crew is important to him, from the person who brings the coffee to the carpenter working far away from the main action… Denis comes from a mindset where cinema is made by a band. He's the front man, the leader, but it's still a band, not a one-man act. He cannot, and does not want to, play all the instruments. From there, (with everyone working together), everything is possible within the film."
"The environment Denis creates around him is one of openness and collaboration, with a solid core vision," says Sam. "He shows a lot of generosity and humility to the rest of the team, and there is truly a feeling that we are all working to find the best film."
"He will consider everybody's input," says Patrice. "In the end, he's the one who chooses, but he's so open-minded and he cares about his team, and that's what makes it special to work with him. He takes time to consider your idea and you feel, working with a guy like that, totally respected in your craft, in your art."
Denis also makes a point of assembling an intuitive, gifted team that relates well on a creative level. As great as his leadership and talent are, part of his success lies in attracting other deep-thinking creators who are always willing to commit everything they have to each project and who have much mutual respect for one another.
Consider how Sylvain, Patrice and Sam talk about their art:
"From a very young age, I was fascinated by the power of movies. And within that, by the power of the duality and complementarity between sound and images. It's a sort of love-hate relationship with a happy ending… (When working with Denis), we start with the film that appears in our mind's eye. Denis is coming from the great school of thought where the film exists by itself, like a human being. At the end of the day, he is open to every idea, but one thing remains constant: The sound should not overwhelm the image." —Sylvain Bellemare, sound designer (Incendies, Arrival)
"My approach to production design is not anything to do with design in the sense of decoration or interior designs; it's about creating a mood that is right for the story. That's what gives me the thrill—it's to read a story and ask myself, 'What can I do to elevate that script with the director, what can I do to give it more layers and to give the viewer, the spectator, cues of what's not being mentioned in the script?' I try to analyze a scene and try to go deeper than just the written words. Design for design does not interest me; design needs to have a bit more meat on the bone… My starting point is that I read the script, and right after finishing the last page, I start collecting images on my computer. I look at my own personal image banks and I go on the net and then I take pictures of pages of books. My first collection of images is based on an emotional response from myself for the script. I send those images to Denis and he replies with images that he feels connected to and he throws me other images, and it becomes like an exchange, a visual exchange of where we want to go. Eventually, I classify those images as a theme and I create mood boards. It's really the first sparks of the ideas that are put in those early mood boards, and then they evolve and you can actually recognize what's in the movie. At one point they become illustrations of what the sets and colour tones will be… Sam plays a vital part in the process. He brings more to the table than just someone who would execute storyboards because he's got the ability, like everybody on Denis' team, to analyze a scene. He comes up with very intelligent propositions and he really knows his lenses. He's amazing, he's phenomenal, he's the best." —Kickass Canadian Patrice Vermette, production designer (Enemy, Prisoners, Sicario, Arrival)
"I love the moment of transition from the written language of the screenplay into a visual language. I like exploring the power that images have to tell a story with strong visual impact… The transition to images begins early; Patrice's mood boards become a base for evoking a visual approach and serve as a guide to what the world will look like. Patrice is such a thoughtful visionary. I fell in love with the attention to detail he put into his sets when we first met on Enemy… When I join in the process, I begin working on sequences with Denis. I think it's an exciting stage for him as well because it signals that the film is on its way. Over the course of the last five films, we have started this process earlier and earlier. I would say it has evolved over that time, and the more we reach into science fiction, the more important this process has become… I have always been a huge admirer of Denis' films, and to be a part of the process has been a great experience, both personally and professionally… (Our) rapport has developed into more of a shorthand as we continue to work together. It's important because I think storyboarding is a bit like mind reading; if we succeed in continuing this process until we are in our 80s, I'm sure that we'd be well past the point where Denis could just cough or make a sound effect and I would be able to draw what he means. I attempt to capture the feelings on paper as Denis dreams out loud. He knows what he wants while also reaching to find new ideas that haven't been seen before." —Kickass Canadian Sam Hudecki, storyboard artist (Enemy, Prisoners, Sicario, Arrival, Blade Runner 2049)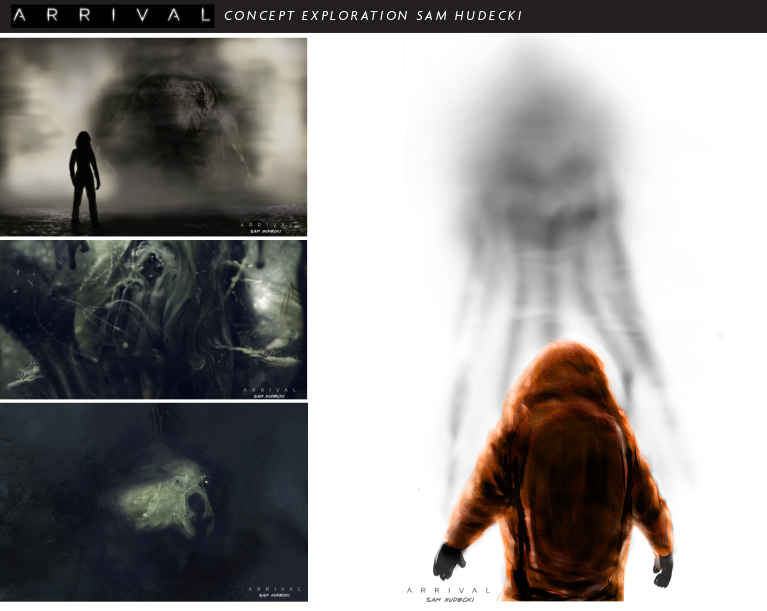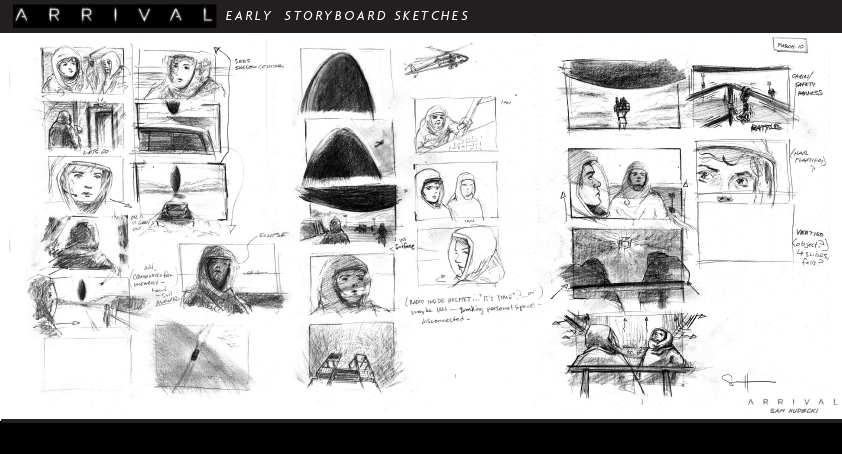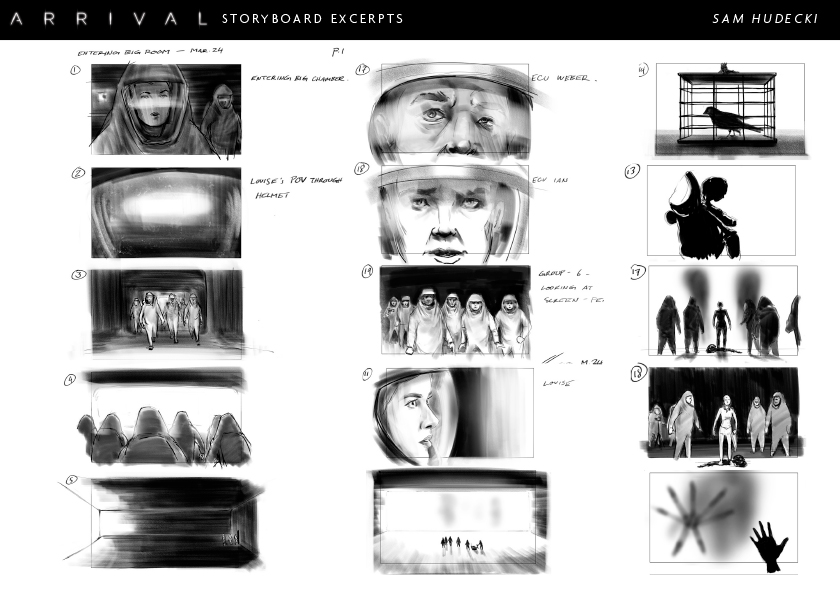 The artist at work
In 2011, on the heels of his success with Incendies, Denis was honoured with a National Arts Centre Award. In his acceptance speech, he humbly said that he doesn't consider himself to be an artist, but that it's his dream to become one and that he's working toward becoming one.
If Denis is not an artist, it's hard to imagine who is. But, as Sylvain says, "Denis has too much respect for art to say that famous line, 'I am an artist.' Denis can be touched very deeply by things and he simply wants to make a film out of it."
Patrice isn't shy about slapping the label on his colleague. "Denis is an artist because he's succeeded in having his own signature, and I think that's what we're all striving for," he says. "Steven Spielberg's got a signature, Martin Scorsese has a signature, Terrence Malick has a definite signature; Denis is one of those guys. He's got a definite signature in his movies. His signature is always there and that's what makes a true artist."
Perhaps another mark of great artists is their constant drive for improvement. They don't dare consider themselves artists; instead, they see themselves as continual works in progress, always aiming to do better.
If it's not for Denis to say whether he's an artist, he leaves it to the rest of us—audiences and critics, filmmakers and everyone else, the people he strives to understand and portray onscreen.
Like his films, all worthy of multiple viewings, this bears repeating: Denis Villeneuve is a true artist. And he does Canada very proud.
*           *           *
For you film buffs, here are a few more Arrival storyboard snippets by Sam Hudecki. They're too good not to share.