"There's a whole world out there to explore. I think things could look a lot different if everyone had the opportunity to get outside and go running or biking or skiing every day."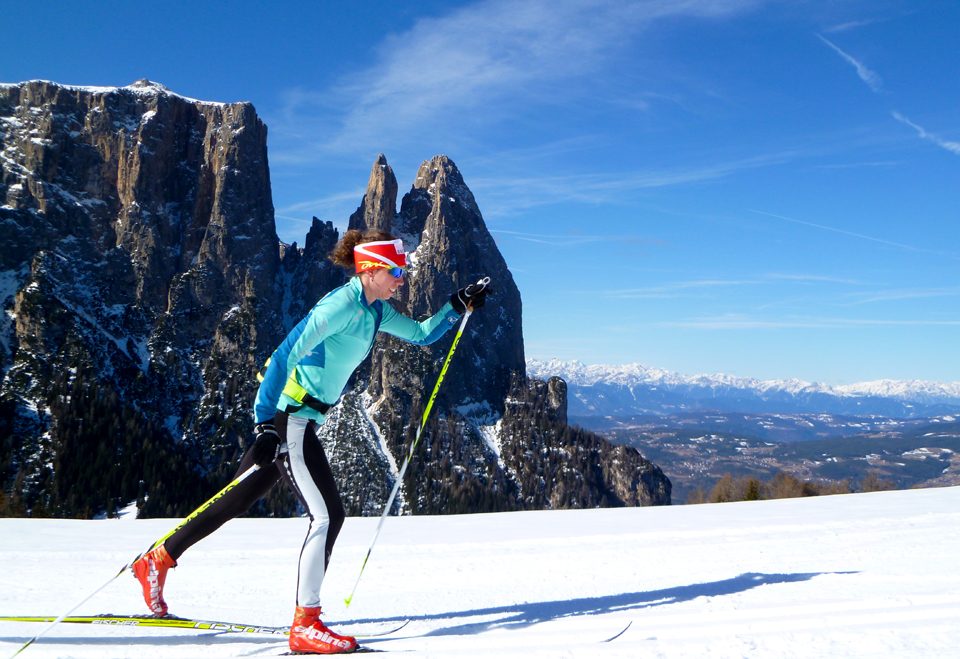 Perianne Jones was introduced to snow at a very young age. Her parents, Brad Jones and Judi Agnew, didn't waste any time bringing their kids on ski trips through Quebec's Gatineau Park, first strapped to their backs, and then, when Perianne and her younger brother, Kieran, could manage it, on little skis of their own.
In the beginning, the youngsters took some convincing; Judi often lured them out on colder days by stashing hot chocolate and Smarties in her backpack. But as soon as the Jones kids joined the local ski club at Lowney Lake, just outside their hometown of Almonte, Ontario, their parents couldn't have kept them away from the snowy trails if they'd wanted to.
The club started out modestly enough, with former Ontario coach Heinz Niederhauser simply looking for a way to get some of the area children, including his own, excited about skiing. But his love of coaching, and the youth's love of the sport, led to greater things. By the time Perianne hit double digits, she was getting proper training under Heinz's watchful eye.
Since those early snowy days, Perianne has gone on to even greater things in the great outdoors. She competed at the 2010 Vancouver Winter Olympics, in the women's individual sprint classic, the 15km pursuit and the team relay. She also won two World Cup bronze medals in the team sprint event: in Milan, Italy in 2012 and in Sochi, Russia earlier this year at an Olympic test event.
Now, she is gearing up for the 2014 Winter Olympic Games. Her sights are set on returning to the podium, and she's in a great position to do it, thanks in no small part to the Gatineau treks she was once coaxed into taking with her family.
Trained to win
Perianne was recommended as a Kickass Canadian by Ottawa, Ontario's Glenn Cheney, an avid skier who knows Perianne's family through the Nakkertok Nordic cross-country ski club, where Kieran is a head coach and her parents are long-time volunteers.
Perianne herself joined Nakkertok when she was 13, and promptly started competing provincially and nationally. Her talent for skiing, and sprint skiing in particular, was clear from the start. Thriving in the Nakkertok program, she made the National Junior Team in 2002, and, after graduating from Almonte & District High School, moved to Canmore, Alberta, to train with the National Ski Team.
As she tells it, the decision to move was "a no-brainer" because of the amazing facilities set up by Cross Country Canada. She travels the world for special training camps, including to Europe, Alaska and New Zealand. But, she says, "I've never felt the need to go anywhere else to find coaching. I think we have one of the best teams and programs and support systems in the world right here in Canmore."
"Peri is an awesome person to coach. She's kind of like a yin-yang; when you meet her, she is calm, quiet and laid back, but put a racing bib on her and watch out—a different beast emerges." —Eric de Nys, National Ski Team Coach, Cross Country Canada
Olympic ambitions
Perianne will draw on that world-class training in February 2014, when she races for Team Canada at the Sochi Winter Olympics. She'll compete in several cross-country skiing events, including the individual sprint and women's 4 x 5km relay, as well as possibly the team sprint, and distance events (10km classic and 15km pursuit).
As much as she loved her first Olympic experience, she's looking forward to Sochi being completely different from Vancouver—in a good way.
"I knew I was so fortunate to have the opportunity to compete at a home Olympics," she says. "I was pre-qualified the year before, so I was really lucky, and I was so pumped to be there and really enjoyed the experience. But I'd also trained super hard that year. I was over-trained and pretty tired. So I raced at the Olympics and it was an awesome experience and my whole family was there along the course, and there were more cross-country ski fans than I thought existed in Canada, but my results were not great. So I'm coming into Sochi kind of in a different mindset. This time, it's not so much about the experience anymore; it's about performance."
Coming off her recent World Cup medal win in the team sprint with teammate Dasha Gaiazova, on the same course that will be used in Sochi, Perianne has good reason to be optimistic. "Winning that medal stuck with me all summer," she says. "Every time I go out training, I'm thinking about standing on that podium again."
In great company
Perianne looks to other sources of inspiration, as well. For instance, the many amazing Canadian women who helped blaze the trail before her. She recalls seeing Beckie Scott win the Olympic medal at the 2002 Salt Lake City Winter Olympics—the bronze that went on to turn golden, after the first and second place finishers were disqualified for doping.
"It was the first time a Canadian had won an Olympic medal in cross-country skiing and the first time a North American woman had won a medal in cross-country skiing, and it was just huge," she says, who was used to seeing Europeans and Scandinavians dominate her sport. "I looked up to Beckie and all the girls on the Canadian team my whole life, and then to watch her win a medal was a pretty big turning point. I remember watching that race and thinking, 'Wow, this is actually possible.'"
Back in 2002, Beckie was an idol to Perianne, "someone who was plastered on my walls and who I read about in magazines." Since then, she's become something even better: a friend.
"I was out skiing with her this morning," says Perianne. "She's just so open to helping and listening, and she has insights that not many other people have. It's the same with Milaine Thériault. She was a teammate of Beckie's and she came and skied with us once at Nakkertok. It was the highlight of my year to ski behind Milaine for an hour in the Gatineau Park and just listen to what she had to say.
"I think the coolest part of all of this is that, since I've moved to Canmore, I've met these women I looked up to and now they're some of my best friends. I can still go out for a ski with them and they still have so much to offer and share, as mentors in skiing and in life in general."
"I think one of the things that I think makes Peri such a great athlete and person is her complete commitment, focus and dedication to excellence in cross-country skiing, while remaining a completely approachable and genuinely great person. It's really unique to see an athlete take the time to give back to a cause or organization while they are still focused on their career, and Peri is generous and selfless with her time and energy (raising money to build schools in Nicaragua and visiting First Nations school kids are just a few examples). She always makes an effort to reach out and engage young and upcoming athletes around her, and everyone I know speaks of Peri with admiration and affection. She is a class act and Canada is lucky to have her!" —Beckie Scott, Olympic gold medallist (cross-country skiing), International Olympic Committee member
A sporting lifestyle
Just as her mentors have, Perianne makes a point of giving back, within her community and further afield. In April 2014, she'll join the Almonte-based organization Schoolbox in travelling to Nicaragua to help build a school for local children. She's been involved with the organization since 2010 and has been looking for an opportunity to join their onsite efforts. She made sure the upcoming trip was in April, "the one month skiers have off from training," so she could bring a group of skiers along to help, including members of the development and Para-Nordic ski teams, as well as her husband, Team Canada wax technician Joel Jaques.
Considering Perianne's upbringing, it's another "no-brainer" that, for her, giving back also includes promoting an active lifestyle. (This is a woman whose parents regularly planned family vacations around marathon and ultramarathon destinations. "My brother and I didn't know anything other than running and skiing and enjoying the outdoors," she says.) Among the other charities she supports, Fast and Female remains close to her heart, simply because there are fewer women than men in sports. But she also emphasizes the importance of getting people of all walks (or runs) of life outside and moving.
"Whether you do it competitively or just for fun, being able to experience the outdoors in sport is something that I think everyone should get to do," she says. "We live in a country that has so much to offer in the outdoors, but more and more the culture is to be indoors and doing things inside. There's a whole world out there to explore. I think things could look a lot different if everyone had the opportunity to get outside and go running or biking or skiing every day. When you're outside, you're building confidence, you're building friends, you're building a culture of health. It's so good not just for physical health but also for mental health."
As an elite athlete, Perianne appreciates the "luxury" she enjoys of having four hours a day, or more, to focus on her sport and "zone out the rest of the world." But it isn't something that's reserved for Olympians; she makes it clear that all of us should make the time to go outdoors and exercise. "There's no better way to clear your mind than to get outside and get moving," she says.
Looking forward
With the 2014 Sochi Winter Olympics in close view, and the 2015 World Championships not much farther down the road, Perianne has no plans to stop competing any time soon. And even when she does, skiing will always be one of the main ways that she gets outside and gets moving.
Although she acknowledges that she's recently started to think about life after competition (it will probably involve going back to school, likely for something in healthcare, and "hopefully doing something I love almost as much as skiing"), she has no doubt she'll stay involved in her sport, as part of her active lifestyle and also as a volunteer. "When I was a kid at Nakkertok, we didn't have any paid coaches," she says. "From the coaching to the grooming to the waxing, it was entirely run by volunteers… Wherever I end up, I will volunteer at the local ski club. It's super important to me to be involved in skiing that way."
The desire to give back, the commitment to health, the incredible athletic accomplishments; all of this because a little girl's parents passed on their love of being active in the great outdoors. The young skier from Almonte does her family, and her country, very proud.
*            *            *
For the latest on Perianne, visit periannejones.blogspot.ca.