Ryan Steeves, lawyer-mentor
"What I've got today is all because of other people, it's all because of mentors. Mentors have the most amazing impact."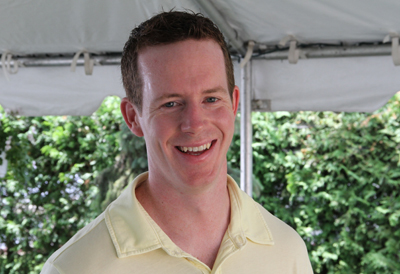 I can't think of many people as wholly good as Ryan Steeves. Still in his 20s, he's the youngest person to date on Kickass Canadians, but he's already got some pretty impressive accomplishments to his name: Played pro hockey in the Colorado Avalanche system. Studied premed at Yale University. About to complete law school at the University of Ottawa. Sits on the United Way Centraide Community Services Cabinet.
Still, the most impressive—and distinguishing—things about Ryan are his widespread kindness and generosity, and his preternatural wisdom and maturity. Everyone I've talked to about him over the past few years sings the same tune: "Nicest guy I know." "Amazing moral character."
My introduction to Ryan came through his volunteer work. In 2007, I was hired to write an article on the Big Brothers Big Sisters Ottawa's (BBBSO) "Big Apprenticeship" program. At the time, Ryan was working as assistant coach for the Gee-Gee's men's hockey team at the University of Ottawa. He was also volunteering as a mentor for the students who had entered a team in the BBBSO program, which they'd called the Big Skate.
When I spoke with the Big Skate's team leader, he went on and on about his awesome mentor, who had been recruited to play hockey for Yale and then went on to play in the American Hockey League (AHL) before coming home to Ottawa and coaching the Gee-Gees. I was instantly curious about this wunderkind with a heart of gold.
A few months later, Ryan turned up in my running group at the Ottawa Lions Athletics Club. The more I got to know about him, the more impressed and inspired I became. These words have become clichéd, but on top of being smart, multi-talented and giving, he is also the most grounded and mature person I know.
It turns out, maturity came early to Ryan.
A head start
He grew up in Rockland, Ontario, just east of Ottawa. It was a small, safe community, and his parents, Grant and Brenda Steeves, gave him "a long leash." Ryan was free to make his own way around, knowing he had his parents' full trust. "I had a real sense of responsibility at a young age," he says. He also had an elder sister, Kelley, who set a solid example for him.
Ryan was into sports from the get-go. He played tennis, soccer and baseball. But it was hockey that really grabbed his heart. His father had played in the minor leagues, and was hoping his son would share his love of the game. After registering four-year-old Ryan for skating and hockey lessons, Grant was secretly disappointed when the boy seemed to hate skating. But, says Ryan, "the day they gave me a stick and a puck, I fell in love with (hockey)."
A forward known for his speed, Ryan made his way up the rungs of the competitive minor hockey leagues. While attending Rockland District High School, he played Junior A hockey. At 17, he was recruited to play for the Yale Bulldogs. He didn't aspire to play professionally, but he loved the sport and took advantage of the doors that opened for him.
"Once you're in (the competitive hockey) track, you sort of follow it, if you can keep up with it," he says. "I was lucky enough to be able to. I had great parents who supported me… They gave me every opportunity they could."
Going pro
He may have been lucky. But he was also good. In his first two years playing for Yale, he caught the eyes of the scouts. After his second year of premed, Ryan was drafted by NHL franchise the Colorado Avalanche. "Up until that point, I never had any realistic expectations of playing professionally," he says. "It was sort of a plus if I could."
After wrapping up his premed courses and graduating with a Political Science degree in 2004, he signed a three-year contract with Colorado. He travelled across the continent, playing with teams such as Pennsylvania's Hershey Bears, Massachusetts' Lowell Lock Monsters (now the Lowell Devils) and New York's Albany River Rats. Ryan was devoted to his training and performance; at the same time, he was struck by the opportunity the sport afforded him to reach out to other people.
"I always felt so humbled because you'd be playing in front of crowds of 10,000 people, and they'd come from all over the place, all different backgrounds," he says. "For that three-hour game, we were stars to people… In some of those smaller communities, kids and people just look up to you for no other reason than the fact that you're wearing a jersey that they support."
Finding a need
The realization that people, and children in particular, saw him and his fellow players as role models planted a seed for Ryan. Between practises during the off-season, he sought out places where he could make a difference as a volunteer.
While he was living in Lowell, he got involved with the Boys & Girls Club of Greater Lowell, helping local students with their homework after school. For him, it was an incredibly eye-opening experience. "Parents can't always get to school to pick up their kids at 3pm," he says. "The amount you could accomplish (with those children) between 3pm and 5pm was tremendous. So much can be done."
Changing course
At the end of his three-year contract, Ryan took a long, hard look at what he wanted to do next. He'd promised himself that he would reevaluate after his commitment was up. If he were making promising steps toward a full-time career in the NHL, he'd continue pursuing the sport. If not, he had other plans in mind.
"It's really easy to get sucked into that world and just always be on the doorstep of making the jump to the NHL," he says. But without a firm offer, the sacrifice wasn't worth it to Ryan. The schedule he kept as a professional hockey player meant that he was away from family and friends almost year-round. Still in his early twenties, he figured it was a good time to go back to school and start a new career, rather than waiting a decade and trying to tackle that goal with a wife and family in tow.
The sport was also taking a toll on his body. He'd already had surgery to repair torn labrums in both shoulders, and was feeling the effects when he tried to lift his young niece. With arthritis already forming, it seemed to Ryan as though he was choosing between a few more years of playing hockey, or being able to comfortably hold his children one day.
Looking back, he says that three years probably wasn't enough time to determine whether or not he could make it in the NHL. "It's not really a realistic goal to set unless you're Sidney Crosby," he says. "If I really wanted to make a run at it, I probably would have given it a few more years… There's no regret in me, but I'm now seeing a lot of the players that I played with or against who are sort of making jumps and are already in the NHL. So at times I wonder what I could have done. But it was the right time to make that decision."
Legal-ease
That decision was this: to enroll in law school at the University of Ottawa and pursue an unexpected career turn that would put his "rational science mind" to good use.
When Ryan started out in premed at Yale, he figured he would go on to medical school. But during his studies, he met a lawyer through the Yale Hockey Association and took on work at his New Haven firm. Intrigued, he added some law and political science classes to his course load. The more he learned, the better he liked the field of law. "It just seemed so dynamic," he says.
Throughout his summer breaks from Yale, he worked at Ottawa law firm Greenspon, Brown & Associates. He formed a close working relationship with renowned criminal and personal injury lawyer Lawrence Greenspon, who became a valued mentor to Ryan and played a large role in his decision to become a lawyer.
"Ryan had the courage and insight to change direction (in his career)," says Lawrence. "He has done so, but at the same time has continued to grow his commitment to our community. His (volunteer work) has been an inspiration for other young men."
Gee-Gees hockey
Once Ryan settled on retiring from pro hockey in 2007, he moved back to Ottawa to be near his family and start applying to law schools. During his "year off," he resumed work with Lawrence and took on the job of assistant coach with the Gee-Gees—a role he plays to this day.
"The players and staff have benefited immensely from (Ryan's) example," says Gee-Gees head coach David Leger. "He has always been a person who has represented the necessary balance in athletics, academics and community involvement. Ryan is a remarkable young man, and quite simply enriches the lives of those around him."
Making a difference
In his first year with the Gee-Gees, Ryan also volunteered with a number of organizations, including Operation Come Home (OCH), the Boys and Girls Club of Ottawa, and Child and Youth Friendly Ottawa (CAYFO), as well as with the BBBSO, both through its Big Apprenticeship and Mentoring InSchool programs.
The Mentoring program involved visiting an 11-year-old boy at school on a weekly basis. Once again, Ryan was reminded of the potential we all have to make a positive difference in children's lives. "It was amazing to see how quickly you develop a relationship with the child," he says. "Just by spending a few hours with him a week, his teacher noticed differences and his principal noticed differences. I don't think people realize that (all it takes is) an hour or two a week. If everyone did that for the kids who needed it, we'd have a much better city."
The big picture
Today, Ryan is in his final year of law school and is set to start articling with the intellectual property group of Ottawa firm Borden Ladner Gervais LLP (BLG). He still gets out on the ice, playing with the Senior Men's Hockey league that includes a number of young pro and junior league players.
When his shoulders act up, he has his new wife Kristy Steeves—a physiotherapist in The Ottawa Hospital General Campus oncology unit—to help him out. "She does great work," he says. "She has a huge heart, which I think makes her a good physiotherapist."
Ryan is also as active as ever on the volunteer front. By far the youngest member of the United Way Centraide Community Services Cabinet, he joins a long list of impressive co-chairs that includes former CTV Ottawa journalist Max Keeping, former Ottawa city councilor Alex Munter and Lawrence Greenspon. Ryan's focus in the coming year will be on providing strategic input for United Way's involvement in developing programs for children during the "critical hours" after school and before going home.
When I point out his pattern of helping children in particular, Ryan says, "That seems to happen naturally for me." He attributes it at least in part to having been exposed to children within the communities he lived as a pro hockey player, and seeing their needs firsthand. What it comes down to for him is a desire to give back to others at least some part of the incredible childhood his parents gave him.
"I had a very fortunate upbringing," he says. "I was probably the most loved child I could ever imagine. My parents missed three games in four years at Yale, and I played two games every weekend. They drove seven hours each way. That goes to show you the upbringing I had, in a nutshell."
Ryan says that everything he has is thanks to the amazing people who have surrounded him, starting with his parents, and continuing with the teachers and coaches who have set a stellar example of the person he wants to be. "What I've got today is all because of other people, it's all because of mentors. Mentors have the most amazing impact on people… I hope to work my way up and become a mentor to someone else."
If you ask me, and—more importantly—any of the countless youth he's helped out across North America, he's already there.
*            *            *
To reach Ryan, email [email protected].