Bif Naked, spokeswoman-survivor-writer-performer-rockstar human being
"It's important to be around a diverse group of women from all different backgrounds and age groups, and to have a collective goal that is supportive and encouraging for women."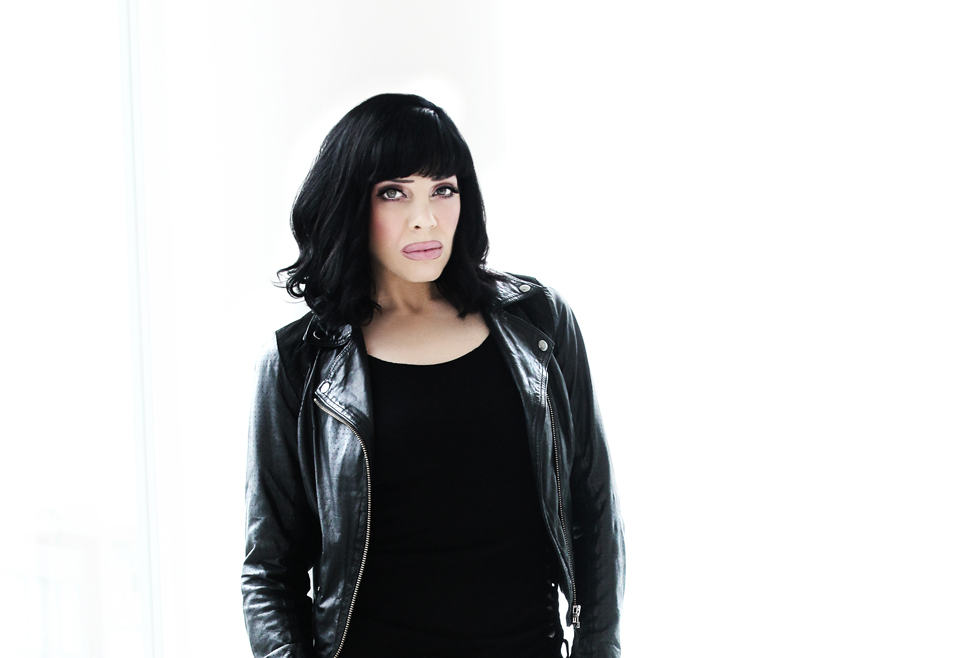 Bif Naked has a powerful voice. Her bold, boisterous, fiercely energetic singing, combined with wrenching lyrics about subjects like heartbreak, bisexuality, rape and abortion, have earned her a rabid following over the past 20+ years. For many people, particularly young women, Bif broke the mould, inspiring them with her anti-cookie cutter image, offering them a new kind of role model to look up to. Brash. Fearless. Strong.
Her career is mightily impressive. She's put out 10 albums, including the platinum-selling I Bificus (1998) and Juno Award-nominated Purge (2001). Her hits include 'I Love Myself Today,' a reimagining of Metallica's 'Nothing Else Matters,' and 'Spaceman,' which made #1 on the national charts and #2 on Billboard's International Charts, and remains the highest-spun independent song in Canadian history.
There's more. She has toured Europe and North America, as a headliner and performing with the likes of Snoop Dogg, Billy Idol, Dido, Sarah McLachlan, Sheryl Crow, Chrissie Hynde, Foo Fighters and other top-notch acts. Her music has been featured on television shows (Buffy the Vampire Slayer, Charmed) and in films (Anywhere But Here, Whale Music by fellow Kickass Canadian Richard J. Lewis).
But Bif's tune started to change, dramatically, when she was hit with a series of heavy personal and physical struggles, starting in 2007. Over a period of six years, she got married, was diagnosed with breast cancer, was successfully treated for breast cancer, got divorced, suffered near-fatal kidney failure, underwent heart surgery, and lost her beloved dogs, bichon frisé Anatasia and maltese Nicklas.
Out of all this, along with two new albums (2009's The Promise, written and recorded throughout her cancer treatment, and 2012's Bif Naked Forever: Acoustic Hits & Other Delights), came something magnificent: Bif found a new, even more powerful way of using her vocals. She started by talking about her experience battling breast cancer. Then she branched out as a motivational speaker for a range of audiences, including women's organizations, cancer survivors, medical researchers, women in business and people starting their careers.
She's still a rock star. But she has found a way of expressing herself that's even more in tune with her inner self, a voice with the potential to resonate even louder than her hit songs. For her, it's no longer about appearing fearless, but about really being courageous—looking truth in the face, daring to break free of decades' old patterns. In doing so, Bif is becoming an even stronger example for women, for people, everywhere.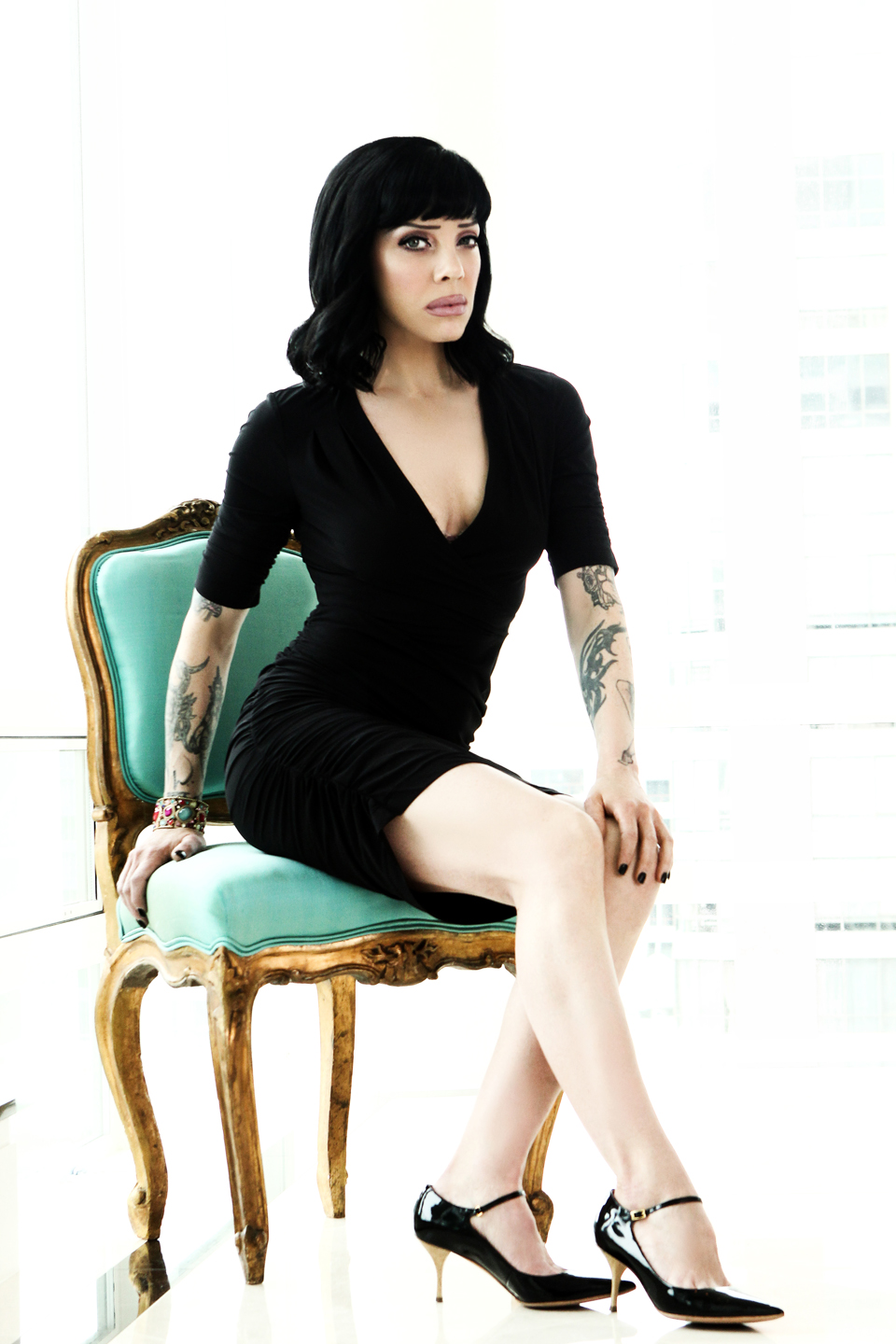 Superbeautifuljourney
Bif wasn't always 'Bif Naked.' She was once an orphaned baby in New Delhi, India, who was adopted by the Torberts, an American missionary couple with two biological daughters. They named her Beth and, when she was just a toddler, brought her back with them to North America, first to Lexington, Kentucky, then on to Manitoba—Dauphin, The Pas and finally Winnipeg. "My earliest memories really are from north of the 53rd parallel," says Bif.
As the only Canadian in her transplanted American family, Bif's nationality shaped her identity even more than did being adopted. "It's always been hugely important to me and I was fiercely protective of it," she says. "It absolutely informed a lot of how I self-identified, even as a child. Plus, Trudeau was the first prime minister I knew of when I was young, so I of course was in love with him."
There were other forces in shaping who she was to become. She grew up "enshrouded" in her Indian culture, which continues to inform her spiritual beliefs (she cites Krishna, Buddha and Krishnamurti among her greatest influences). She also loved the performing arts; she studied ballet from age four and acted in school plays every chance she got.
'Bif' was born when a classmate mispronounced her name in Grade 8, and the moniker stuck when she moved on to John Taylor Collegiate. 'Naked,' along with music, came a few years later.
"(Music) happened purely by accident," says Bif. "I was a ballerina for 13 years and I did spoken word poetry. I was listening to Rachmaninoff and Tchaikovsky and basically having a very different vision for my life (than how it turned out). But I guess, being a defiant teenager and discovering all other forms of music, I just kind of fell into a band. That just started being what I did."
At 17, as one of very few females fronting a Winnipeg band, she found herself in need of a "punk rock stage name." So 'Bif Naked' it was.
After graduating high school, she spent one year studying theatre at the University of Winnipeg before dropping out to tour with the band Gorilla Gorilla. The experience was pivotal to her development.
"I enjoyed performing, particularly in the genre I started out in," she says. "It was extremely cathartic for me. I was a real non-confrontationalist, like my parents, and once I was onstage in the genre of punk rock or skate punk, I was able to transform into this person who stage dove and encouraged mosh pits, and who fought backstage and who spit. That's very different from my real life, so it was a way of really discovering that part of myself when I was just a young woman. I think the performance aspect of it definitely shaped me and my life."
When Gorilla Gorilla moved to Vancouver, B.C. in 1990, Bif went along for the ride, making the city her permanent home. A few years later, she wound up going solo and forming her own label, Her Royal Majesty's Records, which is still going strong today.
In the midst of her full-throttle music career, she made time to indulge her acting bug. As she modestly says, "Over the years, I was cast in a couple different things." Those things include appearing in music videos for the likes of The Offspring and Moist, acting in film (Archangel, Lunch with Charles, Crossing) and television (Once a Thief, The L Word), and hosting (ZeD, Bodog).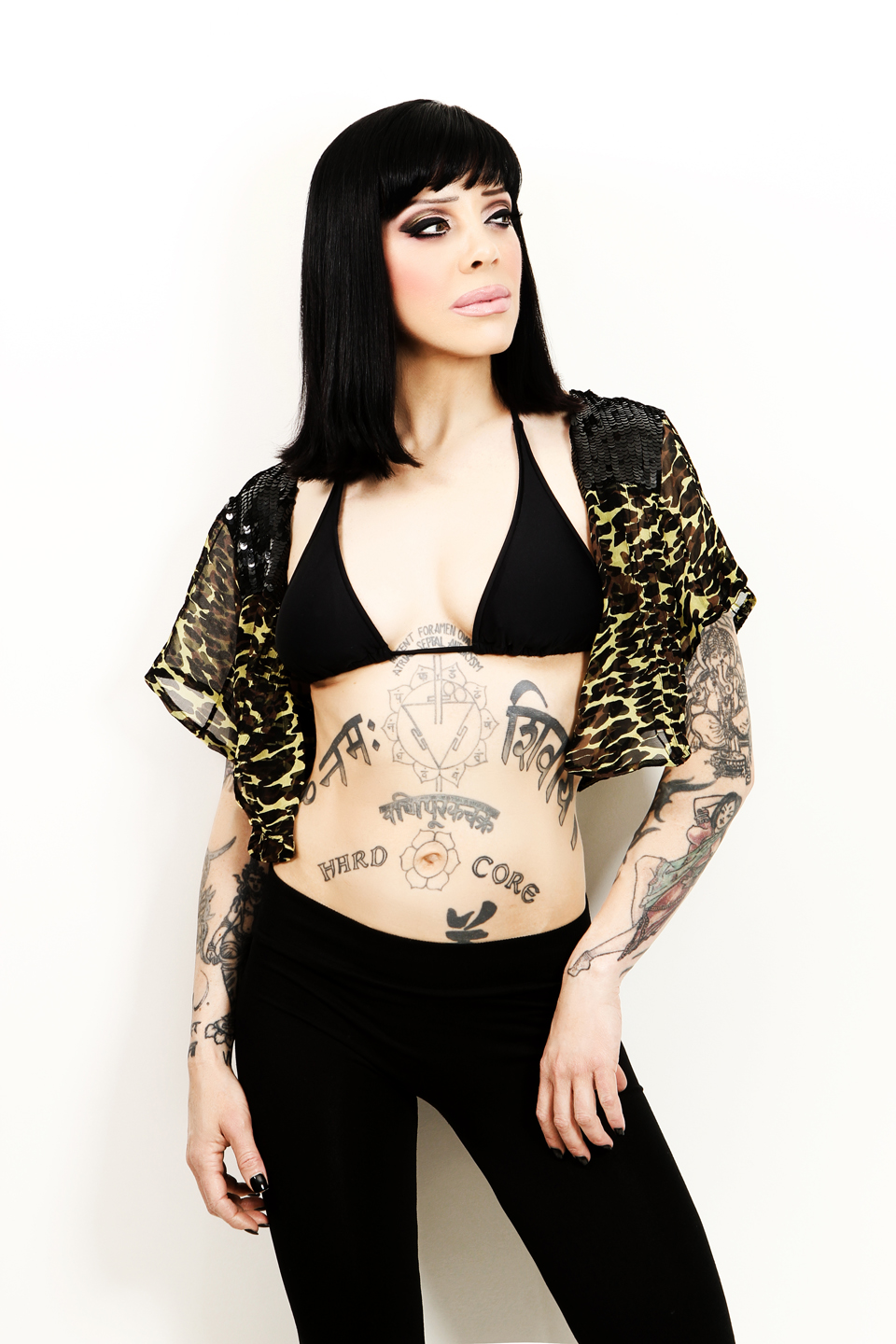 The promise
There were ups and downs along the way, personally and professionally. But none compared to the roller coaster that began in 2007. Bif got married in September 2007 (to her second husband, having been married for six months to her Jungle Milk drummer when she was just 18). Then, two months later, at age 36, she was diagnosed with breast cancer.
"I had been a raw food vegan for seven years and a vegan for 20," she says. "I was doing a martial arts TV show [Bodog] and touring full-time, I was very active, in optimum health, I never got sick, I never got a cold. So when I got the diagnosis, it was almost like a fucking joke. It was like, 'You gotta be kidding me!'"
It occurred to her that this might be the perfect time to die: she could go out in a blaze of glory, never having to grow old or slow down, but finally able to rest. "I could have croaked happy," she says. ('So Happy I Could Die.') "But of course I didn't croak."
Bif didn't slow down much, either. Throughout the 13 months she spent in surgery (for a lumpectomy and ovariectomy), chemotherapy and radiation, she wrote and recorded her 2009 album, The Promise. Music helped get her through the difficult time. But it wasn't where her true focus lay.
"I can look back at that era in my life and I think that I was very creative during that era," she says. "But it was also a very tremendous time in my personal life, so it kind of overshadowed all of my art and creativity, more so than the disease and the treatment for the disease."
Bif is referring to her second marriage, which ultimately ended in divorce in 2011. That "emotional crisis," as she describes it, was a big distraction while she battled cancer, one that kept her from being truly present, from making plans and making peace. "I was in a different crisis at the time, which trumped my cancer experience."
It's her kidney failure and subsequent heart surgery in 2012 that she considers to be her true health crisis.
"I've always been really lovey-dovey—everyone knows that I pretty much have a real hippie mentality," she says. "But after last year, 10 days in the hospital and being awake during heart surgery, I wound up making a lot of different affirmations and commitments to myself that I wasn't ready to address before, emotionally or psychologically. I finally made decisions and peace and plans and things I wasn't doing during my chemotherapy treatment. I came to terms with a lot of things during my heart surgery; that was my health crisis and that was just life-changing for me."
Those decisions and reflections revolved around setting boundaries, abandoning martyrdom—which she feels too many women subject themselves to—and becoming more self-honouring. Bif took a hard look at her behaviour and acknowledged that her pattern of isolating herself wasn't something she had to do; it was something she chose to do. "When I wasn't working, I was hiding (from people)," she says. "Probably because I didn't have healthy relationships; I had a real knack for picking abusive men."
So she made herself another promise. "Obviously I'm addicted to that type of martyrdom and I think that happens for a lot of people who chronically repeat patterns… I had to work on my shit and own it and finally say, 'You know what? This is bullshit. I didn't do the work, that's a myth, I'm tricking myself here. I need to really do the work, to make a good effort to live the life that I really want to live and stop bullshitting myself.'"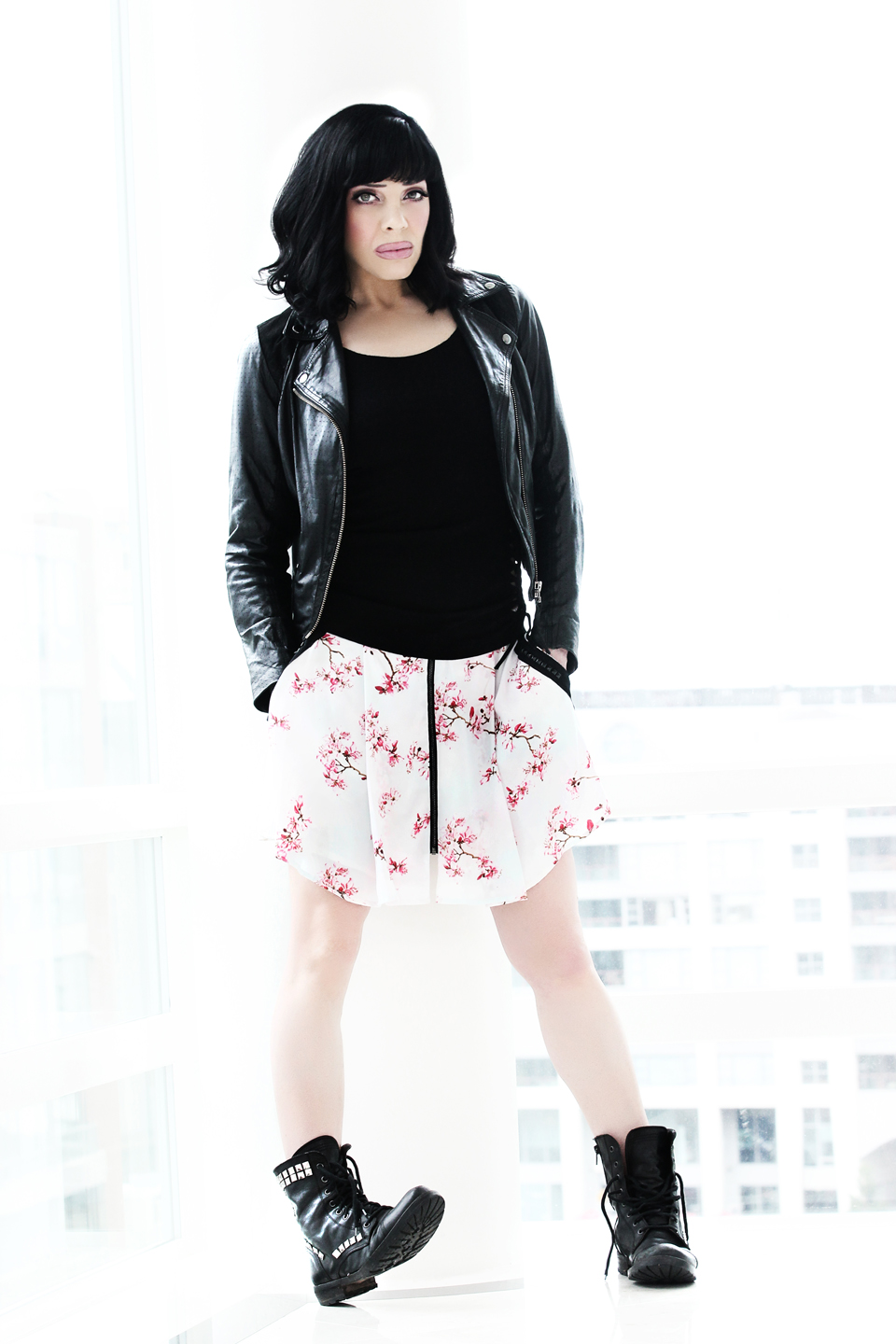 The naked truth
For the record, being better to herself hasn't involved slowing down for Bif. But she's okay with that.
"I'm busier than I've ever been, but what I needed to change wasn't really about that," she says. "It was more personal; it was to be a better person, to work harder, to try harder, to serve others, to come into my own more, to start saying 'No' in my personal life."
Her latest and ongoing projects are many. She's the subject of the CBC documentary More Than Skin Deep, which aired in B.C. this summer and will be released across Canada in the coming weeks. She has two new records that are "basically in the can," including "a very fun, very filthy dance record." And she's writing her memoirs for HarperCollins.
Through it all, she's working hard at respecting the personal boundaries she sets for herself. She's also finding great fulfillment in pushing past other boundaries and discovering new joys.
In addition to her regular speaking engagements, Bif volunteers with Vancouver's Women's Advisory Committee, helping work towards gender equality and improved access for women and girls in the city. Her dedication to improving the lives of young women, as well as her outstanding performing arts career, earned her an honourary doctorate from University of the Fraser Valley (UFV) this June, an acknowledgement she calls "humbling and motivating." But her work with and for women has expanded her education in even more fundamental ways.
"It's been a great introduction for me into this type of work," she says. "Civic work is something that's really new for me, and I never would have had any idea that I would have enjoyed it as much as I do. I'm so inspired by the women on the committee. I think it's important to be around a diverse group of women from all different backgrounds and age groups, and to have a collective goal that is supportive and encouraging for women, in their cities and in this country. I think that's something I'm starting to learn more about—how I can contribute as a good citizen, but also as a woman."
Bif stumbled into singing "by accident." Fortune's wheel steered her to motivational speaking and new ways of reaching women, girls and all people. Whatever path she takes in the future, you can bet her voice will carry, strong and clear.
*            *            *
For the latest on Bif, visit bifnaked.com, follow @bifnaked on Twitter and 'Like' her Facebook page.
You can hear acoustic versions of five songs from her most recent album, Bif Naked Forever: Acoustic Hits & Other Delights, recorded in 2012 during a special CBC session at Bif's Vancouver home.
Thank you to Peter Karroll for making this interview possible.