"For me, the highlight and greatest honour (of my rugby career) was to represent and play for my country on the world stage."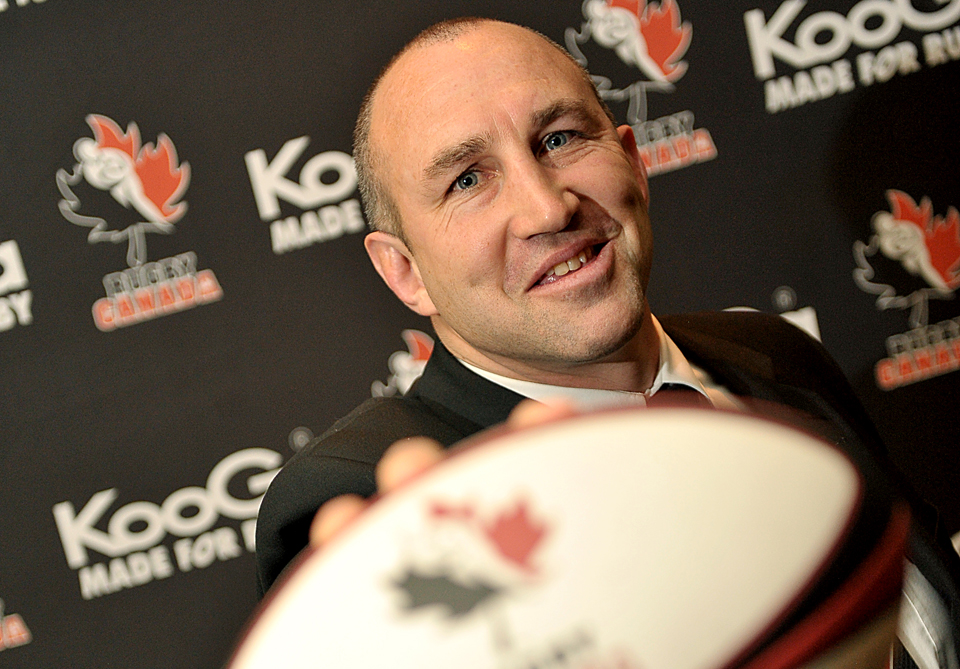 Al Charron seems to think he's a pretty ordinary guy. He admits he's had "some success" in the sport of rugby. But other than that, he doesn't see himself as anything special.
That perspective in and of itself makes Al stand out. In spite of his protests, he is in fact one of the most—if not the most—respected players in the history of Canadian rugby.
He was recommended as a Kickass Canadian by Jay Ankersmit, director and athletic therapist at the Ottawa High Performance Centre (OHPC). Jay has spent more than a decade treating dozens of top-level athletes, working with organizations such as Rugby Canada, the Ottawa Senators and the Ottawa Fury Soccer Club, as well as with many individual Olympic, National Team and professional athletes.
Of all the elite performers Jay has treated, it was Al who came up immediately when I said I was looking for inspiring Canadians who are as generous and caring as they are accomplished. "Despite Al's successes, he remains one of the most humble and classy individuals I have dealt with in sport," says Jay. "He never fails to pay recognition to those around him or to offer a helping hand."
Having met Al and done some background research into his life, it's clear to me that he is a modest man with a great heart. Given that he won't sing his own praises, allow me to also make it clear just how impressive he was as a rugby player.
"You've got to get your first tackle in early, even if it's late."
Born and raised in Ottawa, Ontario, Al got his start in rugby playing for the Hillcrest High School team when he was in Grade 12. He'd played recreationally in gym class, but didn't try out for the competitive team in his early years because it conflicted with baseball season, which he'd already committed to. Still, he had a feeling that he'd love competitive rugby. So after three years of baseball, he switched sports and never looked back.
"I didn't really know all the laws (when I first started playing rugby)," he says. "But I knew that if our team didn't have the ball and the other team had it, go and tackle them."
Standing nearly 6'5" and weighing in at around 220lbs, he took well to the game's philosophy. Before long, he was playing with the top-ranking Ottawa Irish Rugby Club, and was spotted by selectors for the provincial and national teams. In 1989, while he was completing a degree in sociology at Carleton University, he got a career-making opportunity. Team Canada had lost players to injury, and was looking to pick up replacements for a tour in New Zealand and Argentina. Al was selected for the tour and proved his mettle to teammates and opponents alike.
"I was fairly new to the sport, and there I was playing on the National Team three years removed from playing in high school and two years leading up to the next Rugby World Cup in 1991," he says. "I was playing with Gareth Rees, Mark Wyatt—players who will go down as some of the greats in the history of Canadian rugby. I knew that this was my chance, and I like to think I took my chance and made the most of the opportunity, and established myself as a player (that my team) could count on in international matches."
"The whole point of rugby is that it is—first and foremost—a state of mind, a spirit."
In the 14-year career Al enjoyed after his first tour, he not only played on Team Canada for every match he was healthy and available, but was nearly always selected for the starting lineup. Throughout his stellar run, he played in four Rugby World Cups, and often served as captain or co-captain in the latter stages of his career. He holds Canada's record as the most "capped" player, having been named to the National Team on 76 occasions in internationally recognized matches.
One of those cap matches was the historic defeat over Wales on their home turf in 1993. "That was the (strongest) international team that Canada's has ever beaten on their home pitch," he says. "We were losing the whole game, and just in the dying seconds I scored a try [a.k.a. touchdown] to tie it, and my good friend Gareth Rees hit the convert to win it. It was a big shock to (our opponents) because rugby in Wales is like hockey in Canada… It was a surreal moment. All of a sudden we beat Wales in Wales."
After rugby lost its amateur code in 1995, he eventually accepted one of many offers to play pro. He moved to Europe in 1996, where he played in England and France for nearly six years. While there, he was voted 'Bristol Supporters' Player of the Year' and 'BBC West Country Rugby Award Recipient,' both for the 1998/1999 season.
Al says playing pro was a great experience. However, cashing in was never what motivated him on the field. "It was a bonus that rugby went professional and I managed to make some money from it and live abroad for a short period," he says. "But for me, the highlight and greatest honour (of my rugby career) was to represent and play for my country on the world stage."
In spite of the success he achieved in Europe, his devotion as a Canuck never waned. He always came back to play with his home team during the European professional off-season, and made a priority of playing with Canada for the World Cups.
That dedication, on top of his talent, didn't go unnoticed. For both 2001 and 2003, he was named 'Canadian Player of the Year' by Rugby Canada. In 2009, he got a special nod from his hometown when he was inducted into the Ottawa Sports Hall of Fame.
True to form, Al's modesty prevents him from letting even such prestigious honours go to his head. "I don't believe in all these accolades that I've gotten," he says. "I played a team sport, and as much as I helped my teammates, my teammates helped me far more. I was embarrassed by people singing my praises, especially when I didn't think it was richly deserved."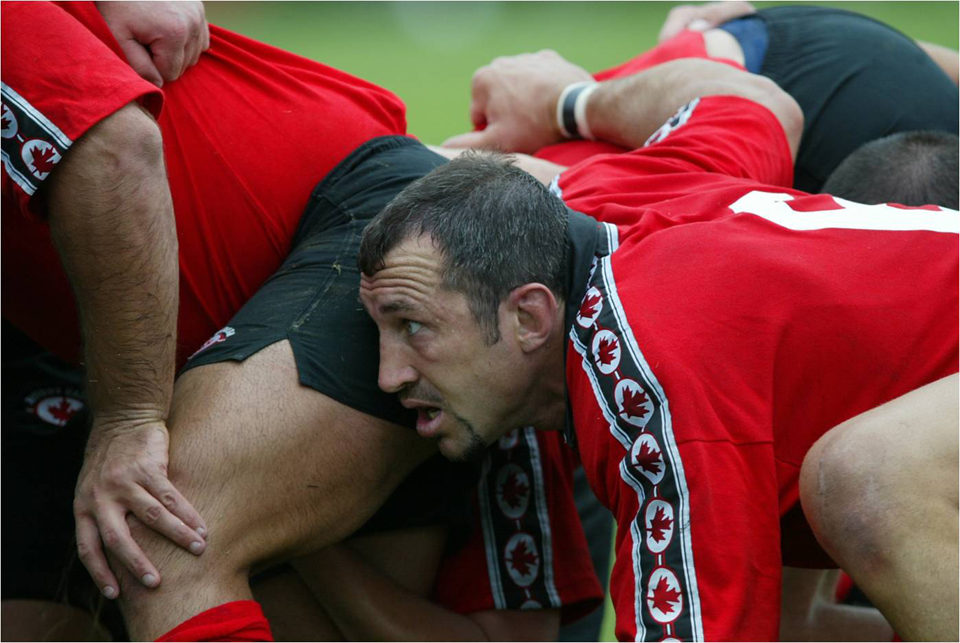 "The only pain in rugby is regret."
The praise is deserved. Al's performances alone merit the recognition he's gotten from the rugby community. When you factor in the chronic knee pain he was playing through, they become all the more impressive. After a particularly rough first year playing pro, his injuries worsened to the point that he was getting near-daily treatments to drain the bursas in his knees. An unsuccessful surgery to remove bone chips further complicated the issues he'd had.
But he refused to let his injuries stop him from doing his best during every match. "I know that I made mistakes, but no one can ever say, 'That guy didn't give his 100%,'" he says. "When I went out (on the field), things didn't always come to pass, things didn't always work out as I had planned. But I didn't want to come into the dressing room and think, 'You could have given more.' I wanted to be able to look in the mirror and say, 'You gave it your best.'"
"Not for glory, nor for riches, but for honour alone."
Al retired from rugby after playing in the 2003 World Cup. Unfortunately, his injured knees—one of which has blown out three times, including once just a few months shy of his final Cup—continue to plague him. He isn't able to maintain the level of fitness he had throughout his career. In fact, his surgeon recommended that he give up running for good.
But Al was never one to give up.
In September 2010, he ran his first 5km race as part of Ottawa's annual Canada Army Run. "I've never really enjoyed thinking about going out and jogging, or working out, for that matter," he says. "But I always enjoyed it once I was out there doing it and pushing myself."
So he started by getting out and doing it. He registered for the race and went for what he calls a "training run." However, after the abuse his knees had taken, and with a relatively neglected cardiovascular system, he found the run to be much more of a shock to his system than he'd anticipated.
"I was embarrassed," he says. "I've never stopped short in anything sport-wise in my life, but I had to stop because I was hurting so much." He wasn't sure he'd be able to push his 310lb body to finish the 5km course. But he wasn't about to break his commitment, especially given that the race was established as a tribute to the Canadian Forces.
"I've always had a soft spot for the military, especially nowadays," he says. "(The race) wasn't something I could possibly back out of… They say you're going into battle in a rugby game, going into battle in a hockey game, but you're not putting your life on the line. (The members of the Canadian Forces) are putting their lives on the line, so to play a small part in the military run was the least I could possibly do."
His deep appreciation for the military came about when he was in France for the 1991 Rugby World Cup. He tears up as he describes the visit his team took to Vimy Ridge just before their quarterfinal game against New Zealand. "I had some idea about Canadian war history, but not a great deal," he says. "To go (where the Battle of Vimy Ridge) was fought and see the monuments that France had put up for Canada was… a moving experience. I read Pierre Berton's book Vimy right after that. I've always been a proud Canadian, but you read that book and you're that much more proud to be Canadian."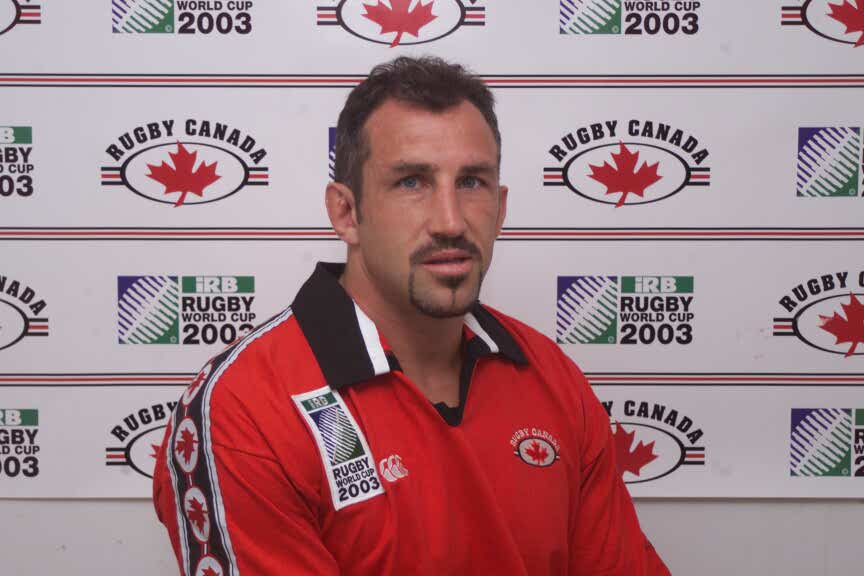 "Rugby is a beastly game played by gentlemen."
These days, Al spends his time working at Ottawa-based IT recruitment company Modis, and enjoying family time with his beloved wife Annette and six-year-old son Rylan. Al stays involved with the rugby community by volunteering to speak at schools and banquets, doing what he can to promote the sport. He also served as part of the National Team's management for the 2007 World Cup.
Eventually, he plans to get more active in helping Rugby Canada raise its profile. But for now, his priority is his family. "Having a kid is unbelievable," he says. "Everyone tells you how great it is, but you don't really understand until you have your own. It's the best thing for me."
Beyond trying to be the best husband and father he can, Al's goals are pure and simple. "I hope that people think I'm a good guy, a guy who would do anything for the cause," he says. "A person who treats people well, does what's asked of him, and is an unapologetically proud Canadian."
If rugby is indeed a beastly game played by gentlemen, here's a former player who truly deserved his spot on the field.
*            *            *
To reach Al, email [email protected].