Alex Jansen, producer-publisher
"(Having) absolutely no guarantee that the end result will meet your expectations… definitely made me realize the importance of enjoying the process."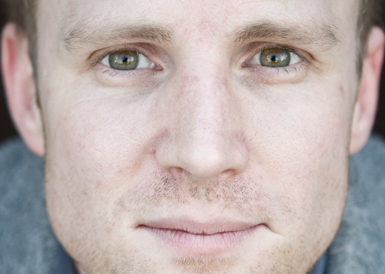 It's no surprise to me that Alex Jansen is at the helm of a multimedia production and publishing company that has garnered significant international success in just two years. Pop Sandbox is the proud publisher of Kenk: A Graphic Portrait, the groundbreaking 300-page journalistic comic book that was heralded by Quill & Quire as being one of the best books of 2010.
Both Pop Sandbox and Kenk are products of Alex's vibrant imagination and nearly unstoppable drive, two characteristics I'd always associated with him. When we met through Queen's University's Film and Media Studies program in 1999, he had a legendary quality. Alex was always personable and approachable, but possessed a remarkable sense of purpose that few, if any, of the other students demonstrated. I'd also heard that he arrived from Durham College with a perfect GPA, and having won the Governor General's Academic Medal.
This image of Alex—intimidatingly flawless and unhesitatingly clear on where he was going—was the one I've held in my mind for the past decade or more. Until, that is, we caught up for this interview.
Dreaming the days away
Alex is upfront about the fact that he spent most of his youth and adolescence meandering through life. Growing up in Port Perry, Ontario, he says he "partied pretty hard" throughout high school and was at best an average student. He frequently cut class and was largely uninterested in what was being taught.
What did hold his attention were movies, comics and video games. That might sound like a common theme among many youngsters, but for Alex it was more than a passing fancy: it was a calling. "I was always passionate about all forms of visual story telling," he says. When he was 15, Alex took a job at the local video store and spent as much time as possible watching movies. He dreamt of working in the film industry, but couldn't envision a path to getting there from his rural town.
Turning a sharp 180
It wasn't until taking a year off after high school that he understood he'd have to apply himself if he wanted to realize his dreams. A slew of disappointments and unrewarding jobs, as well as continuous encouragement and guidance from his family (and, in particular, his late father Harry Jansen), gave Alex newfound drive and focus. By the end of his year off, he was firmly pointed along a straight and narrow path towards the ambitious goal of producing a feature film by the age of 25.
First, Alex enrolled and excelled in a business program at Durham College, where, he says, "I was the exact opposite of what I was in high school… I didn't miss a single class." After graduating in 1999, Alex attended Queen's University to study film. He enjoyed the classes, but found he wasn't getting enough exposure to the business side of the industry. So he embarked on creating his own supplementary educational path. He packed several elective film courses into an 18-month period, while focusing his energies on managing and expanding the local repertory cinema The Screening Room.
Under Alex's management, the theatre blossomed. He cut costs by introducing a volunteer program, increased outreach tenfold by moving from an outdated traditional mailing list to an electronic one, solicited local partners and revamped the décor. He also launched a filmmaker series and began showing short films by Queen's University students before feature presentations. "I wanted to get student films shown outside of lecture hall screenings and in front of the broader community," he says.
The Kingston Canadian Film Festival
In a matter of months, Alex had helped transform The Screening Room's image and made it a highly profitable business. He'd also put into motion the initial steps for what would soon become the largest stand-alone showcase of Canadian feature films. Using the contacts he'd developed through The Screening Room, Alex founded the Kingston Canadian Film Festival (KCFF) in 2001.
In its first year, the festival was a three-day event with 20 feature film screenings, 15 of which sold out. Since then, KCFF has grown exponentially. It includes networking opportunities and a high school outreach program, and even offers internships for Queen's students, which Alex calls "the most rewarding thing about the festival."
A producer by age 23
The KCFF's immediate success led Alex to jobs with the Vancouver International Film Festival (VIFF) and with Moving Pictures, an organization that toured Canadian films across the country. It was through VIFF that Alex was put in touch with Crescent Entertainment producer Christine Haebler, the woman behind films such as Hard Core Logo and Kitchen Party.
Christine was looking for an understudy in producing with whom she could submit a joint application for the Canadian Film and Television Production Association (now Canadian Media Production Association) national mentorship program. She and Alex were selected, and, under Christine's guidance, Alex became co-producer of the feature film Walk Backwards. Alex was 23. He'd met his goal.
Alex's producing career was looking fantastic and he wasn't about to start slowing down. Based in Vancouver, he continued to run KCFF while maintaining the new contracts he'd landed out west. Walk Backwards premiered at the 2001 Toronto International Film Festival (TIFF) and garnered immediate broadcast interest from Showcase. With a pending deal from one network, it was relatively easy to sell Walk Backwards to THINKFilm for distribution. But that sale led to some unexpected results, including what Alex calls one of the biggest shifts in his career.
A rude awakening
Walk Backwards was a deeply personal production. Funded entirely on credit cards, it was a semi-autobiographical story rooted in first-time filmmaker Laurie Baranyay's experience as a survivor of childhood sexual abuse. Laurie was the movie's writer, producer, director and star, and had poured her heart into the production. "When we sold it, the thought was, 'Now it's going to find its audience,'" says Alex.
But he and his team were in for a rude awakening. The distributor quickly sold the film to two other networks, but did little else to promote it. What small efforts they did make unfairly positioned Walk Backwards as a "sexy thriller," says Alex. "It was so disheartening." The film's producers gave it a push of their own, partnering with the Crisis Centre for Rape Relief to arrange a run at Vancouver's Pacific Cinametheque. But unfortunately "it never really got a chance to reach the audience that it was intended for," says Alex.
The experience taught the young producer a lot, and instilled in him a drive to develop a better understanding of the distribution system. "It was frustrating because I had achieved a goal and it ended up being one of the most disappointing experiences," he says. "I wanted to learn how (what happened with Walk Backwards) had happened so that I could ensure it wouldn't happen with future productions."
Another event took Alex almost entirely off the path he'd been on. Several years earlier, his father's wisdom had taught him the importance of applying himself. In 2002, Harry Jansen's unexpected death taught his son the value of slowing down and finding a happy medium between apathy and working oneself into the ground.
After what Alex calls his "burnout year," Harry's death led him to "put everything on hold. My dad was my best friend. (The day he died), I flew back to Toronto from Vancouver and I never returned to producing back out west."
Seeing the world through new eyes
For the next few years, Alex maintained his involvement with both KCFF and VIFF. But in between gigs, he let go of production work and took off around the globe. He spent months at a time in Southeast Asia and Europe, where he finally met his father's side of the family in the Netherlands. "I would save money working the festivals and spend every penny travelling," says Alex. "I had comparatively little ambition for work."
Looking back, Alex thinks the slower pace was exactly what he needed, even though it was prompted by such a heartbreaking event. He sees his obsession with work as an overcorrection to his youthful drifting, and also a byproduct of the Western tendency to overemphasize and overvalue achievement at a young age.
"I don't know what that's all about, but I definitely got caught up in it," he says. "Why was it important to produce a film by the time I was 25? In hindsight, it's kinda crazy. It's nuts."
By losing his beloved father and realizing that even in meeting his goals he might not be satisfied, Alex gained a fresh perspective on how he wanted to live his life. "(My life) had been so much about the goal and not necessarily about the process," he says. "I was burning myself out, working around the clock, and while it was incredibly rewarding just to be involved with Walk Backwards, the end result was frankly disappointing in that it never really found its audience. (Having) absolutely no guarantee that the end result will meet your expectations… definitely made me realize the importance of enjoying the process."
Getting back in the game
Alex says it took awhile to get his enthusiasm back for work. "I'd say very much until dad passed away, I was proactively shaping my life," he says. "After dad passed away, I kind of was reacting. I responded to existing opportunities as opposed to creating (new ones)."
One opportunity that came his way was a job with film distribution company Mongrel Media. Alex moved from being KCFF's active director to its board chair, and, in 2005, became the first full-time member of Mongrel's home entertainment division. During his four years with the company, it grew from six to 23 people, and his division progressed from releasing 20 DVDs a year to more than 100.
But he found that as the volume got higher, he was enjoying his work less. He wasn't able to give each title the attention he felt they deserved. He also felt the call to return to producing, and was reminded of the reason he'd gotten into distribution: to learn how to better serve his own creations.
The infamous Igor Kenk
While at Mongrel, another opportunity presented itself to Alex. He met Igor Kenk, the infamous owner of Igor Kenk's Bicycle Clinic on Toronto's Queen Street West. Igor, as Alex would soon discover, is a story unto himself. Suffice it to say that his reputation as "the world's most prolific bicycle thief" was well deserved.
Alex says he had the same preconceptions about Igor as everyone in the neighbourhood. But when he took the time to speak with Igor, he was enlightened. For one thing, Igor's background was nothing like what Alex had imagined. The bike aficionado was exceptionally bright, a chess master and childhood math prodigy, a former police officer in his native Slovenia and a radical environmentalist. His partner Jeanie Chung is a Juilliard graduate and one of Canada's top classical pianists.
Then there was the fact that Igor seemed to be a walking contradiction. "He spouted pure communism," says Alex. "Yet he was acting capitalist in the most vicious sense in the way he was exploiting the system, and knowingly so."
The inherent dichotomy within Igor was enough to hook Alex; he knew he'd found a story worth telling. "For the first time since dad passed away, I actually had my passion to do something proactive again," he says.
Alex was determined to document Igor's life. But after having experienced firsthand how difficult and expensive it is to produce a movie, Alex thought of a way to put a spin on the classic film documentary. He decided to create a graphic novel that combined elements of two of his first loves: movies and comic books.
During the summer of 2007, Alex and filmmaker Jason Gilmore followed Igor around Toronto, recording his every move. The video footage would later be used as the basis for Nick Marinkovich's illustrations, and the audio spun into text by Richard Poplak, for Kenk: A Graphic Portrait.
Launching Pop Sandbox
Inspired by Kenk, as well as several other projects he had in development or production, Alex left Mongrel Media in 2008 and launched Pop Sandbox, a company structured around developing cross-platform productions and publications. By launching projects in a much more affordable medium—and one Alex happens to adore—he's been able to work on projects he believes in and increase opportunities for future funding.
For example, partly due to the success of Kenk: A Graphic Portrait, Alex was able to secure funding to adapt the book as an animated film. He's thrilled with its evolution, and hopes to see that kind of genesis for many more Pop Sandbox projects.
"Something that's changed for me philosophically over the years is realizing that things can change," he says. "We're in an increasingly uncertain economy, and you can't place all your satisfaction and fulfillment on the end goal because you may never achieve it… With Kenk, the process alone was so rewarding that it would have been completely satisfying even if we hadn't sold a single copy."
After everything he's accomplished in his still-young career, Alex no longer measures success by milestones met or dollars earned. For him, it's not about the goal anymore: "it's about doing something as close to my vision as possible."
*            *            *
To contact Alex, email [email protected]. You can also follow @PopSandbox on Twitter.