Dr. Daurene Lewis, nurse-educator-politician-catalyst
"If I could teach one thing to the next generation, it would be that no one should accept the status quo."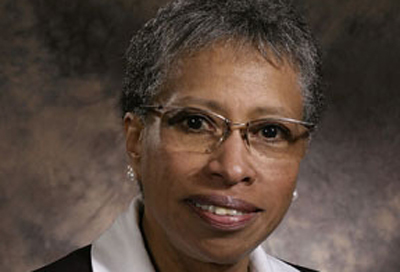 Dr. Daurene Lewis passed away on Saturday, January 26, 2013. My heart goes out to her family and friends. For details on Daurene's passing, you can read the Nova Scotia Community College media release. To discover why she was—and is—a Kickass Canadian, please read on…
*            *            *
Dr. Daurene Lewis comes from a long line of doers. Born and raised in Annapolis Royal, Nova Scotia, she's a seventh-generation descendant of Black Loyalists who settled in the town in 1783. Among her ancestors is Rose Fortune, a Philadelphian who became the first female police officer in North America.
Daurene has proudly upheld her family's legacy of hard work and tremendous accomplishment. She's already had several careers, including becoming the first Black mayor in Nova Scotia and the first female Black mayor in Canada. As she says, "Idle is a four-letter word."
That mentality is part of why she makes such a lasting impression on everyone she meets. From high-level politicos to the students at Nova Scotia Community College (NSCC), where she's been Principal for the past decade, she has a way of winning people over and keeping them coming back for more. Whether it's her time, passion or expertise they're after, she's been in high demand since Canadians got a taste of what this astonishing woman has to offer.
One of Daurene's former NSCC students, and my former neighbour, recommended her as a Kickass Canadian. Ottawa, Ontario's Chrisann Risser was impressed first by Daurene's exceptional humanity and generosity. "She always carried herself with such grace through the college and never hesitated to stop to chat to the students," says Chrisann. It was during this year's Black History Month that Chrisann discovered Daurene's outstanding contributions to the world, beyond her wonderful human qualities. "Some of her incredible accomplishments were documented in the college library. She is truly an inspiration."
Those accomplishments, which are many, include: an honourary doctorate from Mount Saint Vincent University in 1993 for her humanitarian work; a 1995 United Nations Global Citizenship Award; the 1998 Canadian Progress Club, Halifax-Cornwallis Women of Excellence Award for Public Affairs and Communication; a 2002 YMCA-YWCA Volunteer Award; a 2002 Queen Elizabeth II Golden Jubilee Medal; and the Black Business and Professional Association's 2011 Harry Jerome Trailblazer Award. She was also added to the Nova Scotia Black Cultural Centre Wall of Honour in 1994 and named a Member of the Order of Canada in 2002.
A remarkable pedigree
Daurene's background is far from ordinary. In fact, she was featured in the National Film Board (NFB) documentary Black Mother Black Daughter, both for the extraordinary life she leads and the incredible family history that precedes her. She grew up learning about the impressive achievements of her ancestors and seeing firsthand the solid work ethic and ambition of her immediate family. Her mother and father were professionals—a teacher and entrepreneur, respectively—and the unspoken expectation was that Daurene and her two elder siblings would continue their studies after high school.
"The discussions at the supper table weren't about what we would be doing when we finished high school," says Daurene. "They were about what university we'd go to or what we would take in university… It never crossed our minds that we would ever do anything except go on to post-secondary education."
That environment, she says, was unusual for a family of African-Canadians living in Nova Scotia at the time. But it was one in which she flourished. After graduating from Annapolis Royal Regional Academy, she enrolled in the Halifax Children's Hospital School of Nursing. Her intention was to "nurse all over the world" so that she could explore Europe and places such as the pyramids of Mexico, the Cedars of Lebanon and the Great Wall of China. Instead, she wound up at Dalhousie University after becoming a registered nurse (RN), studying nursing education while her two closest high school classmates headed for Europe.
Had Daurene travelled abroad with her friends as she'd initially planned, her life course might have been very different; both returned with husbands in tow. "If I had gone to Europe, I probably would have come back with a husband, too," she says good-naturedly. "They have never let me forget that."
In the end, she "never did any of that," the husband-and-children thing. Instead, she's led a much larger family of African-Canadians, Nova Scotians, nurses and students, helping them honour their history and work towards a brighter future. It's a blessing that has benefited thousands.
Taking care
Daurene seems to have an innate desire to take care of others. She spent 30 years working in healthcare, as an RN and nurse educator in Annapolis Royal and Toronto, Ontario. But her life and decisions outside the professional world of nursing also reveal her huge heart and overwhelming kindness.
While she was between nursing jobs in Toronto, her mother, Peryle, fell ill. An avid weaver since Daurene was a young girl, Peryle was no longer strong enough to keep up her passion and resigned herself to the fact that it was time to start selling her looms. Ever the devoted daughter, Daurene decided to take three months off and return home to Annapolis Royal. There, she planned to "learn the nitty grits" of weaving from her mother and take the looms back to Toronto so she could preserve the family tradition.
But the people of Annapolis Royal never forgot how valuable Daurene was and were quick to let her know they wanted her to stick around for good. "Before I even got home, the local hospital called my mother with the dates and times they wanted me to work (as a nurse)," she says. "I came home to learn how to weave and I had a source of income without even batting an eye."
So, she settled back into life as a Nova Scotian, learning her mother's craft in between nursing shifts. Before long, other former colleagues and neighbours came calling. One asked her to mind their shop while they travelled for a few months. Daurene agreed and brought a loom along so that she could weave while overseeing the business. Accustomed to her enterprise, Annapolis Royal residents assumed she was planning to turn the store into a craft shop and immediately offered their custom. That was the beginning of her career as a designer and weaver.
With the shop running six days a week, she retired from her formal nursing career and spent the next 13 or so years taking care of her mother's dream. Not to mention entering the world of politics.
Effecting change
While jumping headfirst into life as a weaver, Daurene always made time to stay involved in the community. She attended many meetings and quickly made a name for herself by continually asking questions and encouraging others to see things from different perspectives. The next thing she knew, she was being recruited to run for Annapolis Royal Town Council.
"I always had it in the back of my mind that if you want to make any changes, you need to be involved," she says. So she followed the prompting of her countless admirers; she won a seat on Town Council in 1979 and was appointed Deputy Mayor in 1982. Two years later, she was elected Mayor—the first Black mayor in Nova Scotia and the first female Black mayor in Canada.
"When I ran for Mayor, the results from that were just so astounding, because there weren't a lot of African Nova Scotians involved in municipal politics, and definitely not in federal politics or provincial politics, at that time," she says. "I wound up being involved in a lot of other things and it just progressed."
In 1988, Daurene was recruited by both the NDP and Liberal parties to run for provincial government. "At that point, my riding was firmly held by the Conservatives, and I thought, 'My goodness, if people are actively recruiting me, if they think I'm that strong a candidate, maybe I better make my choice and see what happens,'" she says. "There's no point in being part of the silent majority."
She chose Liberal and became the first Black woman in Nova Scotia to run in a provincial election. She didn't win the seat as a Member of Legislative Assembly (MLA). But she still sees her campaign as a victory. "I don't say that I lost the election, because the candidate I ran against was going for his fourth term. He was the provincial Minister of Finance, so as a single Black woman in rural Nova Scotia running against him, I shouldn't have even gotten enough votes to get my deposit back. But I most certainly had a very credible showing in that election."
Making a business of giving back
Daurene retired from politics after the provincial run simply because of steep campaign costs. But she was inspired by the tremendous response she received as a candidate and was determined to find a way to continue giving back to the people of Nova Scotia.
In the weeks following the election, she found work with the Nova Scotia HomeCare Association, first as an assessor and then as Regional Supervisor. She also enrolled in the executive Master of Business Administration (MBA) program at Saint Mary's University. Upon graduation, she was hired as Executive Director at Mount Saint Vincent University's Centre for Women in Business.
A few years later, in 2001, Daurene was recruited once again, this time for her current job as Principal of NSCC's Institute of Technology Campus in Halifax. In the 10 years she's been at the College, she has helped transform the institution and cement its reputation as one of the best learning facilities in Canada. In the midst of all that, she's continued to make time for the many requests she receives to get involved in her community.
Africville
One of those requests had to do with Africville, a Black community in Halifax that was destroyed in the late 1960s "under the guise of urban renewal," says Daurene. "Four-hundred residents were convinced to moved out (because of) various promises, none of which were kept."
Rather than using the space Africville occupied to develop a high-rise or business district, it was turned into Seaview Park, a place where people could walk their dogs off-leash. That, says Daurene, added insult to injury. Not only were the people of Africville displaced under unfair circumstances, but there wasn't even a good reason for having forced them to leave.
In early 2010, the Halifax Regional Municipality issued a formal apology to the former residents of Africville. They restored the community's rightful name and awarded $3 million to rebuild some of its infrastructure. That amount, combined with $1.5 million from the Government of Nova Scotia, was enough to fund the Africville Heritage Trust, the restoration of the demolished church and the planning phase of the Africville Interpretive Centre.
When Daurene was asked to join the Africville Heritage Trust Board, she was quick to agree to the offer. They were just as quick to elect her as Chair, an honour she was proud to accept; her work with the Trust is just one more opportunity to continue giving back in the spirit of her ancestors.
Upholding a proud tradition
"My grandfather always used to quote Micah's prophecies (from the Bible)," says Daurene. "Roughly, it boils down to this: 'You should not be afraid to sit under your own vine and fig tree.' Everybody has a God-given right to their own place, regardless of whether they look different."
The difference she's referring to is being of African descent in Canada, and in Nova Scotia specifically. But she isn't comfortable with the word "different," even when it comes from her own lips.
"I don't want to say different, because when I look in the mirror, I don't see a difference," she continues. "I look in your mirror and I see a difference. The dominant culture has tried to make us feel as if we, African Canadians, are not of value. Particularly African Nova Scotians, because our history goes back so far… If I could teach one thing to the next generation, it would be that no one should accept the status quo."
As Daurene continues to stand up for issues that matter and defend the rights of those around her, she follows in the great footsteps of her ancestors. She also fearlessly charts a new course of her own—one in which everybody has value.