"To be able to impart some of the things I've learned over the years to young developing athletes is the best possible thing I could do."
What seems to impress people most about Glenroy Gilbert is the gold medal. The incredible performance he delivered in Atlanta as part of the 1996 Olympic Championship 4 x 100m relay team. But when you talk to him, it quickly becomes clear that he doesn't define himself by the hardware he's earned. What matters to him is giving his best in everything that he does—regardless of the outcome—and encouraging others to do the same.
Glenroy offers full credit to his mother for instilling him with those values. A single parent with six children, Valma Gilbert moved her family to Canada from Trinidad and Tobago in 1973. "We were lucky to have a mother who cared as much as she did and would encourage us to be the very best that we could be," says Glenroy, who didn't get any special treatment from his mother for being an Olympian. "Half the time, she didn't even know (about my accomplishments) as an athlete. That wasn't what mattered to her. What mattered was that whatever you did in life, you did it to the best of your ability."
I know firsthand that Glenroy makes good on his promise to help others succeed no matter what their ability. As a coach with Athletics Canada, he's used to working with some of the country's top sprinters. Glenroy also volunteers as a coach with the Ottawa Lions Athletics Club, which is where I met him. Even after seeing me come in dead last in my heat (or maybe because of it), he offered to help me with my start "anytime." He says that a lot, and from what I've seen, he always comes through.
Learning how to set up and come out of the blocks from Glenroy Gilbert is quite an honour. The fact that I had that opportunity as an injured 30-year-old novice track runner says a lot about his character. He took the time to help me, even though it was very clear that the only way I'd be getting to the Olympics was as a spectator.
I didn't see any ego from Glenroy. Assertiveness, definitely, and the calm confidence that tends to accompany being comfortable in your own skin. But he's a very accessible man who smiles often and easily, and isn't above coming to track with traces of nail polish on his pants left by his two young daughters, Ella Grace and Sadie.
It's impressive that Glenroy has managed to stay humble and grounded, because he's one of our country's greatest athletes. Inducted into the Olympic Hall of Fame in 2004 and Canada's Sports Hall of Fame in 2008, he has participated in seven Olympic Games—five as an athlete, two as a coach.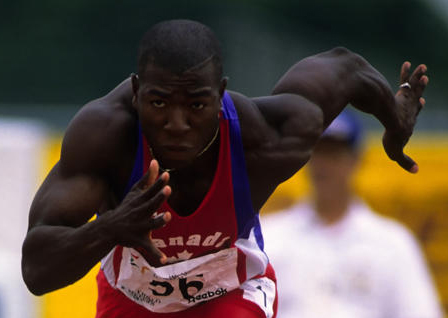 A passion for sports
"I was always interested in athleticism," says Glenroy. "I did anything and everything." That included intramural soccer, volleyball and basketball. But track and field was the sport that stuck. "It was one of those sports where you could test yourself: how high you could jump, how far you could jump, how fast you could run, how far you could throw… I loved everything about being an athlete and trying to excel and trying to test myself against others."
Glenroy's first passion in track and field was the long jump. He competed in the event at the 1988 Olympics in Seoul before turning his focus to sprinting. But he always continued to challenge himself through other sports, competing at the 1994 Winter Olympics in bobsled, and accepting an invitation to try out for the San Francisco 49ers in April 1996. His professional football career was nipped in the bud when he split his hand open while receiving a pass during a drill. Fortunately for Canada, that freed Glenroy up to compete on the 4 x 100m relay team in Atlanta later that year.
1996 Summer Games
Glenroy was an integral part of Team Canada's relay at the 1996 Olympics, running the pivotal second leg of the race. Going into the final round with teammates Robert Esmie, Bruny Surin and Donovan Bailey, Glenroy recalls that the odds were against them. "We were half a second behind the Americans for the first two rounds," he says. "You're half a second behind in two rounds, you're going to make up a second in one round? Apparently that's what we did."
In explaining how everything came together for the team in Atlanta, Glenroy quotes the Roman philosopher Seneca: 'Luck is what happens when preparation meets opportunity.' "Certainly we were lucky," says Glenroy. "We were also prepared. You can be lucky, but if you're not prepared, you can't capitalize on the luck."
In the zone
I asked Glenroy to describe the experience of running in the Olympic final—something most people don't even dare to dream about:
"When you're in a race, they always talk about this condition that you're in, it's like you're in a wind tunnel. And you don't hear a thing, and you know what, it sounds very clichéd but it's what happened. In Atlanta, I took off the mark, I don't even remember putting my hand back, what I do remember is the baton touching the middle of my palm and me closing my hand behind me and that was it. The next thing I knew I was running in this – it was grey, just grey, there was nothing, I could see nothing, and the only time I came to was when I was making the pass. I started making the pass and all of a sudden I could see Bruny's hand. I could see his hand shaking. And you know what, for a split second there I thought the baton was actually in the air, like neither one of us had control of it, he just snatched it out of the air. And then right as I delivered the baton, it's like the whole world opened up. I heard everything, I heard the announcers, I heard the crowd…"
Glenroy says he knew his team had won as soon as the baton was passed to Donovan Bailey, who was running the final leg of the race. Donovan was the Olympic 100m champion, and with the six-metre lead his teammates had gained, there was no way anyone could touch him.
Canadian gold
The fondest memory Glenroy has of the Atlanta Olympics wasn't taking the podium or receiving his medal—although he readily admits that hearing the national anthem was an overwhelming and humbling experience. What touched him most was taking the victory lap. It was then that he was really able to connect with the people in the stadium, to see their faces and absorb what an incredible experience they'd just shared with him.
He's grateful to have won the medal in Atlanta, close to home and with so many Canadians in attendance. "I'm a big patriot," he says. "Any time I got to put on the Canadian body suit, I was excited. Because we've benefited so much from (immigrating to Canada). For me, (competing on Team Canada) was an opportunity to pay back… It didn't matter how we were doing, I was always proud to don the body suit and perform."
Team spirit
Glenroy's contribution to the winning relay team goes beyond his blazing speed on the track. He's widely known as the glue that held the group of runners together, pushing past egos to convey the importance of succeeding as a unit.
Working with others wasn't always a priority to Glenroy. To hear him tell it, he started out as a fairly selfish athlete. "I wanted to succeed as an individual," he says. "I wanted to be the fastest guy in the 100m, I wanted to jump the furthest, I was always interested in me."
That began to change when he competed on the Olympic bobsledding team in 1994, and then when he switched from running the 100m to being part of the 4 x 100m relay team at Louisiana State University, where he studied English and History. "I started seeing the value in working as a team and the satisfaction you get when you work as a group and you reach levels that you haven't reached as an individual," says Glenroy. "I started understanding more and more that a team could prove to be something special."
Passing on the baton
Now, as a coach, Glenroy is committed to instilling those values in his athletes. Whether working with the Olympic hopefuls and competitors he trains through Athletics Canada, or the amateur athletes he volunteers to coach through the Ottawa Lions, Glenroy is devoted to helping others benefit from his experience. "To be able to impart some of the things I've learned over the years to young developing athletes is the best possible thing I could do," he says.
Seyi Smith, an athlete of Glenroy's who competed at the 2009 World Championships and the 2010 Commonwealth Games in the 4 x 100m relay, has only good things to say about his coach. "(Glenroy's) an Olympic champ, he obviously has been there, done it," says Seyi. "Aside from having the firsthand experience, he's really good at explaining what you need to be an athlete. Not just the training, but also the mentality. So he's the perfect coach any athlete wants."
Coming full oval

When Glenroy first started competing in track and field as a hotheaded teenager, he believed he'd find fulfillment from winning an Olympic gold medal. He spent more than a decade working towards that goal, but when he finally met it, he realized that the feeling he'd been chasing wasn't tied to the medal.
"When we won in Atlanta, I thought a lot of things would change," he says. "I thought the world would stop… You're now an Olympic champion and the thing that you strived for, you worked hard for, there it is all of a sudden and you're left going, now what?"
Ultimately, Glenroy found what he'd been looking for when he became a father. He says that his greatest joy and fulfillment comes from watching his daughters grow and being able to be the kind of parent to them that his mother was to him—encouraging them to work hard and always do their best.
I asked Glenroy how he hopes people see him, and he didn't make one mention of his outstanding athletic achievements. Olympian, gold medallist, world champion… none of those words passed his lips. Instead, he said simply, "I would like them to see me as a good father. (When they see my daughters), I hope they think, 'Those kids are real lucky; they got a good daddy.'"
*            *            *
For more on Glenroy, email [email protected] or follow him on LinkedIn. You can also check out his new website, goldenformfitness.ca.