Now That I'm Here, children's book on illness and loss
This loving, uplifting story offers families and educators an entry point to helping children understand illness. All profits go to CHEO.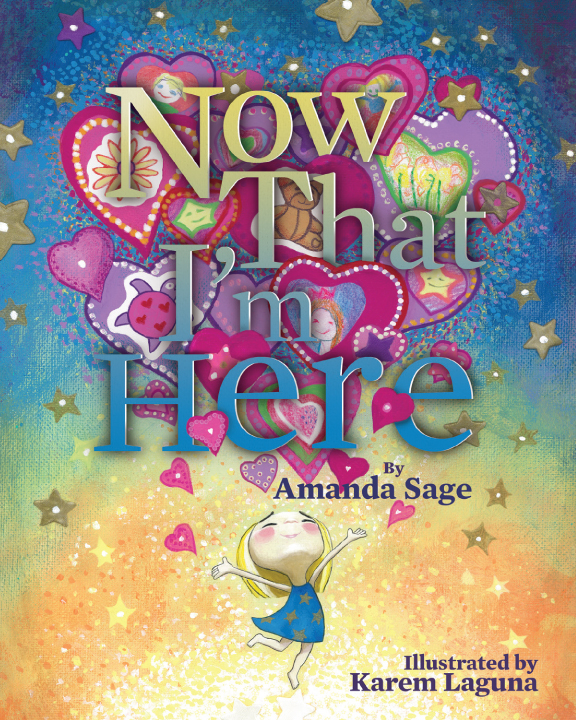 Order your copy:
Praise for Now That I'm Here
"Now That I'm Here is a touching, helpful book for all of us who deal with illness growing up. A lovely, sad, good and loving tribute that gives hope and strength where it's needed most." —Chris Hadfield, astronaut & The New York Times bestselling author (You Are Here, The Darkest Dark, An Astronaut's Guide to Life on Earth)
"This heartfelt storybook reads as a gentle tribute to resilience, imagination and an inspiring little girl. Kate's letter to us is tender and stirring, accompanied by dazzling and colourful illustrations." —Sean Michaels, Giller Prize-winning author (Do You Remember Being Born?, The Wagers, Us Conductors)
"Now That I'm Here is a strikingly beautiful and moving eulogy for the death of a child. The story masterfully captures the voice of a young girl, and its heartfelt optimism in the face of the darkest circumstances is profoundly emotional." —Hannah Moscovitch, award-winning playwright (This Is War, East of Berlin) & television writer (Interview with the Vampire, Little Bird)
Press
About this book
Now That I'm Here was written as a tribute to a very special little girl, Kate Drury, who passed away on November 30, 2015 at age eight. She died of a very rare form of mitochondrial disease called sideroblastic anemia, immune deficiency, fever and developmental delay (SIFD).
SIFD was first diagnosed in November 2011, when doctors at the Children's Hospital of Eastern Ontario (CHEO) and Boston Children's Hospital confirmed that Kate, who was only four years old, suffered from this rare form of the disease. Since then, several other cases have been diagnosed worldwide, all in young children.
Now That I'm Here was released in September 2016 during Global Mitochondrial Disease Awareness Week. The book is available for print-on-demand orders, in English and French (as Toujours ici). It's a very personal story about young Kate; it also touches on universal themes, offering a way for families to teach their children about death, illness and disability through a sensitive and uplifting book.
My hope is that Now That I'm Here can help continue Kate's legacy, spread awareness into mitochondrial disease and lead to better treatment—profits will go to the CHEO Research Institute toward research into SIFD.
To learn more about Kate's story, please read the Kickass Canadians article on her mother, Julie Drury, and visit Julie's blog, Searching for Solid Footing.
For more information on mitochondrial disease, visit mitocanada.org. For the latest on the book, please 'Like' its Facebook page.
The creative team
Thank you to the very generous donors who helped make this book possible.
*           *           *
Much love to Julie, Brian, Jack and the rest of Kate's family.